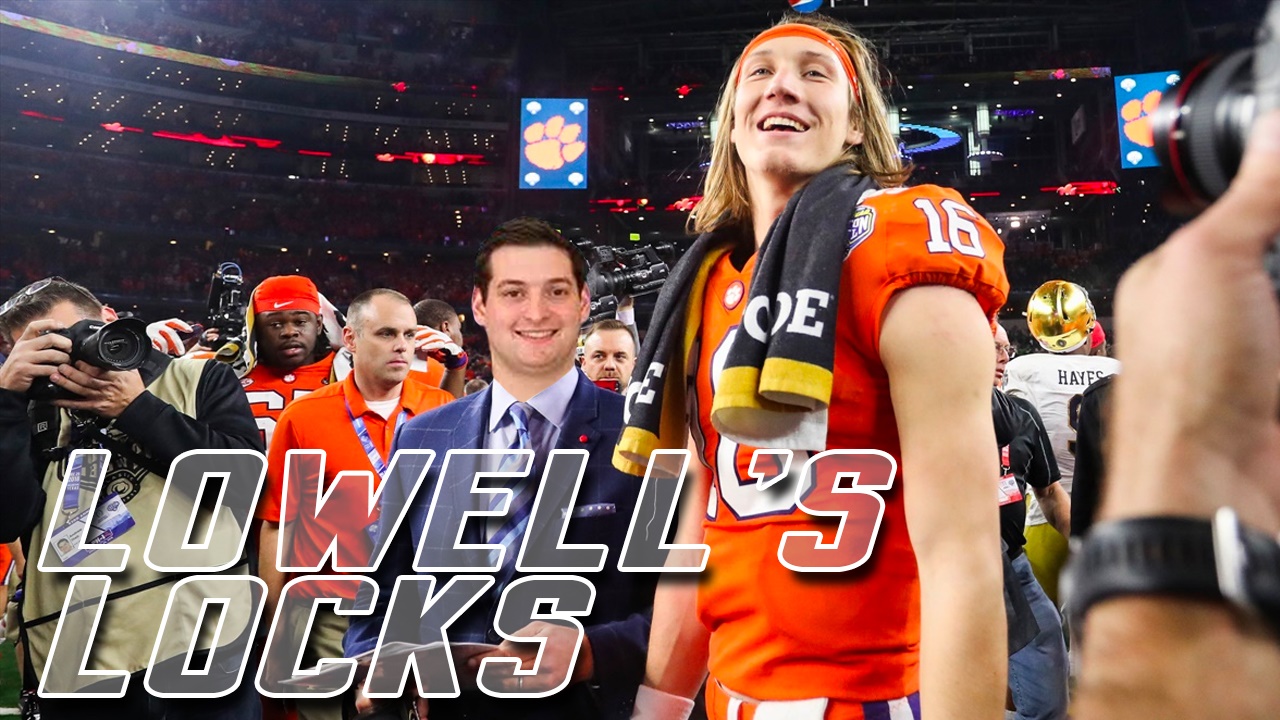 Clemson Football
Lowell's Locks: College football week fourteen
---
Feel the difference - The best user experience on mobile devices or personal computers. Avoid click bait and sites bloated with advertising! Join us today for just $1 or get a full year for $63.17.
Register for a FREE ACCOUNT today, and you are entered to win a LIMITED EDITION Clemson football. ← Learn More
---
I've got good news, and I've got bad news. Due to an error in math, I only hit .500 last week, I did not surpass it. That's my bad. The good news? A 3-2-1 record (the first push of the season), pushed me over the edge and put me one game over! So now all that's left is to keep the ball rolling. As it's rivalry week, I won't do the usual six games. There will be a few extra thrown in for fun. As always, in the immortal words of Deshaun Watson, let's go be great in week fourteen.
Friday, November 29th
#24 Virginia Tech (-2.5) at Virginia:
Can you remember where you were and what you were doing on November 29th, 2003? That's the last time Virginia has managed to get a win in this game, and 16 years to the day later, they'll try and snap a 15 game Hokie winning streak. Had this game been played earlier in the year, they may have won it easily. However, Virginia Tech has been on fire in recent weeks. They extend their streak, and cover along the way.
Lowell's Lock: Virginia Tech covers -2.5
Washington State at Washington (-6.5):
Chris Peterson has owned Mike Leach, and it feels easy to just default to that in this matchup. However, Washington has struggled mightily against the pass this season and now face the top ranked passing offense in the nation. Washington will put up points against a mediocre Cougars defense as well, but this doesn't feel like a blowout game.
Lowell's Lock: Washington State covers +6.5
Saturday, November 30th
#1 Ohio State (-9) at #13 Michigan:
I haven't given much love to Michigan this season. I simply haven't been a believer in Harbaugh and the offense they trot in week in and week out. But the past four weeks? 45 points. 38 points. 44 points. 39 points. Michigan has found something that works for them, and their defense hasn't allowed over 20 points since a tight loss at Penn State. Then there's Ohio State, who came upon a Penn State defense who had been struggling in recent weeks, yet somehow made the Buckeyes look human for the first time all season. Is this an overreaction? Maybe. But in the Big House, a surging Michigan gives Ohio State all they want and more.
Lowell's Lock: Michigan covers +9
#5 Alabama (-3) at #15 Auburn:
This is it. This is the game that will make or break Alabama, led by backup quarterback Mac Jones. With no shot at a conference title, the Crimson Tide need to show they still belong in the hunt with a dominant win in the Iron Bowl. The issue is that Auburn defensive front, which is going to hurry and harass Jones all game long. Bo Nix and the Auburn offense will find some life against a subpar Alabama defense as well. Definitely take the spread, and strongly consider Auburn outright at home.
Lowell's Lock: Auburn covers +3
#12 Wisconsin (-2.5) at #8 Minnesota:
This is officially the biggest game in the history of the Paul Bunyan Ax trophy. The Badgers have the best player on the field, but Minnesota is a more complete team at this point in the season. At home, the Gophers row the boat to the Big Ten title game.
Lowell's Lock: Minnesota covers +2.5
Texas A&M at #2 LSU (-16.5):
These two teams do not like each other, and they tend to get into tight ball games. I don't anticipate that changing in this one. 16.5 is a lot of points to lay in this one. The last time LSU faced a mobile quarterback, Ole Miss absolutely gashed them with over 400 yards rushing alone. Now they get Kellen Mond, one of the better dual threat quarterbacks in the SEC. This will be a battle down to the wire, as A&M's slow and methodical pace wears on LSU's defense. LSU will strike for a few big plays against a solid A&M defense, but it won't be enough to cover.
Lowell's Lock: Texas A&M covers +16.5
#7 Oklahoma (-13.5) at #21 Oklahoma State:
Oklahoma has been living on the edge, to say the least. They had to rally from a huge halftime deficit to escape from Baylor, and they were given an absolute gift by Big 12 officiating last week to escape TCU. The defense, which had shown some improvement to start the season, has fallen off drastically and Jalen Hurts is making mistakes that he wasn't to start the year. Oklahoma State is an all-around solid team, and has one of the better rushing attacks in the county. The Sooners are going to flirt with disaster again, and this time, it may cost them a playoff spot.
Lowell's Lock: Oklahoma State covers +13.5
#3 Clemson (-27.5) at South Carolina:
Since beating Georgia, South Carolina has lost four of five games, and only one of those losses was by less than 10 points (App State). The Tigers haven't won a game by less than 30 points since the one point victory against North Carolina in Chapel Hill, and they've scored 50+ points in four straight games. The Tigers have also covered the spread in five of their past six ball games, with the one miss being a 48.5 point spread against Wofford (Clemson won by 45). There's no reason to think they won't cover against a Gamecock squad who looks lost on both sides of the ball.
Lowell's Lock: Clemson covers -27.5
Lowell's Locks

Weekly Results
Season Results
Week 1
3-3
3-3
Week 2
2-4
5-6
Week 3
1-5
6-11
Week 4
4-2
10-13
Week 5
1-5
11-18
Week 6
2-4
13-22
Week 7
2-4
15-26
Week 8
5-1
20-27
Week 9
3-3
23-30
Week 10
3-3
26-33
Week 11
6-0
32-33
Week 12
4-2
36-36
Week 13
3-2-1
39-38-1
Week 14
Championship Week
Never miss the latest news from Clemson Sports Talk!
Join our free email list