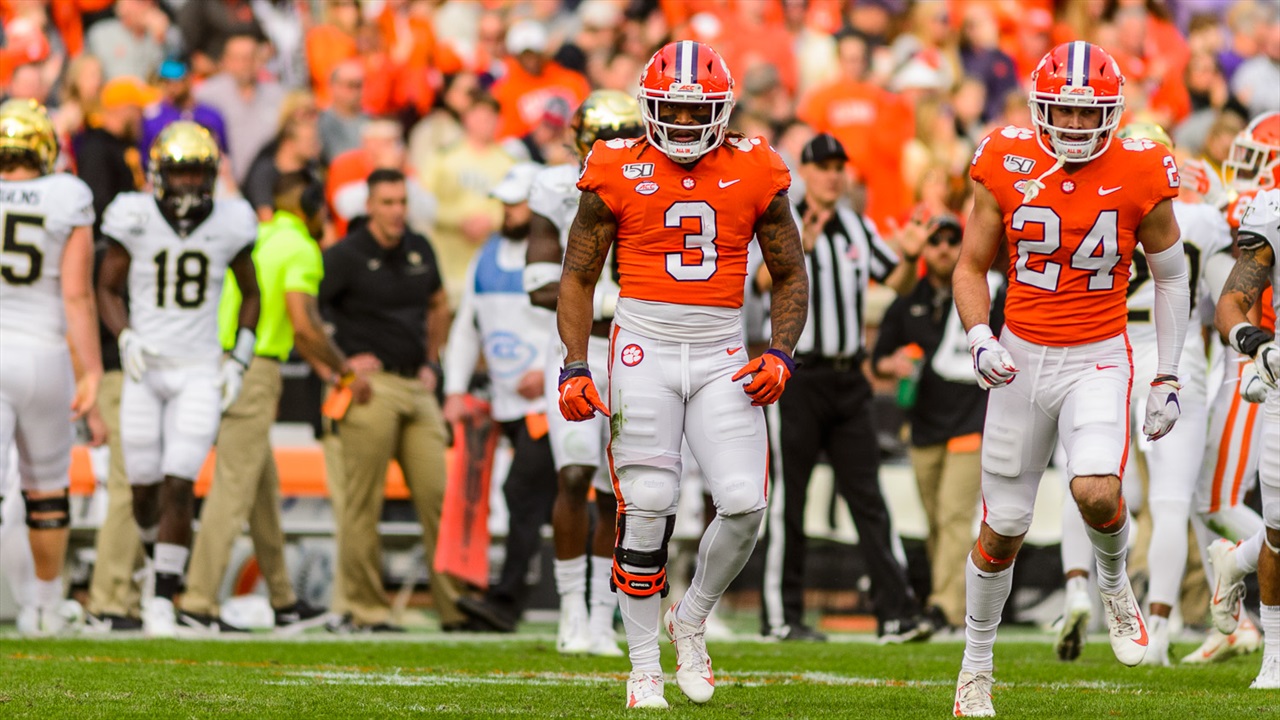 Clemson Football
Keys to Victory: No. 3 Clemson at South Carolina
---
Feel the difference - The best user experience on mobile devices or personal computers. Avoid click bait and sites bloated with advertising! Join us today for just $1 or get a full year for $63.17.
Register for a FREE ACCOUNT today and you are entered to win a LIMITED EDITION Clemson football. ← Learn More
---
Each week we give you a look at the history of the game, three keys to success, plus our staff predictions.
The Match-Up:
#3 Clemson (11-0, 7-0 ACC) vs South Carolina (4-7, 3-5 SEC)
Clemson vs. South Carolina 2018
Clemson vs. South Carolina 2017
All-Time Series:
Clemson leads: 70-42-4
at Clemson: Clemson leads 19-10-1
at South Carolina: Clemson leads 51-32-3
Neutral: N/A
Last Meeting: Clemson won 56-35 (2018)
Last South Carolina win: 31-17 (2013)
Streak: Clemson has won 5 straight in the series
Listen Live: Fox Sports Radio 1400 on iHeart Radio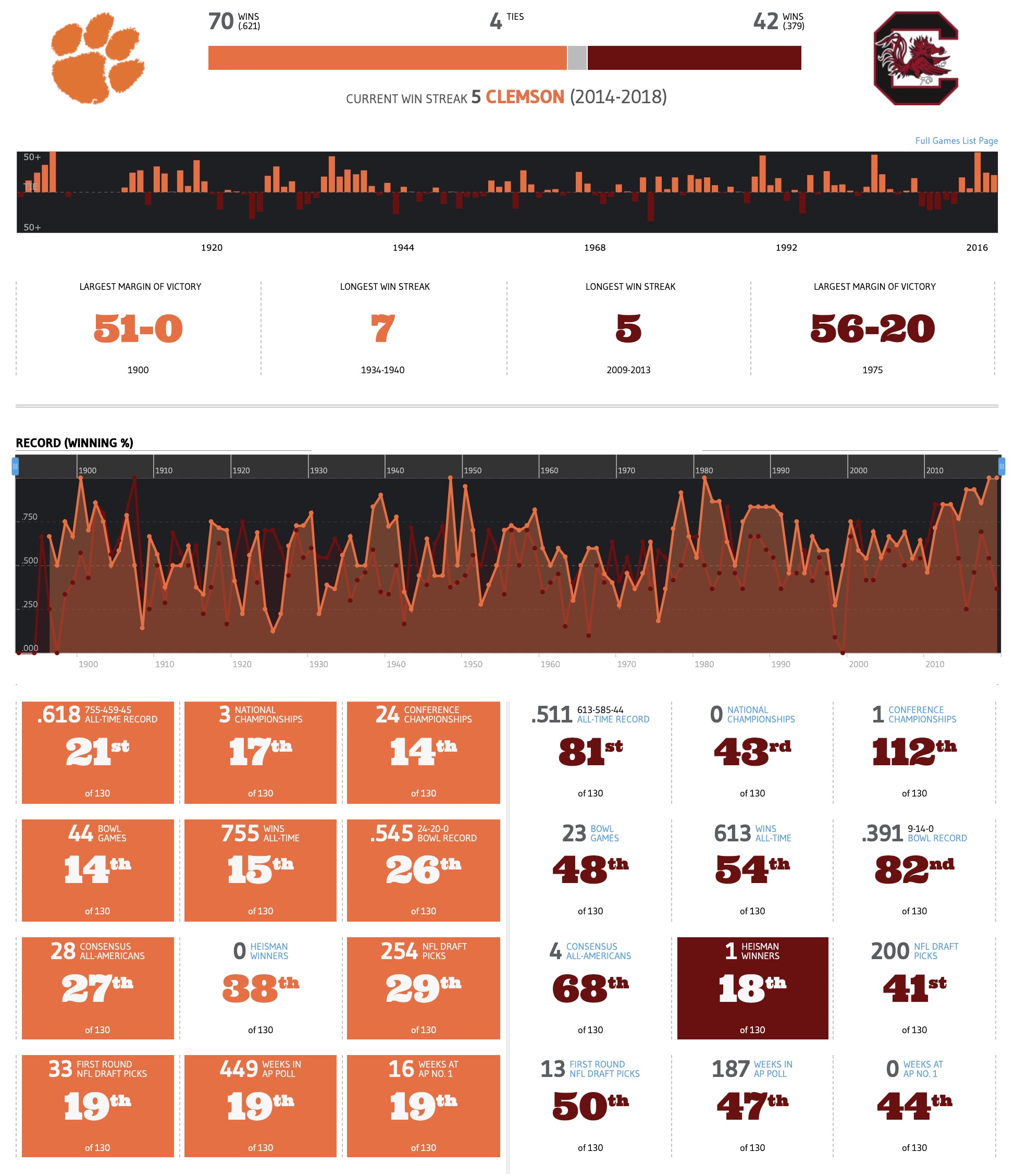 Stat of the Week:
Clemson will attempt to extend its winning streak against in-state rival South Carolina to six games when the Tigers face the Gamecocks for the 117th time at Williams-Brice Stadium today. The Tigers, holders of the nation's longest active overall winning streak (26), home winning streak (22) and road winning streak (11), will attempt to extend its recent run of victories against its rival.
Clemson has won five straight against South Carolina since 2014 and will attempt to earn a sixth consecutive win against the Gamecocks for the first time since a seven-game streak from 1934-40.
The Tigers have scored at least 34 points in every game of its five-game series winning streak, winning by an average margin of 23.4 points in that span. Since the start of October, Clemson's weekly scoring margins have displayed a brand of dominance rarely seen in FBS history. Clemson is in the midst of a six-game streak of wins by 30 or more points, one shy of matching 1976 Michigan and 2011 Houston for the longest such streaks in the AP Poll era (since 1936).
Clemson has also won four consecutive games by 45 or more points, presently standing with 1944 Army and 1972 Nebraska as the only teams since 1936 to do so.
Tracking History:
Travis Etienne presently ranks seventh in the country in rushing yards (1,335), but has accrued his yardage despite totaling at least 65 fewer carries than anyone else in the top seven. By virtue of Clemson's propensity for building big leads and its commitment to playing so many players, only 39 of Etienne's 153 carries this season have come in the second half, including only four fourth-quarter carries.
Etienne's 8.73 yards-per-carry average leads the nation and is a full two yards per carry better than any of the six players ahead of him in rushing yardage. Etienne holds an 8.10 yards-per-carry average for his career, just shy of the NCAA record held by Army's Glenn Davis (8.26 from 1943-46) among players with 300 career carries.
| | | | |
| --- | --- | --- | --- |
| Clemson's All-Time Leading Rushers | Years | Yards | Rushing TDs |
| Raymond Priester | 1994-1997 | 3,966 | 21 |
| James Davis | 2005-2008 | 3,881 | 47 |
| Travis Etienne | 2017-2019 | 3,761 | 51 |
| C.J. Spiller | 2006-2009 | 3,547 | 32 |
| Andre Ellington | 2009-2012 | 3,436 | 33 |
Key 1: Two Scoops
Clemson's offensive assault on the backend of the schedule has been helped by tremendous balance. The Tigers have delivered time and time again on the ground and through the air. Travis Etienne, who was snubbed for the Doak Walker Award, has posted 873 rushing yards on 86 carries (10.2 avg.) and nine rushing touchdowns in the last six games, breaking school records for rushing yards in a six-game span and consecutive 100-yard rushing games (six).
If the Tigers get the ground game going, the airways will open up for Trevor Lawrence and Clemson's bevy of talented wideouts to pick apart a suspect South Carolina secondary. The Gamecock corners are talented, but safety play over-the-top has been poor this year.
Key 2: Disrupt Hilinski
Last season, Jake Bentley and the South Carolina torched Clemson's secondary for 510 yards and 5 TDs. It was a painful display from a group that Brent Venables had been very proud of the entire season.
The group followed up that poor performance against the Gamecocks, with quality performances against Pitt, Notre Dame, and Alabama to close out the 2018 season. Fast forward to this afternoon and it's finally time for this group to redeem themselves against the last team that truly put a hurting on the Clemson defense.
This season, Clemson hasn't given up more than 20 points in any game and the Tigers will not overlook a 4-7 South Carolina team, because of last season's tape. It was ugly.
Rest assured that Venables' extra time preparing this week was spent focusing on how to disrupt, frustrate, and confuse South Carolina's freshman quarterback. Look for the TIgers to bring pressure early, shift the looks in the secondary, and gamble to make a big play to throw Hilinksi off his game.
Key 3: Over and Out
This past weekend the rumblings began about No. 1 Ohio State and No. 2 LSU hoping to avoid the Tigers in the semifinals of the College Football Playoffs. The defending national champions are hitting their stride as the calendar turns towards December and the one thing that would change the storyline about who this team is on the field is an injury.
Clemson's been good about knocking out opponents early and getting into the depth of the bench. It's safe to say that will be the strategy again today as well.
Prediction:
I've picked a lot of games during my 15+ years covering the Tigers and during that time, I don't recall picking a single shutout. Even when Clemson's played FCS schools, I've always found a reason to believe that the opponent will get a chance to score late in the game.
This game feels different to me. Clemson suffered through five consecutive losses to South Carolina and now the Tigers have a chance to put a sixth straight loss on the Gamecocks and it seems like more are on the way.
The gap between the two teams is huge and the final margin will show it as well. For the first time ever, I'm dropping a ZERO on the opponent.
Swanny's Prediction: 56-0 Clemson
Final Score Predictions:
| | | | |
| --- | --- | --- | --- |
| | vs. South Carolina | Winner of the Week | Season Score |
| Lawton | 56-0 Clemson | Georgia Tech, Wofford, Wake Forest | 17 |
| Sanders | 52-9 Clemson | Charlotte | 13 |
| Lowell | 56-7 Clemson | Syracuse, NCST | 17 |
| Brandon | 59-3 Clemson | | 11 |
| Cade | 52-3 Clemson | FSU, Boston College | 15 |
| Rob | 52-10 Clemson | Texas A&M, North Carolina, Louisville | 17 |
| Simulation 👑 | 55-10 Clemson | | 11 |
Perfect Prediction = 5 points Best Prediction = 3 Points Correct Prediction = 1 Point
👑= 2018 Prediction Champion
**Pick of the Week: Indicates the best prediction.
Never miss the latest news from Clemson Sports Talk!
Join our free email list