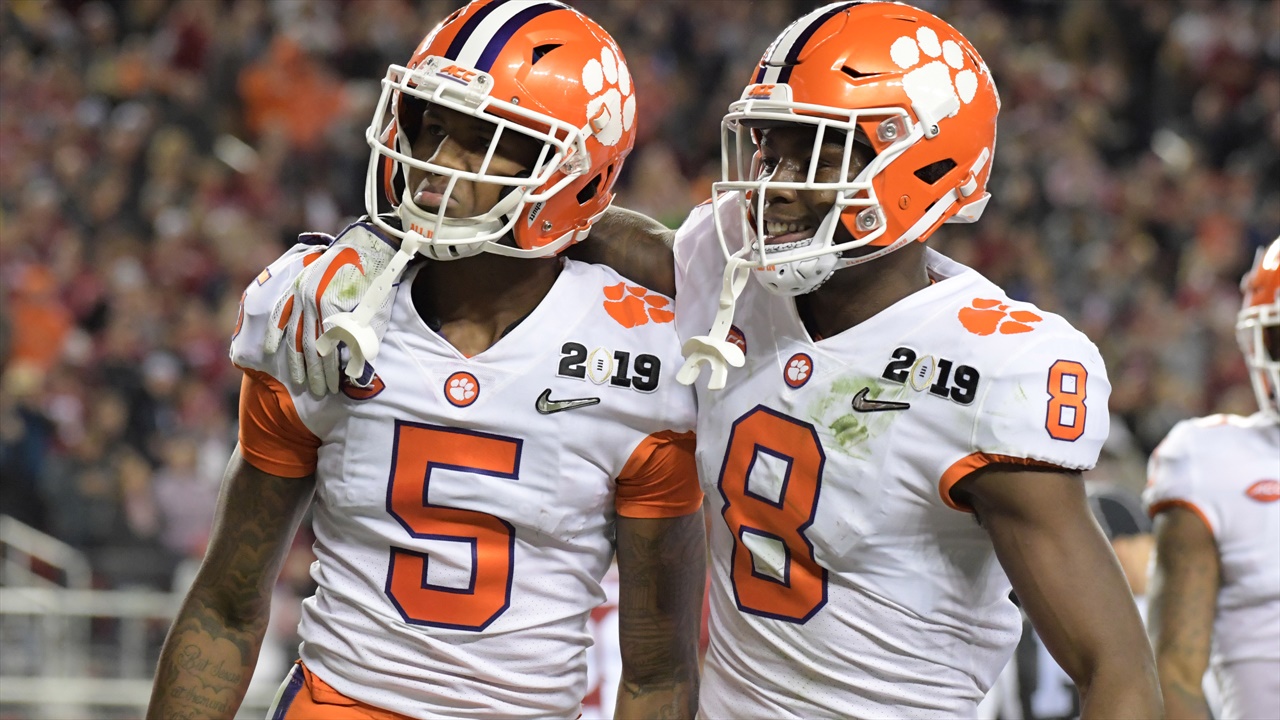 Photo by © Kirby Lee-USA TODAY Sports
Clemson Football
Monday coordinator notes: 'Every game, (Trevor Lawrence) is getting more confident.'
---
Some quick notes and quotes from our time with coordinators Tony Elliott and Brent Venables this afternoon as Clemson begins preparations for the ACC Championship against Virginia:
Tony Elliott
-- Having two weeks to prepare for South Carolina gave the offensive staff some time to change things up. Elliott said they wanted to try and break some tendencies against South Carolina, which could be seen by moving Justyn Ross and Tee Higgins around to the slot.
Knew last year that they had a lot of success moving their versatile receivers around this time of the season. Said they are trying to create any kind of schematic advantage and Ross did a good job of handling being moved around.
-- On Justyn Ross, Elliott said he's been able to come on strong at the end of the year. His 11-catch, 111-yard performance on Saturday. Said there's been no entitlement to his game.
"Everything is earned," Elliott stated.
Said the receivers as a whole have been very unselfish.
-- Said Trevor Lawrence's ability to run the football has improved every game this season.
"Every game, he is getting more confident."
A part of his game that has made Lawrence so dynamic running the football has been his ability to take what the defense gives him. His ability to read and digest coverages before the snap gave Lawrence the confidence to know that if nothing was there, he could take off.
South Carolina played a lot of two-man coverage, so Lawrence knew if his receivers were covered there would be a running lane. Elliott said that the staff was debating after Lawrence's best day running the football if he was faster than Deshaun Watson. Elliott said he may roll with Lawrence.
-- On Lawrence's deep ball, Elliott said it looks like the chemistry between his quarterback and receivers is at a high level. They all look like they are all on the same page. Said Lawrence understands the personnel he has, which is difficult to do when the receivers have their different strengths and weaknesses.
-- Said Virginia's defense is versatile, multiple, and creates different problems schematically. They understand the fine details, which allows them to play fast. What has made them difficult to play against is that their linebackers bring a ton of pressure. That group combined leads the team in sacks. Those linebackers can come free due to the edge rushers on the defensive line attacking the interior.
-- Elliott was asked about being on the short list of the BC job. His response was similar to earlier this season when he was asked about how he handles it when his name comes up in coaching searches when the FSU job became open.
"Dabo Swinney and Clemson have been too good to me for me to get distracted," Elliott said.
-- Said a lot of people may point fingers at the offensive line when Clemson was stonewalled on the early goalline stand. Said it was actually more on Travis Etienne's shoulders.
"Travis had an opportunity," Elliott said. "The line did a good job… Travis was impatient."
Said if Etienne's pads were lower, he could have knifed his way in for the touchdown. Added that this play was an anomaly when you look at how he performed all season overall.
Has been really impressed with who Etienne, his gifts, and how he's progressed. When Tavien Feaster left, it forced Etienne to become the leader in the locker room. At first, Etienne struggled with that role, now it's natural to him. He's had a pro mindset and has done a good job of blocking out the noise.
-- Said Lyn-J Dixon's progression is heading in the right direction even though he is a younger guy. Said even though he's known as the fun guy in the locker room, there's been a different focus and demeanor to the running back over the past four or five weeks. That has resulted in him getting into the game earlier and he's taken advantage.
Brent Venables:
-- Said it was good that his players on defense are playing confidently, although that's not his personal style. Venables always enjoys seeing a plan come together throughout the course of a game. Takes great joy in the process of creating wrinkles and studying the opponent.
But having players like K'Von Wallace is helpful. Said Wallace plays with his emotions on his sleeve and is a natural born leader. He's comfortable in his own skin.
On Wallace not getting love from the Virginia schools in the recruiting process: "To each his own… he's always played with a chip on his shoulder."
-- On Bryce Perkins: Said he doesn't compare to other quarterbacks they have played. Said he's the heart and soul of Virginia's offense. The offense is built around him, and Bronco Mendenhall has done a good job of developing skill players and utilizing the tight end. There are plenty of RPOs and designed quarterback runs. Said their offense is one of the top teams in the country on third down due to their success on first and second down.
-- Said Derion Kendrick is still just scratching the surface of his true potential as a cornerback. Didn't expect him to play as well as he has, but was hopeful he would.
-- Said the two main areas of growth on this defense have been on the defensive line and with leadership overall. Leadership has been consistent all the way through. The group has great focus, maturity, and knows what they want to do.
Early in the year, that type of mentality is easy to have. But like a marathon, it's hard to sustain. The progression from the defense as a whole has been noticeable from the onslaught.
-- Said the tackling still isn't as good as it should be. That's what players talk about after the game, they know that there is still plenty of work left to be done and that the defense can improve.
"Not every hit needs to be a knockout."
Didn't have an opinion on tackling as a whole that he's seen from other teams this year.
-- On Xavier Thomas: said Thomas would be the first one to tell you that he has so many areas he needs to improve upon. Venables said he's still a young player, this being his first year as a co-starter on the defensive line.
Never miss the latest news from Clemson Sports Talk!
Join our free email list