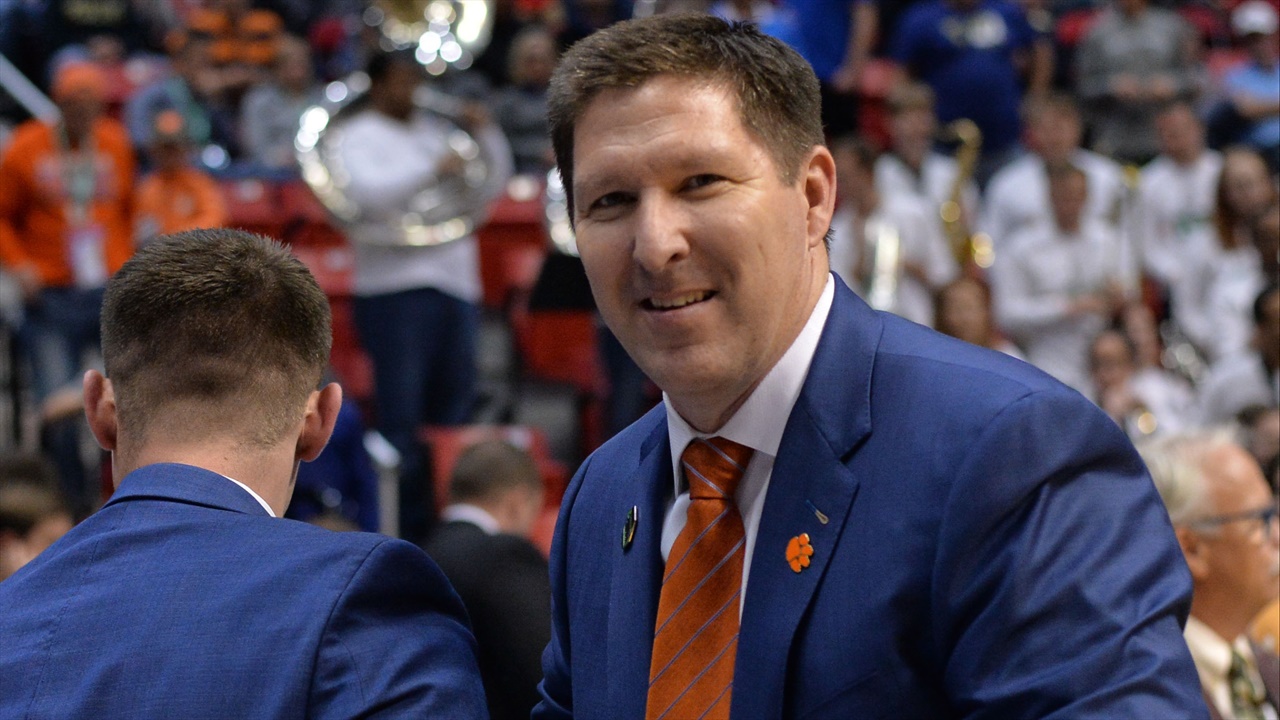 Clemson Basketball
Brad Brownell on being a #GirlDad: "They're special"
---
We are giving away a LIMITED EDITION Clemson National Championship football to one lucky subscriber on February 28. Sign up today for just $1 and help up continue to grow.
---
The tragic passing of Kobe Bryant and his daughter, Gianna, shook not only the sports world to its core, but the entire world as we know it.
It's been one week since the nightmare of that helicopter crash in Calabasas ensued. Since, people around the world went through the grieving process and mourned a sports hero beloved by millions, a promising future superstar, and other lives who were lost that Sunday morning.
Many have honored the legacy that Kobe left behind throughout the week. There have been murals painted, old stories re-told, and 24-second shot clock violations galore across all levels of basketball.
Perhaps one of the most moving tributes this observer saw over the course of the week was ESPN's Elle Duncan's anecdote of the one time she met Kobe and spent a mere 30 minutes with him while she was eight months pregnant. The minute-and-a-half video went viral across all social media, and if you have not seen it yet, I'd check it out right now only if you have no problem tearing up.
As a result of the video, #GirlDad started trending. Fathers everywhere who have a daughter - or four - started flooding social media timelines with pictures of their families.
Clemson head basketball coach Brad Brownell was one of them.
His two daughters, Abby and Kate, are students at Clemson. At his media availability previewing the Tigers' game against Wake Forest, Clemson Sports Talk's Sophia Radebaugh asked Brownell what it is like to be "girl dad."
"You know what? Having girls is awesome," Brownell said as a grin ran across his face. "They're special and you want to protect them all the time. I don't have a son, so I don't know what that's like. I'd probably treat him a little bit differently, be a little tougher on him. But you know what? They're special. They're special to me and are incredibly supportive and I'm trying to reciprocate as best as I can as a good dad.
Brownell isn't the only notable coach at Clemson who has daughters and keeps them close.
Clemson baseball coach Monte Lee has four daughters, Madie, Shelby, Blaire, and Alexa. Clemson football's defensive coordinator Brent Venables may seem like the most intense person you have ever come across, but when he is around his daughters, Laney and Addie, he melts.
"You know what? Having girls is awesome," Brownell said as a grin ran across his face. "They're special and you want to protect them all the time."
"I really try to make time. It's been an incredible blessing that they've come to Clemson, and they are still around," Brownell continued. "They come by the office every once in a while so their dad can take them to lunch. It's not something that I am not aware of or don't appreciate. I'm incredibly blessed to have them and my wife in my life and I realize that every day."
As far as basketball goes, Clemson seemed to have turned things around after a rocky December where it went 1-5. In the month of January, Clemson went 5-2, didn't lose a home game, and defeated three Hall-of-Fame coaches in the process.
Recently there had been a different level of confidence from the players following positive results on the court. That was most evident in Clemson's one-point home win against Syracuse, where guard Clyde Trapp had his best game to date, finishing with a career-high 17 points on a night where Aamir Simms was off.
Trapp hit the game-clinching bucket with less than four seconds remaining, all while wearing shoes commemorating Kobe and Gigi Bryant.
Clemson has had players on its roster miss up to 52 games combined this season, including Trapp and two other starters. Trapp looked quite bouncy and confident on that knee, which suffered a torn ACL before the start of the season.
The X-factor for Clemson as it enters February is Tevin Mack, the transfer who is coming off an electric performance against Syracuse, posting a career-high 32 points and his second career double-double (10 assists).
Last night, Mack struggled from the floor, scoring just two points in the Tigers' 56-44 loss.
Mack started the season with seven consecutive games of scoring in double figures but finished in double figures once in the final six games in December. When he's on, Clemson's offense has another gear, when he's off-- well, rewatch last night's game.
The Clemson team we saw playing in January, the team that finished games, is not the same as we saw in December. They looked to be a more confident team, trusting each other on the offensive end. Their confidence will now be tested after shooting 18-of-59 from the floor against the Demon Deacons.
Their confidence will now be tested after shooting 18-of-59 from the floor against the Demon Deacons.
Heading into the Wake Forest game, Brownell felt good about where the Tigers were as a team.
"I think our team's got good confidence right now. I think it's been building throughout the month, certainly with all the wins," Brownell said. "I think that's important. Confidence plays a big part in how these guys perform. It's tough when you lose close games, and you are working very hard and competing, and you have a difficult outcome. Sometimes you play well, and you don't win, and that's hard. But hopefully, some of the winning and good, positive performances that guys have gives them confidence and a little more juice and energy. Makes your practices better. You build on it as a team."
Last night the Tigers didn't play well and lost. Hopefully, the trial and tribulation of the early parts of the season will help this group turn things back around.
"I think we've just kind of grown together. We've had a lot of fun. This last month has been great. We've worked hard and gotten some good results, but sustaining is a challenge."
Clemson will head to Charlottesville, Va., for its next outing, with the Tigers slated to face the Virginia Cavaliers (14-6, 6-4) at John Paul Jones Arena on Wednesday, Feb. 5. The ACC tilt, which will air on a regional sports network (RSN), is scheduled to tip-off at 7 p.m.
---
This Sideline Player Full-Zip Jacket from Nike is on fire! The sleek Clemson Tigers graphics will give you bragging rights over your rivals and ensure your style is unmatched.
Never miss the latest news from Clemson Sports Talk!
Join our free email list