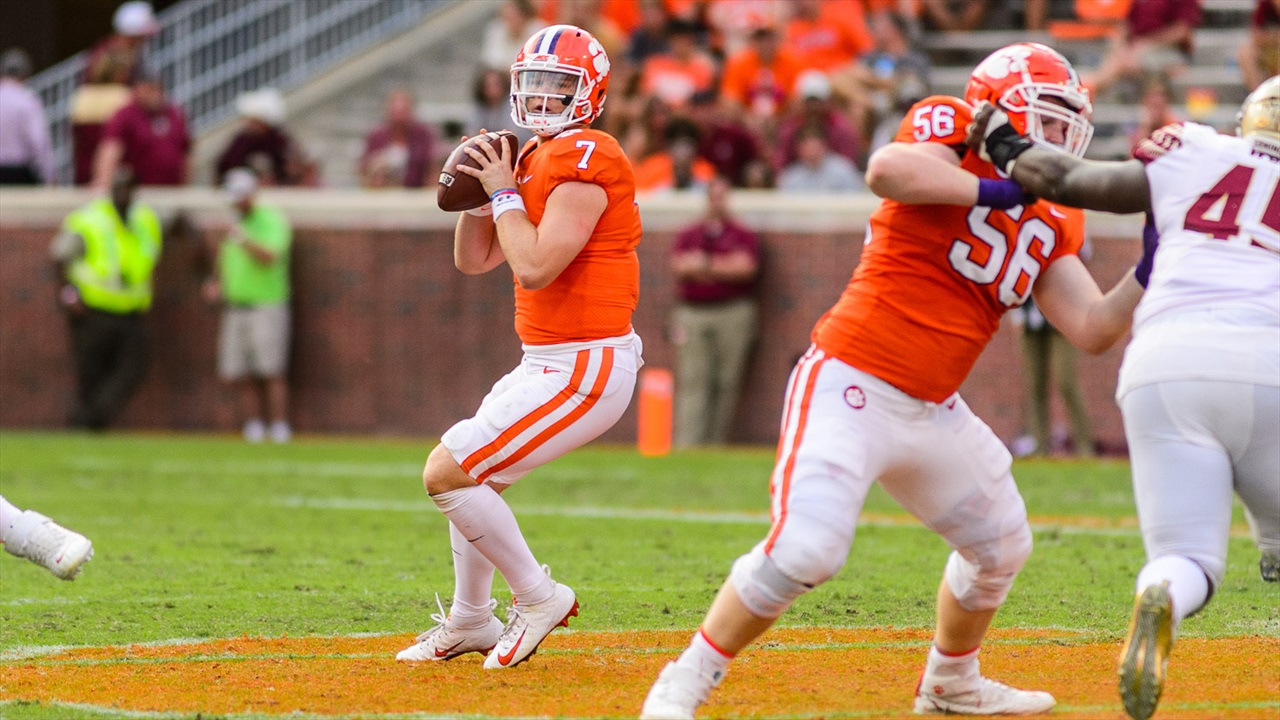 Clemson Football
Pt. I - Never Forgotten: Chase Brice's name will be forever remembered in Tiger Town
---
We are giving away a LIMITED EDITION Clemson National Championship football to one lucky subscriber on February 28. Sign up today for just $1 and help us continue to grow.
---
Chase Brice announced his intentions to finish his playing career at Duke this past Sunday night. The move was not a surprising one, in that David Cutcliffe is one of the best quarterback coaches in America. Brice will join a long list of successful Cutcliffe apprentices like Peyton Manning, Eli Manning, and most recently Daniel Jones.
We caught up with Brice just a few days before his decision was made and even though he is now headed to Durham, he will always be a Clemson Tiger, and many fans will never forget after his performance in 2018 against Syracuse after starting quarterback Trevor Lawrence was knocked out of the game.
"Looking back on that, I don't know really what to say. It's kind of all in that game. From being third string, a really good teammate and friend and Kelly, choosing the decision to leave and then I gotta get ready really quick," Brice said of the week leading up to the matchup with Syracuse after Kelly Bryant ubruptly left the program.
"Me and Trevor both gotta get ready really quick."
Watching from the sidelines Brice saw Lawrence take a big hit and when he didn't pop up immediately, the brand new No. 2 quarterback had to be ready to roll.
"When he went down, you just gotta go play ball, you didn't really have time to get nervous. You just have to ride with your teammates. Our running game was going well, which helped me. And then just trust the coaches and do whatever you got to do to win. And that's what we did."
Odds are if Bryant stays with the program, this story isn't being told today. Brice's name may have been vaporized from the minds of most Tiger faithful in 15 to 20 years. Instead, Brice etched his name in Clemson's history even while dealing with one of his best friends leaving the squad.
"It was tough to see a guy like Kelly go, he had so much pull with the team. He'd been there for four years, grinded, put in the work. We were all great friends with Kelly. He was one of my best friends. He helped me grow up really quick."
The two were very close and they always stayed in touch, for Brice it was tough to see Bryant go.
"We talked all the time, but in the moment, it was kind of like a piece of us, a piece of me, had had kind of left. It hurt for a long time. I'm not gonna lie, just because of what he meant to the program, meant to our team and the type of leader he was and player. We all loved him."
As for the fans, some were quick to turn the page, but others were angry about what transpired with Bryant. Many deemed his decision as selfish and few stayed quiet about the situation. That was also hard on Brice as the Tigers heard plenty of noise on it from the fans.
"Oh, yeah, of course. I honestly didn't look at it as him leaving out anybody. He never got redshirted, so he had the opportunity to do what's best for his future and what he wanted to accomplish," Brice noted.
"I think, for the most part, everybody understood what he had to do. I can't speak for everybody, but for me there was no hard feelings there. I love him. He just did what he had to do and I'm happy for him and his new opportunities that he's going to get, in the future, because of his decision he made."
Bryant's decision opened the door for Brice and Saturday, September 29, 2018, became the day no Clemson fan would soon forget. Thanks to Brice's heroics and Travis Etienne's legs, Clemson's undefeated season remained intact, allowing the Tigers to become the first 15-0 team in over 100 years.
Tomorrow for our PREMIUM SUBSCRIBERS, Brice gives us an inside look at Trevor Lawrence, the impact of Clemson's top-shelf recruiting, and more on his decision to go play at Duke.
---
This Sideline Player Full-Zip Jacket from Nike is on fire! The sleek Clemson Tigers graphics will give you bragging rights over your rivals and ensure your style is unmatched.
Never miss the latest news from Clemson Sports Talk!
Join our free email list