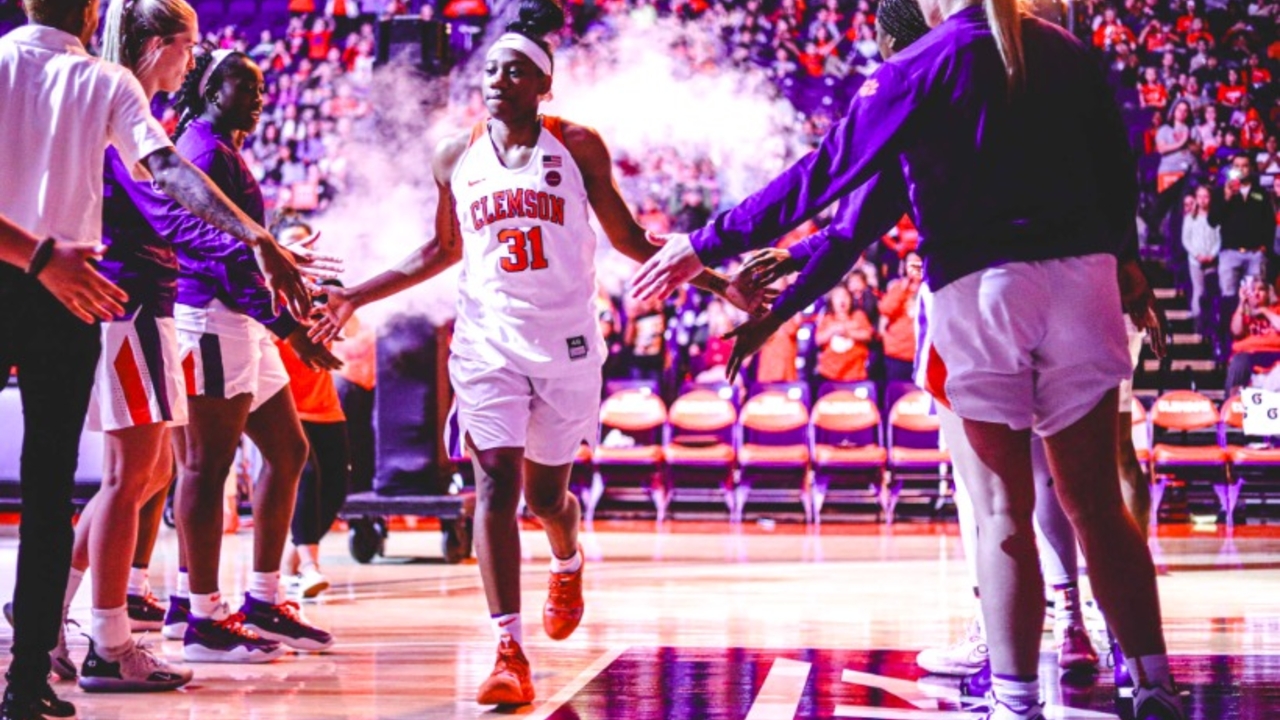 Clemson Women's Basketball
Clemson vs. Boston College Game Notes
---
• Clemson fell to Virginia, 70-54, on Thursday evening inside John Paul Jones Arena.
• Amari Robinson led the Tigers with 19 points on 5-9 shooting, with a team-high two threes and finishing 7-8 from the free throw line. Robinson also added a team-high eight rebounds and five steals. Kobi Thornton was the only other Tiger in double figures, finishing with 15 points and six rebounds.
• Thornton leads the Tigers in scoring with 12.7 points per game, while Amari Robinson is averaging 11.2 points per game and a team-leading 6.5 rebounds per game.
• In conference play, Thornton leads the Tigers with 12.7 points per game, while Kendall Spray has knocked down a team-leading 39 three pointers.
• The Tigers are looking to snap a five-game losing streak, with their last win coming at home against Duke on January 19.
GAME PREVIEW
• Clemson and Boston College meet for the 17th time in school history on Sunday afternoon on RSN.
• The Tigers downed the Eagles in the teams' only meeting in 2018-19, as Clemson left Chestnut Hill with the 91-58 victory.
SCOUTING THE EAGLES
• Boston College is coming off an 89-79 defeat against Syracuse on Thursday. Four players scored in double figures, but the Eagles couldn't overcome a 22-17 first-quarter deficit.
• Senior Emma Guy scored in double-digits for the 17th time this season, finishing with 23 points. Makayla Dickens led the team in rebounds (9) and assists (7).
• Guy leads BC with 13.4 points per game, while Taylor Soule is second with 12.8 points per game and a team-high 7.6 rebounds per game.

THAT NEW NEW
• Five of the nine Tigers that have put on a Clemson jersey for the first time are in the team's top-six in scoring in ACC play.
• Kendall Spray, in her first year of action after sitting out due to transfer rules, is second on the team in scoring in conference games with 11.8 points per game. Freshmen Amari Robinson and Hannah Hank are third and fourth with 10.5 and 6.8 ppg respectively, followed by transfers Shania Meertens (4.8 ppg) and Mikayla Hayes (3.3).

THREEEEEEE
• In 12 ACC games this season, Kendall Spray is 39-103 (.379) from beyond the arc, including eight made threes against Notre Dame, tying the school single-game record.
• Spray was named the ACC Player of the Week on December 30.
• As the 2016-17 OVC Freshman of the Year at UT Martin, Spray shot 38.4 percent from beyond the arc and broke UT Martin's freshman three-point record with 89 while ranking sixth on the program's single-season list. As a sophomore, Spray set the school single-season record for three-pointers made (125). She sits fourth on UT Martin's career three-point list, despite only playing two seasons with the Hawks.

THORNTON CLIMBING THE CHARTS
• Senior Kobi Thornton scored her 1,000th career point in March of 2019. She now has 1,324 career points and passed former teammate Danielle Edwards for 14th on Clemson's all-time points scored list.
• Thornton has also amassed 731 career rebound for 8th on Clemson's all-time rebound list.
• The Shellman, Ga., native also has 139 career blocks, passing Jackie Farmer for #3 in school history.
• Thornton was named to the preseason All-ACC team, the Tigers' first selection since Nikki Dixon in 2014.
Never miss the latest news from Clemson Sports Talk!
Join our free email list