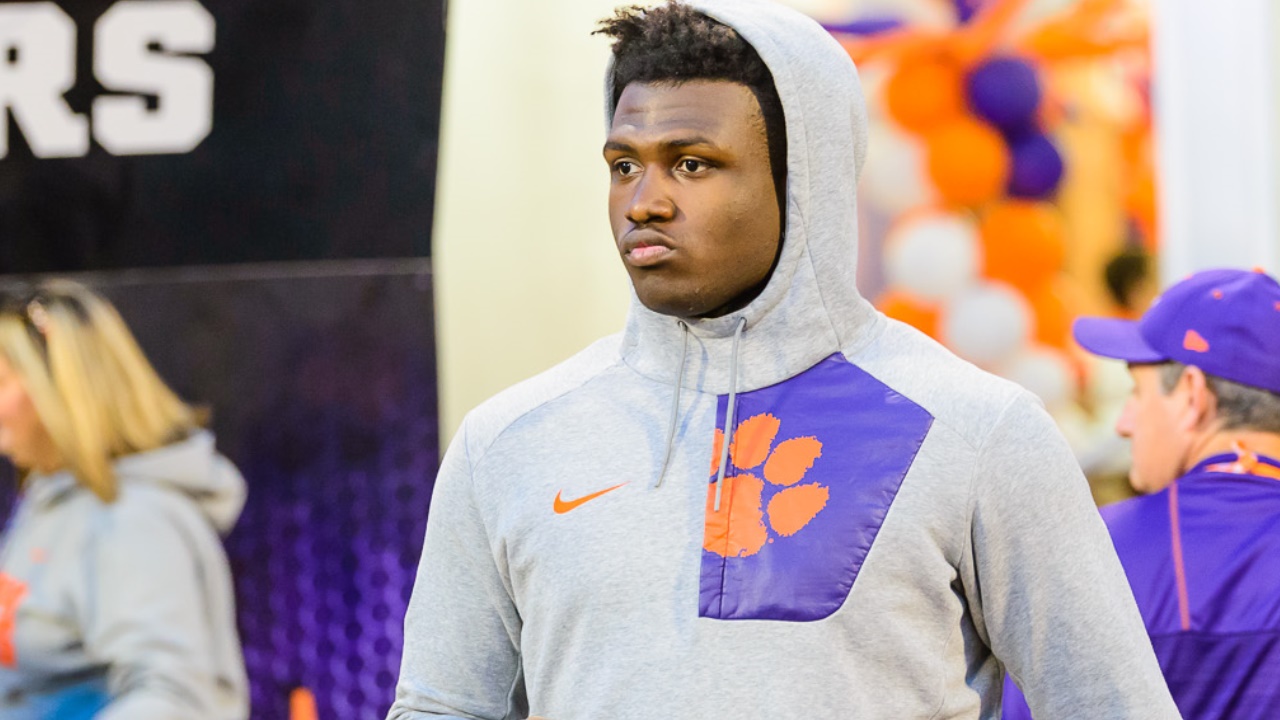 Clemson Football
Dabo Swinney Spring Practice Notes: "You can't help but notice them."
---
We were on site for Dabo Swinney's post-practice media availability on Monday night. The head coach dove into a few topics now that spring practice is starting to be in full swing. Here are a few of the more important notes from what we heard:
*A big thanks to intern Brandon Stockdale who transcribed Swinney's quotes*
-- The cornerback position is banged up, almost brutally thin. Derion Kendrick was out with a strained hamstring, Mario Goodrich is nursing an ankle injury, and Andrew Booth is still out but is coming along, according to Swinney. Said he hopes to get Goodrich back the second half of spring practice.
-- Even though there's reason to be a tad concerned with the cornerback depth, Swinney did mention how pleased he is with the talent he has at the safety position.
"We've got some guys that are moving around very, very well right there."
Also said Mike Jones is a guy that's doing a nice job. "He's getting a lot of work. All those young guys, I'm incredibly pleased with."
-- Said B.T. Potter has not missed a kick so far this spring after four practices. It was expected that incoming freshman soccer player turned kicker Tanner Tessman would be the backup to Potter, but Tessman made his decision to go straight to the MLS. Swinney supported Tessman's decision.
"I'm happy for him. I mean, that's pretty amazing. He started in his first-ever MLS game Saturday night. I think they played Philly and he was the MVP of the game. Played 90 minutes. Played every minute or whatever you call it, the "man of the match" or whatever the term is. It's pretty special. He's been working since he was in diapers, you know, to be a pro. The culture of soccer is a little different from a lot of these other sports and very few people get the opportunity to go be a pro right out of school.
-- The backup kicker now behind Potter is Jonathan Whites, who was brought in last year as a preferred walk-on. Swinney said Whites has only missed on kick so far this spring and is off to a great start.
Said he is planning on bringing another walk-on in during fall camp.
-- On Isaiah Simmons' performance at the NFL combine:
"Isaiah is what we all know: he's just a freak. He's one of the most unique talents you'll ever see. Him coming back and having that fourth year to really develop - he probably would've been a second-round pick last year. Him coming back and really just becoming a more complete player, it's amazing what he's been able to do so I'm excited for all of them and look forward to seeing them here next week. They'll be rolling back into town for our Pro Day."
-- On if the mid-years are starting to flash a little bit:
"To be honest with you, they've all flashed to me. The second OL, that's a hard position to play, especially when we're going against our defense, but I love what I see in those three new guys that are here. They're exactly what we hoped they'd be. They've got a little more to learn but again, watching them in a couple of our competitive drills, pretty impressed with them. I put Tayquon (Johnson) in that group too because he just moved over but I think we've got a good group.
"But those d-linemen, you know? You can't help but notice them."
"Fred (Davis), out there at corner is a great looking athlete. E.J. (Williams), he's smooth as silk, (he's) got to get bigger and stronger and all that, which we all know but he's got a lot to learn."
"D.J. (Uiagalelei), all those guys, man. We knocked it out of the park with that whole group. Sage Ennis, man. He is physical. He's got a mentality that you love. He really jumped out at me today watching him in the drill work, but Cade (Stewart) and (Bryan) Bresee, you can't help but notice them. Those three linebackers, you can't help but notice them. Tyler Venables, (R.J.) Mickens, you just notice them. It's just a good looking young group of talent that just got here that I think we hit on all them. They all got ways to go to be functionality players but we're off to a good start with that group."
-- Stopped mid-thought to call out Jamie Skalski and give him some praise.
"Wow. Is he off to a good start. He's a really good football player."
-- Swinney said there is potential for Bryan Breese to showcase his versatility while at Clemson, sort of like the way Christian Wilkins panned out during his career.
"Until you know what you're doing, it's hard to really be the best version of yourself. He's just trying to learn right now, but in due time, at some time, he's definitely a guy I'll throw a pass too, I'll hand it to, play special teams, play three-technique, play nose, can probably get by with him playing some end with him if we had to so I think, as he goes through his career and really grows, there's a lot you can do with him."
-- Said he wants to see more consistency from Xavier Thomas in everything he does. Said he was exposed a little bit at times last year and that could have benefited him.
"He's off to a really good start. I love the look in his eye. I like his focus, his demeanor. He's just a little more mature."
-- Swinney is not a fan of losing a home game in favor of doing a neutral site contests to open the season. He said he has fought that his whole career and will continue to fight it moving forward. But the way the Georgia contest in 2021 came to be was '21 was an "odd" season for Clemson from a scheduling standpoint because there weren't two Power 5 non-conference opponents (South Carolina was the only one).
"Dan (Radakovich) and I talked about it back in the summer so it's been something that they've been working on, but I hate the fact that we lose a home game. It's important to our community here, but this is pretty much what we're going to do this year and we'll get back on track with how we do things moving forward but we needed another game. It's exciting. You've got another opportunity. It just worked out."
We'll have more on this story later. Hope everyone is having a great week!
Never miss the latest news from Clemson Sports Talk!
Join our free email list