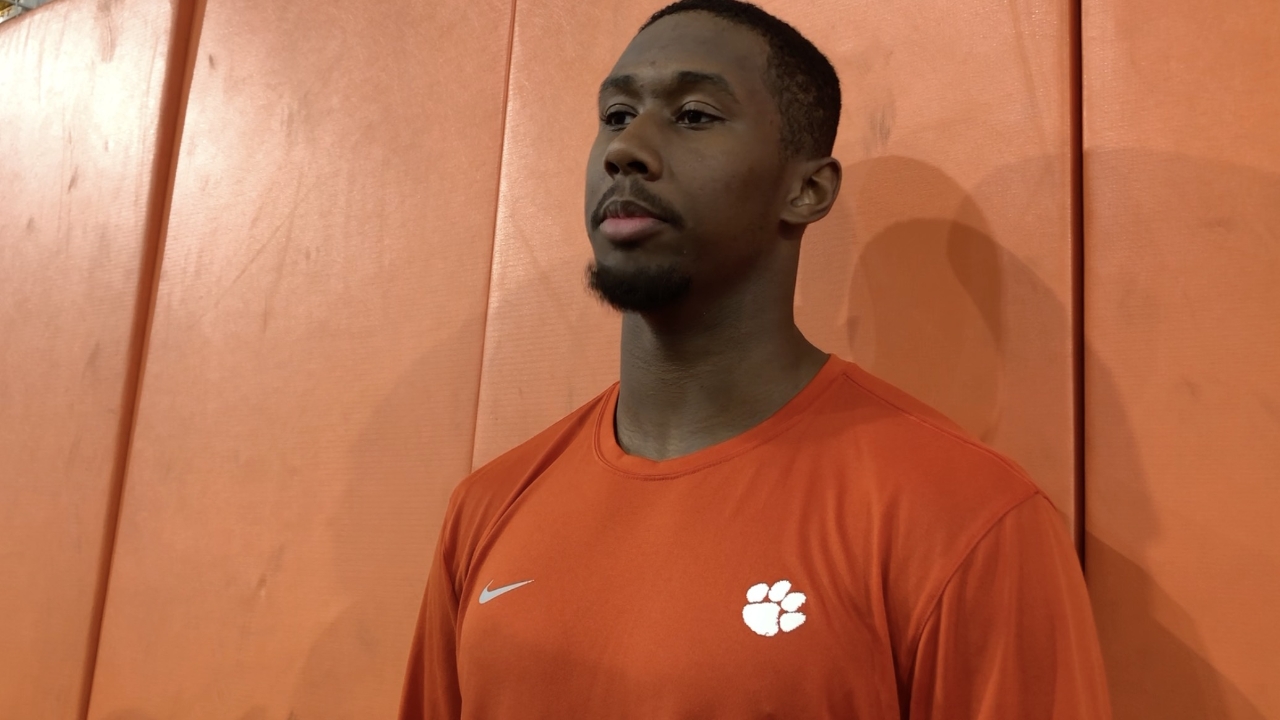 Frank Ladson
Cade Stewart
Jordan Williams
Clemson Football
Spring Notes: Frank Ladson, Cade Stewart, Jordan Williams
---
---
Prior to the ending of spring practice, we caught up with several Clemson players following practice. Here are a few unedited notes from those conversations.
Frank Ladson
Spring practice so far:
"So far spring practice has been really good. A lot better than last year when I came in as a midyear."
Anybody, in particular, standing out?
"Fred Davis. Since the first day, he's getting better each and every day. D.J. (U), he's doing real good. Each and every day, he's getting better."
How is spring practice different this season compared to last season now that you have a season under your belt?
"Last spring, I came in as a freshman. I ain't know any of the playbook or anything like that. This year, I kind of went through a spring, a season and everything so you know, I'm a lot more familiar with the playbook. I can play more than one position out this spring."
Amari was saying you're the fastest receiver. How much faster are you than anyone else?
"I don't know. The only person I've raced is Amari. That's the only player. I haven't raced Cornell (Powell). Cornell still thinks he can run with me. I don't think so."
Cade Stewart
"It's been great. Had a lot of great role models in the past and the centers before. I look up to Jay (G) every day. You can watch older film, he was a big influence in my life so, I just try to take it day by day and improve the best I can every day."
What's the competition been like for you guys?
"It's been interesting, you know? We've got a really young second group. Those freshmen are really stepping up, that's a lot of pressure for a young guy to come in here and have to make that much (of an) adjustment that fast. I think they're handling it really well and they're making great improvements every day."
Who are they running in behind you?
"They've got (Hunter) Rayburn and (Mason) Trotter in there. They do a really great job of holding that second team down. They do really well at communicating and getting better every day."
How do you try to help those guys cause they're trying to learn it and you've been playing it for a while and you've played (inaudible)?
"Yeah, I see a lot of myself in both of them. It's a complex system at center, it really is and you know, they're trying to learn the ropes. They're physical guys, they're really physical but they've got to get the mental aspect down and they're doing a great job at it now and I'm just trying to help them every day and improving one little thing every day. That's the best they can do and they're coming along really fast and doing a really good job."
Talk about the versatility to play for Coach Caldwell. You had to up and down the whole line from tackle to center and back. Any of the new guys, are they also being plugged in like that?
"Yeah, they are. That's one of Coach Caldwell's big things is one guy goes down, it's the next man up but we all play so many different positions that anybody can play at any position at any time and that's what really makes us versatile as linemen all together because if you know the whole offense, that's his big thing, if you know every position then you have a better understanding of why and what you're doing."
Jordan Williams
Is the heavy package planned for you this year?
"Well, I told y'all last year, my number prevents me from being on the field at that time but I would like to. I think I'm the guy for it. I think I would score."
What have you seen out of these midyear enrollees on the defensive line?
"They're very exciting to watch especially Bryan (Bresee), Demonte (Capehart) and Myles (Murphy). They're just explosive guys who are still learning things but they're very explosive. You can tell that they're going to get it and when they do, it's going to be something special to see."
Coach said on Saturday you probably had your best practice here at Clemson as an individual. What's so different about you this year?
"Well, I'm practicing in the spring so it feels good to be able to get back to the technical things as opposed to non-stop how it is in (fall) camp but it's going pretty good. I'm just focusing a lot on the little things, things I struggle with the most and it's been something that's taken time to get used to but I just keep working each day and try to get better at something different."
How has this spring been for the team? How's the comradery going? How's the feeling?
"It's been a good feeling. It's a whole lot of competition. Everybody wants to make each other great, honestly. Just people competing each and every day. It's a good competitive edge everybody has. Nobody is trying to just hurt anybody or anything like that, it's just everybody trying to make each other better so it's been a good spring so far. Got a couple more days to get better and very excited."
I guess we kind of forgotten about missing spring for you, something you haven't been able to do. How important is the spring for you having this year?
"It's super important. Last year, I had to take on a different kind of a role as kind of more of a coach and student of the game, essentially and watch more and look at it from a different angle and now that I was able to look at those things and adjust to it then, with more knowledge going into this spring and focusing on the little things kept me from being a better player."
Never miss the latest news from Clemson Sports Talk!
Join our free email list