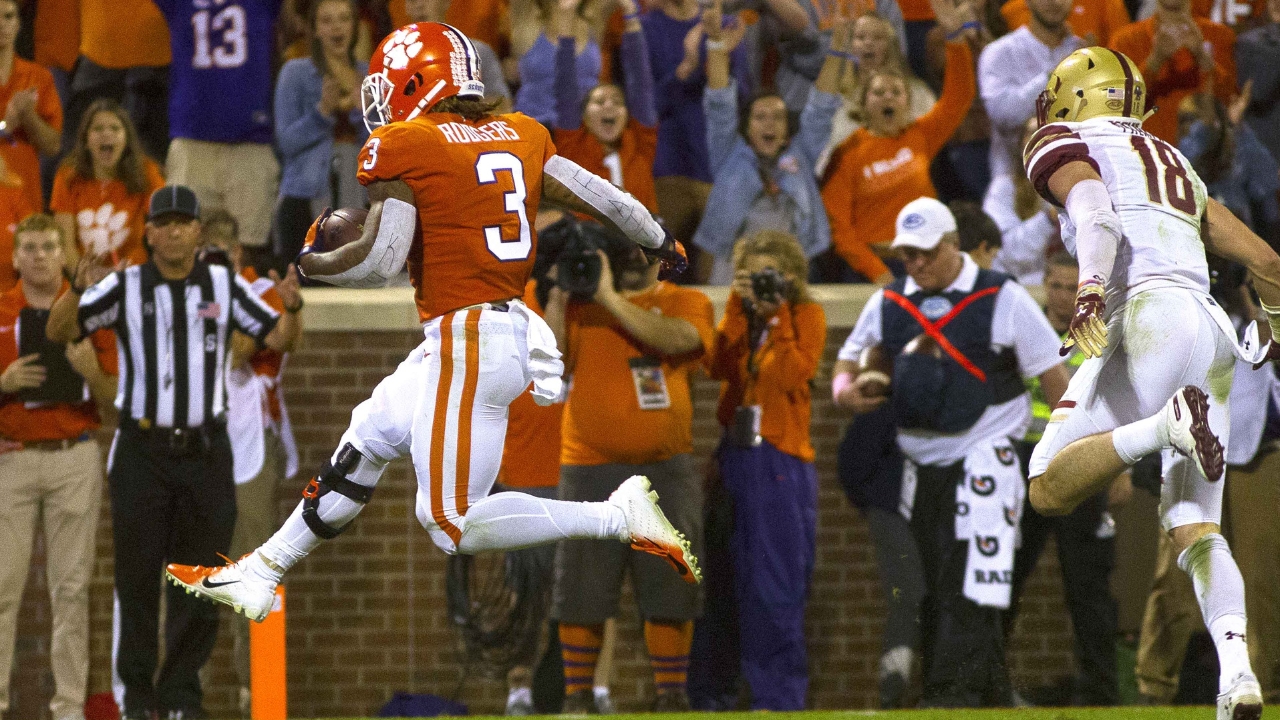 Jordan Williams
Frank Ladson
Cade Stewart
Clemson Football
'More explosive' Amari Rodgers weighs in on spring practice
---
---
We were on campus last night as Clemson wrapped up day eight of spring practice. Here are a few of the more important details from what we heard after we spoke with a few key players.
-- Braden Galloway has been getting some reps at the 5-man slot position, a spot usually held down by Amari Rodgers. There was plenty to be desired last year from an offense that seemed like it didn't utilize the middle of the field enough, but it already feels like Galloway's presence is making quite the difference.
Galloway was asked what kind of receiver he is: "I feel like I'm too fast for a linebacker and I feel like corners are too small for me so that's just how I feel about myself. I'm confident in my abilities to go out there and make plays at receiver or tight end."
Galloway also mentioned the biggest difference with him lining up in the slot would be that it would allow the Tigers to being in another tight end into the formation. Right now, Galloway is between 248 and 250 pounds. He doesn't plan on getting any smaller than 245.
-- After Dabo Swinney said Amari Rodgers is "all gas, no brace" a week ago, Rodgers told us he feels much freer (and he looks even bulkier).
"I feel a lot faster, more explosive because I feel like the brace was like extra weight so now I just feel lighter and more free and I can play fast every single rep so it's definitely an advantage."
-- Rodgers said he's seen a lot of maturity out of Taisun Phommachanh and D.J. Uiagalelei.
"They don't say much but they lead by example in the way that they play and they don't make many mistakes, if any at all, sometimes…"
Said Uiagalelei is one of the last people off the practice fields with Rodgers, which shows how he is willing to put the work in for when his time comes.
-- Rodgers said newcomer E.J Williams reminds him a lot of Justyn Ross. They grew up together and have the same skillset, which is "weird," Rodgers said.
"He's going to be special."
Said Williams has got to put weight on, which is normal for freshmen, but that hasn't stopped him from making plays all over the field.
-- Isaiah Simmons may be gone, but that doesn't mean Travis Etienne won't get challenged to another race. Frank Ladson told us he would have wanted to challenge Simmons to a race, but he wants to challenge running backs Etienne, Lyn-J Dixon, and Chez Mellusi.
"I don't think Chez is in the conversation, honestly. Chez is fast… but to go against me, and he was talking about racing 50 yards, I feel like I would get that easily.
-- Ladson is currently 6-foot-4 and 197 pounds.
-- Cade Stewart eats a peanut butter and jelly sandwich every night before bed to gain weight.
That's it for now. We'll have more following Clemson's scrimmage on Wednesday evening.
Never miss the latest news from Clemson Sports Talk!
Join our free email list