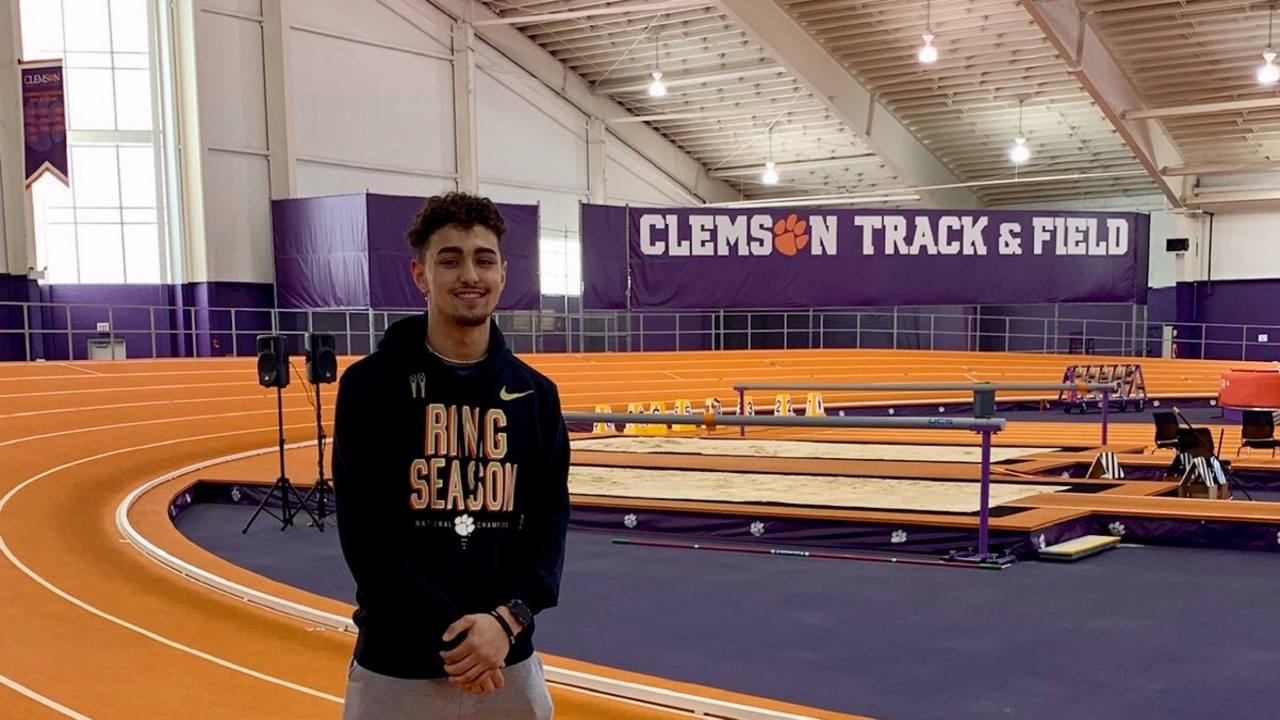 Photo by Niki Luzzi
Clemson Football
Clemson: A family tradition, decades in the making
---
---
The Clemson football family has extended recently to California, Kansas, Missouri, but in the mid-60s, head coach Frank Howard went north to sign 5-foot-8, Belleville, NJ native Richie Luzzi. Luzzi redshirted in 1965 and played defensive back from 1966-68.
In his final season, he was named All-ACC and ran into the history books on Sept. 28, 1968.
With Clemson trailing a nationally ranked Georgia football team in Athens, the Bulldogs decided to kick a 47-yard second-quarter field goal. Luzzi, a standout running back at Belleville High, caught the missed kick and took it 108 yards to the house. His return remains the longest touchdown in Clemson football history.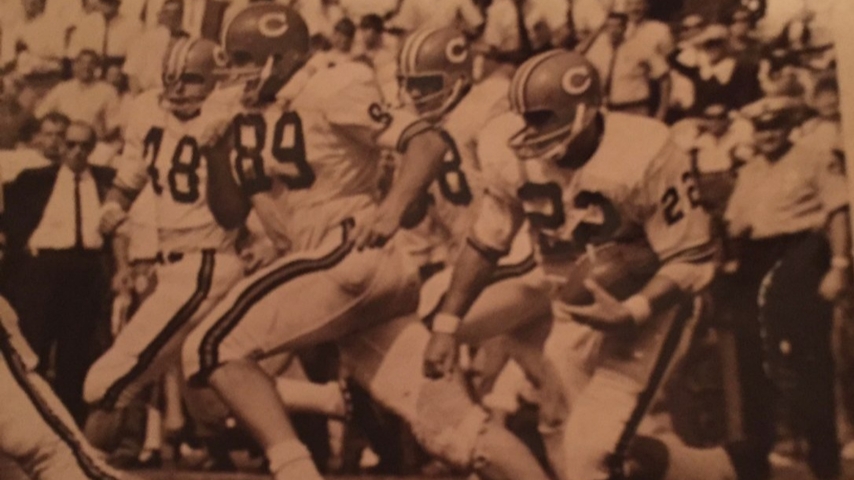 Clemson Sports Talk
After graduating in 1968, Richie and his wife, Annette, who moved to Clemson with him in 1967 after sharing their wedding vows, left the area after suffering a tragic family loss.
"At some point, my mom and dad left Clemson because my mom lost her second child, Dana, shortly after birth. It was a little difficult for my mom to stay there after that happened," said Niki Luzzi, the sixth of eight children. "My mom always said if that hadn't happened, they might have stayed there and never come back to New Jersey."
COVID-19
Today, the Luzzi family still lives in Belleville or within 20 minutes of each other. Like everyone in most countries and cities across the world, residents of Belleville, located in Essex County, are coping and adjusting to life under the Coronavirus pandemic.
"My sister's sister-in-law was on a ventilator a few days ago. She had been on it, at least seven or eight days. At one point, they were afraid she would develop an infection if they didn't take her off. They were also afraid she wouldn't be able to breathe if taken off," said Niki Luzzi, who lives 10 to 12 miles east of the city of New York, where over 6,000 people have died.
"The living spaces are so much smaller here than other places," she noted. "A woman from our town, I don't know if she still lives here, but one of my sisters used to work with her. Well, she lost her mother-in-law, two brothers-in-law, and a sister-in-law. That's already four people from one family."
There are now over 2,000 deaths just in New Jersey alone, and among them are her boss's grandmother and relatives of several former classmates. The lives lost are a significant concern, along with the loss of jobs.
"Thankfully, for me, I work for a big company, so I'm able to work from home," Niki said. "Financially, I'll be fine, but I have a big family. My brother, my sister, and my sister-in-law are all out of work. They're not getting paid and had to file for unemployment benefits."
There are over 250,000 known COVID-19 cases in New York and New Jersey combined, and Niki believes there could be many others carrying the virus, who haven't been tested. Getting tested for COVID-19 isn't easy and requires patience, and even more in a city near the epicenter of the disease.
"They've been opening up more testing facilities here and around us. But they're at capacity before they're even opened," Niki stated. "People are lining up in their cars to get tested at five o'clock in the morning, and within a half-hour, they [the facilities] are at capacity."
Niki is patiently waiting to get back to her life pre-COVID, and she hopes to do it with her family intact. Her immediate family has experienced enough death. In addition to losing Dana in 1969, Richard, 2, drowned in 1974, and then they suffered a massive loss in 2003 when Richie, 57, died of heart failure.
Sports: A family tradition
Before Richie's death, he played some pro football and coached at Belleville. He was also inducted into the Belleville High Hall of Fame (for baseball and football) and had his number 22 football jersey retired in 1999.
His busy life and extending family that included daughters, Niki, Renee, Janine, Darbi, and Randi, and one son, Jason, had kept him away from Clemson. During those years, a physical connection to the university was temporarily lost, but spiritually it was still there. However, it was Richie's death that led a few of his former teammates to reconnect with Annette and the family.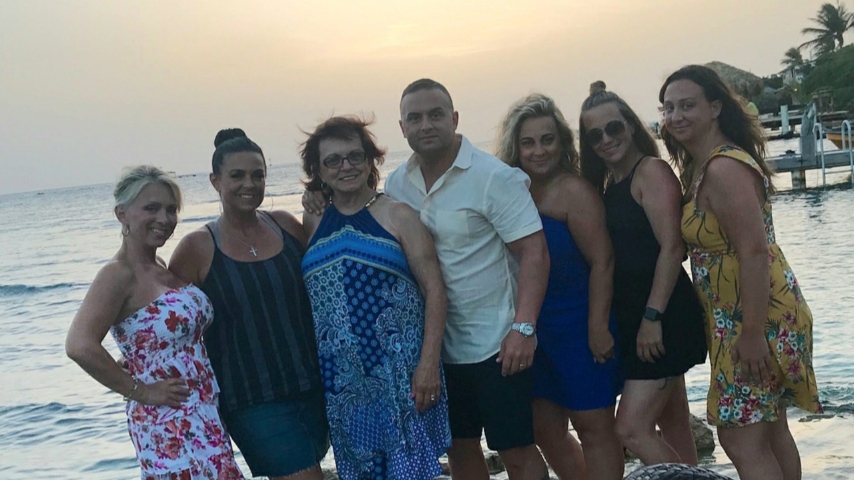 Clemson Sports Talk
Niki said Richie, a quiet, humble man, never really expressed a desire for someone to follow in his footsteps to Clemson. But when the family started regularly attending a few games and camps, it seemed almost inevitable that another Luzzi would become a Tiger.
Jason was a standout football and baseball player at Belleville and seemed destined to be the next Clemson football player in the family. With head coach Tommy Bowden (1999-2008) running the program, Jason was seriously interested in Clemson.
"My brother was playing high school football, and he went on a visit when coach Bowden was the coach there. He wanted to go to Clemson, but my dad had just passed away two years earlier. He didn't want to leave my mom." said Niki.
Niki was an athlete herself, and so was her sister, Janine. Both played softball, and Janine later joined her father in the Belleville Hall of Fame.
While Richie dealt with health issues, Niki was raising her son, Richie Luzzi-Liggins, named after his grandfather. Luzzi-Liggins was adored by his grandfather Richie and was in his presence until his final days. Luzzi-Liggins was only two-years-old when his grandfather passed.
The Track
At a young age, Richie Luzzi-Liggins was interested in both football and baseball, like his grandfather and uncle Jason. That would change after he lost interest in baseball, and an umpire told him that he was fast and should consider track and field.
"I guess it was his sophomore year. They said, 'This kid is really fast. Why don't you run track?" recalled Niki. "So he's like alright, I'll try it out and see what it is. He started the outdoor season for his sophomore year, and like within two months; he was an All-American. It happened so fast."
Baseball had become a sport of the past for him, but the passion for football, the sport he expected to lead him to his grandfather's alma mater, never wavered.
Luzzi-Liggins missed most of one football season at St. Peter's Prep, a private school about 10 miles from Belleville, with an injury, and his interest and success in track and field progressed. It was quickly becoming his best sport, and schools were starting to take notice.
Then came serious recruiting interest from Clemson, Alabama, Rutgers, Ole Miss, and others. After the indoor season of his senior year, Luzzi-Liggins, the 2019 USATF NJ Boys 17-18 Sprints Athlete of the Year, placed the Tigers, Alabama, and Rutgers at the top of his list.
After dreaming of playing football in Death Valley and having the opportunity to be the second Luzzi to earn a scholarship to Clemson, there's no way Luzzi-Liggins spurns the Tigers for Rutgers or Alabama.
"I think that with Alabama, it was so far. I was kind of steering him more towards Clemson, not only because of our history but because it just seemed more like a family," Niki said as she discussed the eventual finalists, Clemson and Alabama. "I didn't really get that feeling when we went to Alabama. Alabama was beautiful, and the coaches were nice, but Clemson has just a different kind of feel."
So mom preferred Clemson but was willing to support her son's choice. However, there was a caveat. "I told him, 'if you go to Alabama, I'm not rooting for Alabama,' You can forget that," Niki told us.
It was Alabama or Clemson for Luzzi-Liggins. And ironically, months after the Tigers whipped Alabama 44-16 in the 2019 National Championship game and the teams were quickly becoming fierce rivals. His decision was made even tougher because a few people wanted him to pick Alabama, where former St. Peter's football and track athlete Minkah Fitzpatrick, a defensive back for the Pittsburgh Steelers, was an All-American.
Tough Decisions
His grandfather had also faced a tough decision. It was either football at Clemson or baseball with the Atlanta Braves. He chose the scholarship over a spot on the Braves farm team.
So it's your grandfather's alma mater, Clemson, a family favorite and also your dream school or the rival, Alabama?
No pressure, right?
"A lot. A lot of pressure," said Luzzi-Liggins. "It was making the decision, a lot harder, because I'm not gonna lie I did like Alabama. I was leaning towards Alabama at one point. But, you know, I started to feel the pressure. And I was just like, I've loved Clemson-- all my life as a kid. So I'm just going to go."
At this time, last season, the 5-foot-10 sprinter had not made a college choice yet. Official visits to Rutgers and Alabama were behind him, and Clemson was left for the weekend before his signing. After three flight delays, due to threatening thunderstorms, a planned two-day visit turned into only hours, and a decision was made ahead of the flight home.
Welcome to Tiger Town
On April 17, 2019, at St. Peter's Prep with Niki, his younger brother Neko, Annette, and Jason at the signing table, another Luzzi was finally a Clemson Tiger.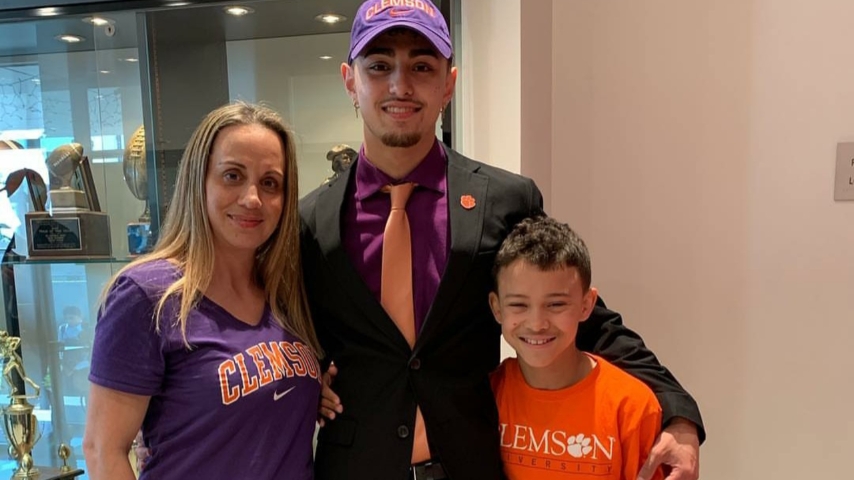 Niki Luzzi
Luzzi-Liggins is home in New Jersey and has been since March 13. The pandemic brought on the suspension of all athletic events and the Feb. 27-29 ACC Indoor Championships was likely the final meet of his freshman year. He finished second in his 200-meter heat with a time of 21.86 to place him 15th overall. His season-best was 21.79 at the USC Indoor Open on Feb. 22.
"I was looking to go pretty fast this year," Luzzi-Liggins said of the anticipated outdoor season. "But now that pretty much sucks. We did all of that training, and I was really, really ready for the outdoor season. I was looking forward to it. But stuff happens. And here we are now."
Now he is taking classes online, having tutor sessions via Zoom, texting with Mark Elliott, Director of Track and Field and Cross Country, about academics and the current situation and oh, yeah, training.
"I'll go out for like 20 minutes and jog around town, just to keep like my stamina, not my stamina but my cardio up," Luzzi-Liggins said of his training regimen. "And we live on a pretty big hill, so I'll run up and down the hill, like a few times probably like 10 to 12 times, and pretty fast to just to keep things up. And, yeah, that's pretty much it."
Luzzi-Liggins' first year at his dream school, to say the least, is not going as planned, and no one could have predicted the likely outcome of no outdoor season, but he remains upbeat with the help of Niki and Neko.
"So we've been going in our yard and playing catch with the baseball. We've had some pretty nice weather the past couple of days, so the three of us will go out there and play catch and barbecue for dinner," Niki said and continued. "Yeah, he wants to go and understands that he can't. In the beginning, it was tough, but now he sees all these people dying. His friend's dad died the other day, a childhood friend, somebody that he went to high school with. And so, he understands."
Even when things get back to normal or close to it, the next track and field season could be affected. No matter what happens, Luzzi-Liggins is focused on representing Clemson and his grandfather well, and he hopes to make team USA's under-20 squad.
Home away from home
And what about football, his first love? The sport he dreamed of playing since he can remember. Can he avoid catching the football fever on a campus with one of the best programs in college football? So far, so good.
But the elephant will always be in the room, or at least for Luzzi-Liggins, on game day at Clemson's Memorial Stadium.
"He refuses to go outside of his dorm on a football game day," said Niki. "He has not been to a game. He won't go. He won't even go outside. I'm like, 'are you kidding me?' We went to the Texas A&M game. He would not come out. I was like, all right, whatever."
Luzzi-Liggins, a slight 155-pound receiver at St. Peter's, may never catch or carry a ball for Clemson, but he carries his grandfather's name and number 22 on his left arm in the form of a tattoo.
The name Richie Luzzi carries a lot of weight in Belleville, in fact, more than it ever did at Clemson. Maybe, in a different era of the football program like today, Richie would be bigger, but it would be hard to eclipse his stature in the city of Belleville.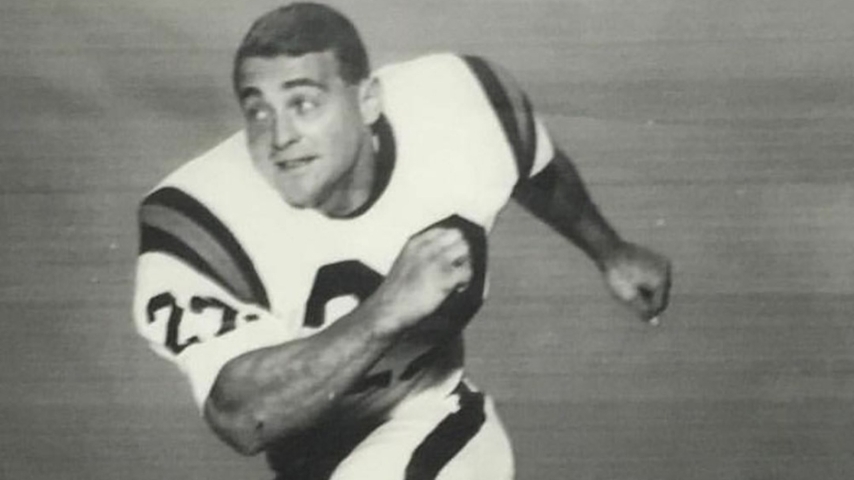 In his Good News on the Doorstep memoir to honor Richie, Joseph Rocco Cervasio used the words "great teammate, quiet, talented, consistent" and "legend" also "Pied Piper" and "Mickey Mantle" to describe the impact the patriarch of the Luzzi family left on the city of Belleville and Essex County. Cervasio also talked about Richie's persistence and determination, two traits that his grandson has already shown.
As a senior, Luzzi-Liggins had the persistence and determination to finally defeat rival Rahmir Johnson, a Nebraska running back commit, in the 100 (10.90) and 200 (21.62) meters outdoor sprints after losing to him in back-to-back years. He also reached a personal goal by breaking the 200-meter school record of 21.34 held by Najee Glass, a world-class 400-meter sprinter. The record was initially broken with a time of 21.31, and he later broke it again with a blazing 21.17.
Luzzi-Liggins, a six-time state champ, and two-time All-American has left his own legacy back in New Jersey. Besides the 200-meter record, he holds the indoor 55-meter record of 6.54 and is a member of the 4x100 (2019) and 4x200 (2017) record relay teams. He is also second individually on the indoor 200 and 300-meter sprints list. And for the football enthusiasts, he is fourth behind Fitzpatrick (10.86) all-time in the 100 m, and Fitzpatrick is third (21.66) on the 200 m list.
When Richie came to Clemson, the football program had no national championships, and New Jersey natives stuck out like someone wearing a dark trench coat in the middle of summer. His grandson is now on a campus with a three-time national championship program and surrounded by many Jersey friends.
It took over 50 years for another Luzzi family member to sign with Clemson, and the family couldn't be happier. Times are tough these days in their state, and family gatherings are all on pause, but they remain optimistic and are looking forward to track meets and football games again.
The Luzzi family has never forgotten about Clemson even with so much distance and time since Richie's days in orange. Even after one tragedy took them away from the area and a global pandemic takes lives around them and temporarily stymies a life long dream - the family is back in Clemson, SC, a home away from home, and don't plan to leave anytime soon.
Never miss the latest news from Clemson Sports Talk!
Join our free email list