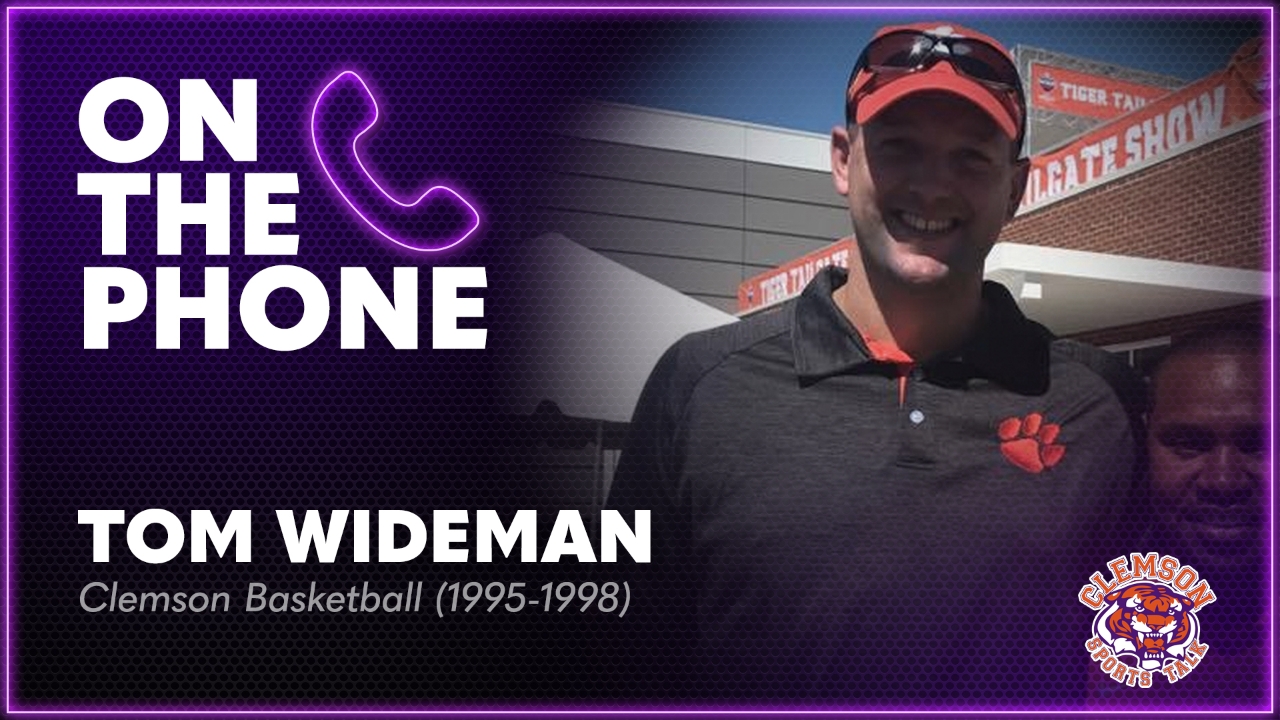 Clemson Basketball
Tom Wideman: "Coach Barnes wanted me more than anybody else"
---

---
Back in 1995, seven true freshmen joined Rick Barnes' Clemson basketball program. That group helped take Tiger fans through several magical moments, including a win over North Carolina at the ACC Tournament, rising to No. 2 in the rankings, and nearly an Elite Eight visit falling in double-overtime in the Sweet Sixteen.
We sat down for a lengthy conversation with the center on those teams, Tom Wideman, to discuss his life in sports and his time at Clemson.
First memories of basketball began with his older brothers & family :
"I had older brothers who were playing sports, so, for me, it started really early, and it was just kind of part of our family dynamic."
"I came out of the chute early, as soon as I could play on a 10-foot goal & for anybody who's got older brothers who are athletic, it certainly makes it a lot easier."
"My whole family on my mom's side was diehard Clemson, so I had that exposure at a young age."
Different sports growing up:
"I was basketball and baseball forever. Where I grew up in East Cobb, Georgia, it's a big baseball world. So, I was always just basketball and baseball. I played all the way through up to my senior year in high school."
Childhood Heroes:
"I started watching Georgia Tech basketball at a pretty early age, and then the Atlanta Braves, I was just hooked."
"I looked up to Dominique Wilkins, for the Hawks, was kinda my hero. As I got older, the Georgia Tech era with Kenny Anderson, Brian Oliver, & Dennis Scott, when they made that run, I was probably in middle school."
"So, those were the teams, the Hawks, the Braves, and Georgia Tech basketball that were kind of the folks that I watched."
Realization of Potential:
"My dad always had me playing up. He knew because I was very tall for my age group that if I didn't play up an age group, then I wouldn't develop as quickly."
"My junior year I was pretty close with the Georgia Tech basketball program, and I went down there to talk to their coach Bobby Crimmins, who was a family friend for a little while, and even then he was like, 'yeah, you could probably play some college ball. You know, Furman and Davidson.'".
"I was never a kid that had real big dreams. I wasn't a dreamer. I didn't set real, big, audacious goals for myself, and I was just kind of a hard work kind of guy."
"My senior year in high school was maybe when I started thinking, 'Okay, maybe I need to get more serious about basketball."
Time at Clemson:
"People ask me, 'Why'd I go to Clemson?' And, you know, the true answer is just because Coach Barnes wanted me more than anybody else."
"He walked in the math class in high school, just kind of barged in, and told the math teacher that he needed their help to get me to come to Clemson and, you know, other coaches didn't do that."
"He laid out an opportunity for me to play right away."
Virginia game Freshman year:
"Virginia was pretty good… we finished the game with five freshmen on the court & we win. We didn't really think about it at the time. It wasn't really a big deal to us, but I guess it was to everybody else, so that was kind of fun looking back at it."
Atmosphere surrounding Clemson Basketball at that time:
"Littlejohn was packed, even the nine o'clock Wednesday night game, it was full. Obviously it was kind of the golden era of ACC basketball, too, so people were coming to watch. That's for sure."
ACC Basketball Tournament Game against UNC:
"There were nine teams in the ACC, so you had eight fan bases that did not want to see North Carolina win."
"The fans were kind of quiet until like the last 30 seconds then they realized, 'Wait a second, Clemson might win this game.'"
"I remember just the rush from the fans. Just here we go—Clemson can do this."
Losing in Overtime against Minnesota:
"We had an opportunity; we were up six & playing a team that was so like us. So like us in how they played, great defense, big strong dudes, & we knew what to expect. We played well, we didn't win, but we knew that if we would have beaten them, we were going to crush UCLA."
"To be up six in overtime and not win, it's just one of those things, as a player, I'll never get over it. It'll be something that I feel every March."
Never miss the latest news from Clemson Sports Talk!
Join our free email list