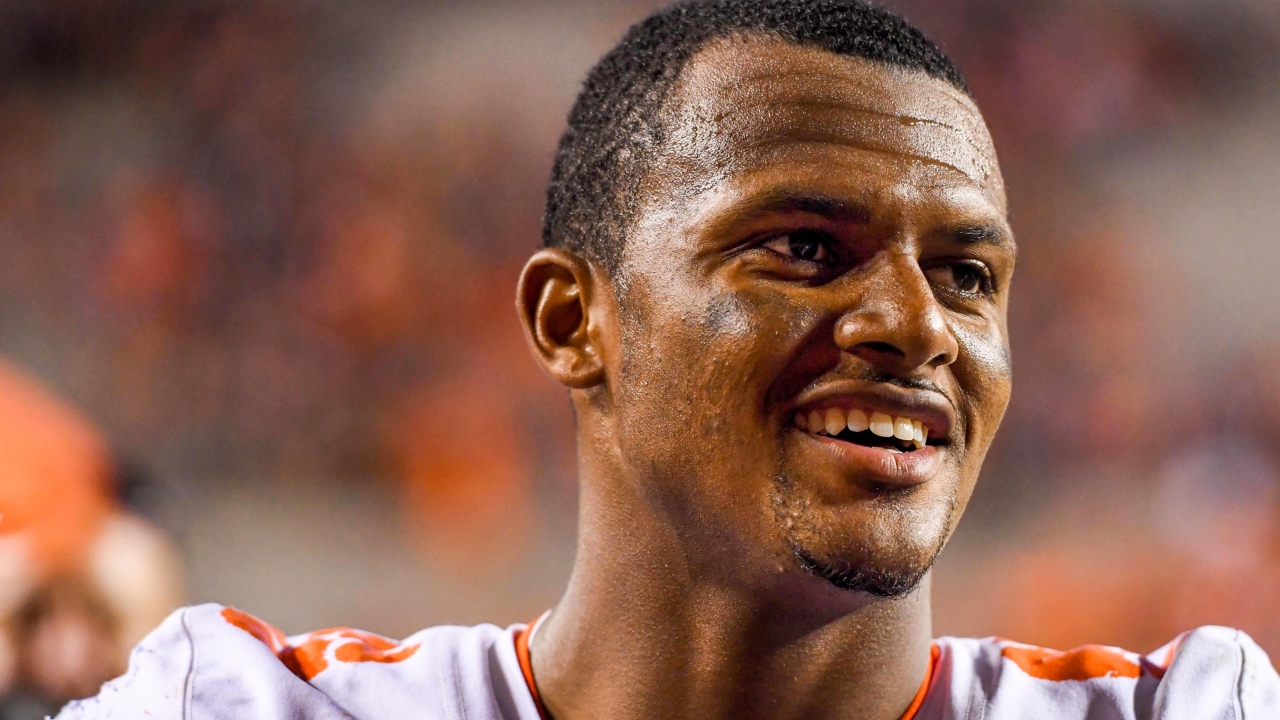 Photo by © Shanna Lockwood-USA TODAY Sports
Clemson Football
"Clemson's Greatest Games" is Must-See TV
---

---
If you haven't been witness to the new Clemson football series, Clemson's Greatest Games, it's time to start tuning in. The new 12 week series is airing across the state, bringing Clemson fans a look back at some of the greatest victories in recent memory.
We recently sat down with Richmond Weaver, host of Rich Take on Sports, and a producer on the new series to talk about the ideas behind putting the show together.
"Life is about timing and there are many examples of that. But with this, there's definitely an aspect of it that timing was probably in our favor with this project," Weaver noted. "Mark Childress, who is the brains behind this, had the idea and approached me back in late 2019. Talking about, 'we need something to re-live some of these great games.'"
Now for many fans, the assumption would be that those great games must come from Clemson's recent success in the College Football Playoff, but instead, it's a look back at games that helped define the run towards national prominence.
"Obviously, we know national championships, big bowl games, and also semifinal games, those are great games for Clemson, historically, we get that," Weaver stated. "But within regular seasons, there are games that are monumental."
The idea has worked and the show has really been well done, sharing things that Clemson fans would have otherwise never heard.
"Let's have an opportunity of showcasing those games and really tell the story about the game," Weaver said. "The behind the scenes type of things, the emotion behind certain big plays, the game itself, whatever it might be."
Clemson Sports Talk
The first week featured Clemson's win over Syracuse at home in 2018, some might call that the "Chase Brice Game". Then this past weekend, the series, a production of JMI Sports and Clemson Sports and Campus Marketing, Pronk Studios, and 9/8 Central, featured the Tigers matchup in Death Valley against Louisville in 2016.
"It is the greatest matchup of quarterbacks in Clemson history-- without a doubt," former Clemson SID Tim Bourret said during the most recent episode.
Throughout the documentary series, so many memories are brought to light and Tiger fans everywhere are sure to enjoy a look back, especially during these unique times with so little new sports activity taking place.
"This was early 2020, and obviously the world was normal then, as far as you could say normal right? And the pandemic hits, and sports stops," Weaver noted. "All of a sudden, live sports is gone. Where's the content? It was just a fortuitous type of situation, that we had this idea in our head and had showcased that and presented it to JMI sports and Clemson. It just made sense because they needed some content at that point."
"We've got 12 episodes highlighting 12 different games in what we're calling season one because we do hope this is going to be something that we can continue to produce and provide this walk down memory lane," Weaver said.
Their team is working hard to get everything in place and continues to work on episode after episode to bring Clemson fans unique content that feels very fresh, much like the Micheal Jordan Documentary did as it captured the attention of the nation.
"We feel on a small level, could we do that with the same thing here? It just worked out really favorable for us to be able to put this together and we're still running 100 miles per hour."
---
Catch Clemson's Greatest Games in your market on the following stations and times:
WSPA - CBS - GREENVILLE - Saturday at 7:30 PM
WJBF - ABC - AUGUSTA - Sunday at 11:35 PM
WBTW - CBS - MYRTLE BEACH - Sunday at 11:30 AM
WCBD - NBC - CHARLESTON - Sunday at 12:00 PM
WACH - FOX - COLUMBIA - Sunday at 10:30 AM
Never miss the latest news from Clemson Sports Talk!
Join our free email list