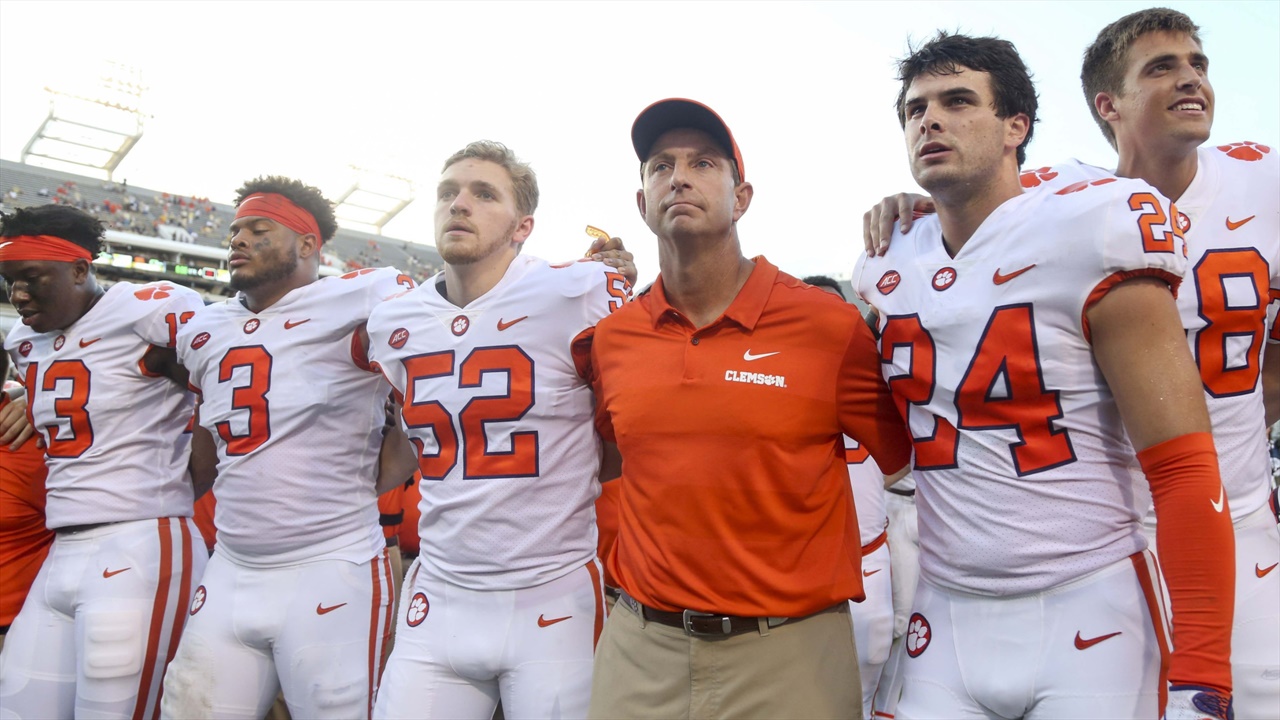 Photo by © Brett Davis-USA TODAY Sports
Clemson Football
Opinion: College Football unlikely to take place in 2020
---

Don't forget to enter to win a LIMITED EDITION Clemson football or a FREE shirt! → Learn More
---
Note: The attached audio is from Lawton Swann's visit on The Paul Finebaum Show to discuss the article below.
As the COVID-19 numbers continue to rise, it's becoming increasingly more difficult to believe that we will have a football season of any kind in 2020. I don't like typing those words, and I can't imagine having to host a radio show in the fall without college football.
Since June 1, I've held firm to my prediction that we will play football this year, but I gave myself the right to adjust that stance on the 1st of each month moving forward. I expected to make my next projection July 1, but instead, I'm doing it now, and unless something significant changes before Aug. 1, I don't believe that you will see a single snap of college football this year-- at least not in the fall.
There are so many aspects of this that we still don't know, but after more Clemson Tigers tested positive this past week, it seems like a real reach to believe there will be a season at all.
I hate it.
Looking at Clemson's campus today, it's an ideal scenario for the football team. There are very few other students in Tiger Town. Even still, Clemson went from announcing 23 cases last week to 14 new cases this week on the football team. That's 37 total players in two weeks. Even though the first 23 players have completed the 10-day isolation period and there have been no hospitalizations for any individual within Clemson Athletics related to COVID-19, it's not going to go away or be defeated because every Clemson player has had it.
Think about this: Approximately half of the cases have been asymptomatic, which means half have had symptoms. We still don't know enough about reinfection rates at this point and how that works with COVID-19, so we can't assume those players won't get it again.
For the "Did any of them die?" crowd, yes, death rates have to be considered, but should a player who tests positive for COVID-19 be playing this fall? Absolutely not, especially if they've got symptoms.
While COVID-19 is not a death sentence for the majority of young adults who get it, my concern is what happens when the student population gets back on campus? How will student-athletes be able to avoid COVID-19 testing positive, and ending up symptomatic when more and more students return to school?
Professional leagues have the distinct advantage of attempting total isolation by living in hotels and not venturing out. We've seen that in European soccer leagues. Even still they've had cases pop up.
The NFL has already canceled the Hall of Fame Game, and while it's only an exhibition, and a poor one at that, the NFL's preseason opener being shelved doesn't give me added confidence either.
Also, social distancing doesn't exist in a locker room environment, and what we've learned with COVID-19 is that one case can become 20 cases in a hurry. The outcome doesn't seem desirable for college football fans.
Yesterday it was announced that Wake Forest's Dave Clawson would isolate from his wife, Catherine, a cancer survivor, beginning July 12 and doesn't expect to return home until the season finishes. James Franklin at Penn State is taking a similar approach because he has a daughter with sickle cell disease.
Let that sink in.
While some have shouted that COVID-19 is all about politics, it's actually about two other things more than anything, economics and health-- and the balancing act between the two. Both are undoubtedly political topics, but not concerning how we have to handle this virus. Imagine a scale attempting to balance those two factors. That's where we are.
The driving factor in pushing for a season is about economics. If universities and athletic departments knew that they could still make the same amount of money without playing football, there is no chance we would see football in 2020. No chance at all.
So we will see a push to get out on the field, health be damned.
However, once enough student-athletes get sick, that balance will shift back. Even if we are lucky enough to get the season started, some teams, maybe even entire conferences, will most likely shut down. Look no further than what's happened in Texas and several other states right now.
After being shut down, some states began reopening because the economic side of the virus was starting to outweigh the health concerns. Even though those states, South Carolina included, opened without meeting the standards in place to reopen because state governments felt like they had to. They could only hope that the numbers wouldn't rise-- that simply has not been the case.
Yesterday, the United States had its largest single-day growth with more than 40,000 new cases.
Now states are beginning to shut back down and even some cities are beginning to implement mask policies to attempt to slow the spread of COVID-19. It is a balancing act that we probably will not escape until a vaccine, and more effective treatments are found.
I recently had someone mention that they thought it could be possible for a team with no shot getting to the playoffs, late in the year, to play COVID-19 positive players to sabotage the Tigers' season. Now, that's a bit of a stretch for sure, so I don't think you have to worry about that, but to be honest, we've possibly sabotaged it ourselves.
There has been considerable pushback against wearing masks, and honestly, at this point, I don't know if wearing a mask will help you get a football season-- or school this fall. We've possibly already crossed the point of no return on that front. I don't believe we could have stopped COVID-19, but we didn't do much to slow it down either, especially after Memorial Day.
My hunch is that real conversations about watching college football might not come around again until we have a vaccine in place or begin moving towards the 80/20 spread necessary to close in on some semblance of herd immunity in our country, but I'm not a doctor. Until then, thinking about watching Trevor Lawrence and Travis Etienne lead the top-ranked Clemson Tigers on the gridiron this fall is just hope.
It's an incredibly sad time, but looking at Clemson's numbers since returning to campus on June 1 and beginning workouts on June 8, makes me believe today, that you will not see football on Sept. 3 or any day this fall.
Spring football, anyone?
Never miss the latest news from Clemson Sports Talk!
Join our free email list