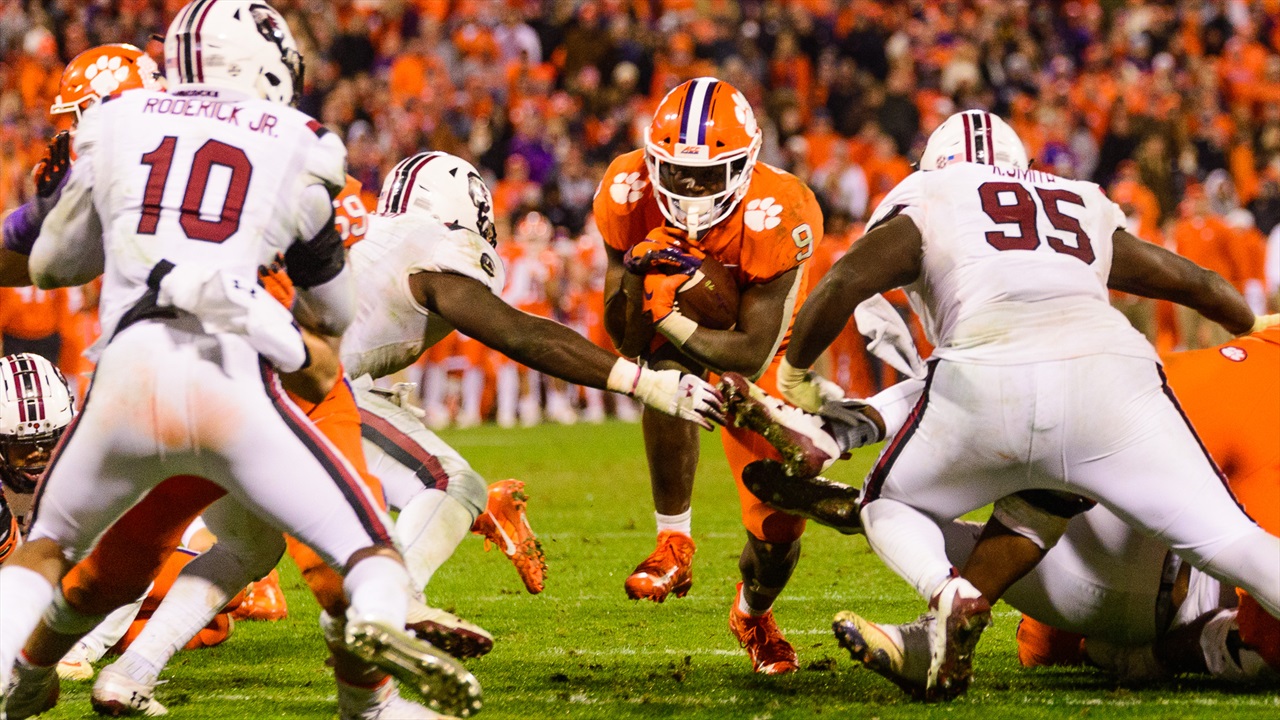 Clemson Football
Fall Football: Should The Palmetto Bowl be played early?
---

---
At this point, all may not be lost for a fall version of football. It is certainly not setting up to be a typical season after the Big Ten and PAC-12 made moves to play conference games only. However, there are reports that the ACC, SEC, and Big 12, are hoping to stretch out their final decisions in hopes of getting the most out of their regular-season schedules, including out-of-conference rivalries.
That's huge news for both Clemson and South Carolina fans who are hoping to hook up in November. The two teams have the longest-running non-conference series in the country, and logistically, it's hard to take playing a road game at Boston College or Notre Dame and not facing the Gamecocks, given their proximity.
Even after watching the SC State Bulldog football season crumble yesterday when the MEAC announced that they wouldn't be playing fall sports, all might not be lost for college football in the fall.
One thing is for sure, though, increasingly the power brokers in college football are beginning to get more cautious about their optimism that we see a season. Right now, it's a never-ending cycle of ups and downs, and the downs seem to be coming in waves at times.
This week on The Paul Finebaum Show, SEC Commissioner Greg Sankey said, "I'm done with predictions, done with models. We're going to look at the facts."
Nationally, the numbers of infection rates don't look good at all. Can America steady itself enough so that college football's opening kickoff can arrive?
One SEC coach recently said, "I'd say 90% chance we are delayed. I would say playing the season in the spring is something like a 25% chance right now. If we play in the fall, which I believe we can, if some real change happens, we could start later and play a shorter season."
That option certainly puts in to play rolling back the schedule by a few weeks and allowing for more time to make a final decision, but the clock doesn't stop ticking.
One thing we still don't know is if the Power Five will all agree to play the same amount of games. That ultimately could become a fly in the ointment for the Tigers and Gamecocks. In our estimation, that's a significant limiting factor.
Last week, The Bleacher Report's Matt Hayes tweeted that the SEC's four eastern schools with in-state rivalries against ACC foes "desperately want to play those" rivalry games.
The good news is that Sports Illustrated's Pat Forde and Ross Dellenger reported on Wednesday that the ACC, SEC, and Big 12 are working to create an alliance that would allow them to play a conference plus-one or a conference plus-two schedule.
After all, more games played means more eyeballs and more money.
According to The Athletic, Gary Stokan, the executive director of The Peach Bowl, is still hopeful that the leagues will get things figured out, but they are still very much in a holding pattern. Stokan also oversees the Kickoff Classic's held in Atlanta, and this year they are supposed to have three games played in a span of one week featuring teams from the ACC, SEC, and Big 12.
| | |
| --- | --- |
| Sept. 5 | West Virginia (Big 12) vs. Florida State (ACC) |
| Sept. 7 | Georgia (SEC) vs. Virginia (ACC) |
| Sept. 12 | North Carolina (ACC) vs. Auburn (SEC) |
As for The Palmetto State Rivalry, the other concern I see is that it's played as the final regular-season game. In the COVID-19 era, believing that we will reach that point of the calendar seems relatively far fetched. Some listeners of Clemson Sports Talk's daily radio show have suggested opening up the season with Clemson hosting South Carolina to keep the streak alive. In all honesty, I'd be all for that.
As the season rolls along, it's fair to assume that through contact, players would possibly get sick, and if it's terrible enough, leagues or teams could decide to call the whole thing off. It seems safe to think at least Week 1 would occur, so why not dial up the rivalry sooner rather than later?
These are uncertain times, and the consistent theme is the health and safety of players, as it should be. That is absolutely the correct mindset and is why I'm hesitant to think we could get into a ninth or tenth game without pressing pause or scrapping the entire season.
The sooner Clemson can play South Carolina, the better.
Never miss the latest news from Clemson Sports Talk!
Join our free email list