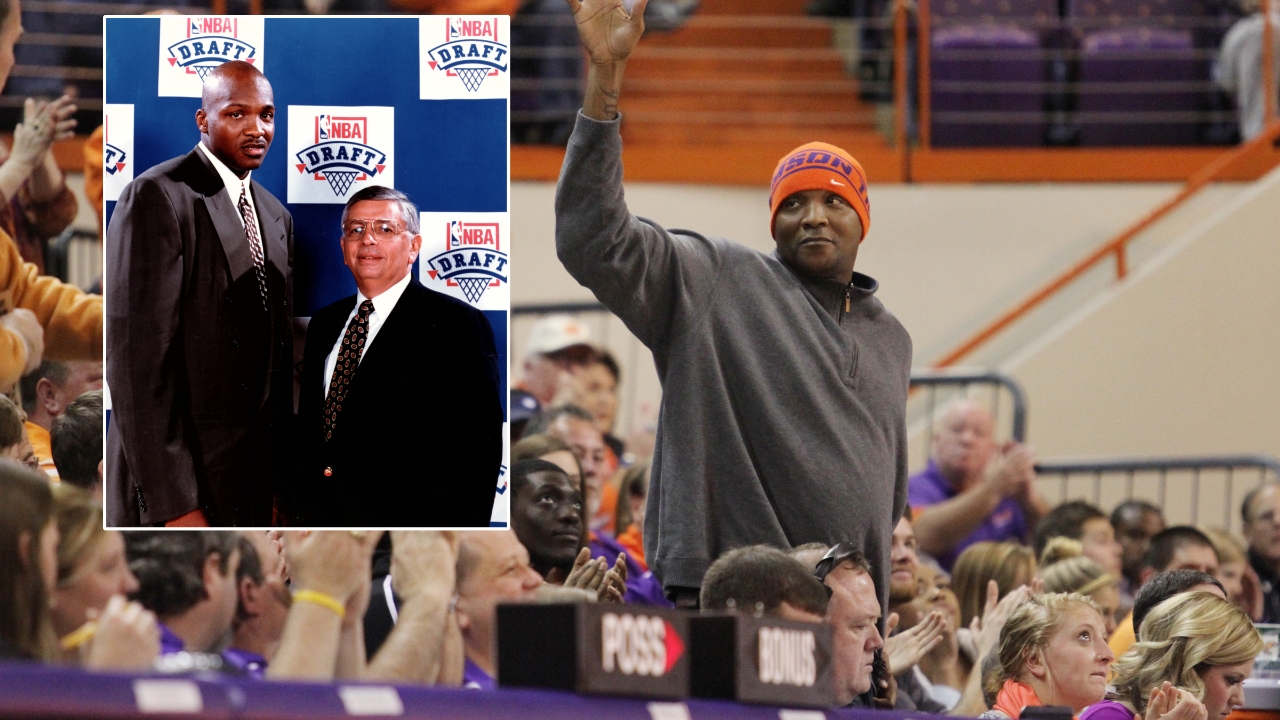 Photo by ClemsonTigers.com
Clemson Basketball
The Sharone Wright Celebrity Golf Tournament
---
The Sharone Wright Celebrity Golf Tournament is scheduled for August 17, 2020. The tournament organized by W.A.B. Sports will be held at the Walker Golf Course on the Clemson University campus and will have a 10 a.m. shotgun start.
The tournament will feature foursomes that include a Clemson celebrity on each team. Celebrities include former prominent Clemson football, basketball and baseball players and coaches. W.A.B. Sports President Wayne Buckingham is organizing the event for Wright, his former Clemson teammate, who has had health problems over the last five years, including fighting cancer, and most recently fighting the MRSA virus that has led to the amputation of his left leg.
For more information and to reserve a team go to https://www.eventbrite.com/e/wab-sports-celebrity-golf-tournament-benefit-tickets-109377998538
On how it came together:
"I recruited Sharone. Sharone, the last six years, has been going through a lot. Sharone is one of the highest basketball players to get drafted from Clemson, and he's been a great Clemson alumnus, carrying the Clemson name, and he's like my little brother."
On why this event is so important:
"He's always been a diabetic. He was a diabetic when he came to Clemson. A lot of people didn't know that. So when he got sick, I guess it's been about five years he's been dealing with this. He caught MRSA and got really sick, man. At one time, they brought him back to life. It was in both his legs, and he went through a lot. I was there with him, talking to him. And you know me, I'm that guy (to) keep everybody together. I love helping people and especially for a good cause. I do golf tournaments for my program to help raise money for my youth program. I said, man, you might as well do one for Sharone and bring back some of the former (players)."
Who are some of the names you expect to participate:
"We've got Horace [Grant], Tree Rollins, Dale Davis, Elden Campbell, Chris Whitney. We've got a lot of the former guys coming back on the basketball team. But when I reached out to the football players, I was shocked how a lot of the guys just really stepped up and said, 'yeah, Buck, I'll be a part of this man to help you'. So we've got 30 legends from Clemson coming back to. We were going to do it June 1, but we moved to it to August 17 as a celebrity golf tournament to help raise money for Sharone."
On supporting the event:
"I try to tell people; it doesn't matter what level you play-- everybody needs help. And he's gone through a lot. He had to get one his legs [amputated]. When you are 6'11, you're used to playing ball and stuff. That was a heartbreaker right there. They saved one of his legs, so he's going through rehabilitation now."
"We need all of your support so that you can come out and help for this wonderful cause, as well as a great, great young man, Mr. Sharone Wright. He's come back and done a lot of great things with the kids in the area, and we are just trying to show him love and showing him that we appreciate him carrying that [Clemson] name."
On the motivation behind putting the event together:
"God just put it on my heart to put this thing together to try to create a situation to help him out. So we moved it to August 17. The golf course is doing a great job, too. It's a scramble golf tournament. We'll have 30 former Clemson alumni and Hall of Famers playing in it. We will be social distancing. We will be practicing what the golf course needs us to do, not pulling the pin, not raking. So it's going to be a safe event. I know things are going on, but we're all grown, and we all know how to get out and participate in stuff and be safe. So it's going to be a safe event."
On how Sharone will participate:
"He's going to be a part [of the event]. He can't fly right now. He's still going through rehabilitation. How we've got to set up is after the tournament, we're going to be out in the outside with a big tent, and we're going to have a big screen where he can call in and thank everybody and be a part of that even though he can't be here. So we're making it where he'll be able to talk to everybody that played and came out through the tournament."
On the best golfer in the group:
"I'll be honest with you, I'm going to have to toot my own horn on that one. But you know what? We got Donnell Woolford coming in. Donnell was up here, played in my golf tournament. He's a pretty good golfer. He had played, and Terry Allen came to play it in a lot of my stuff up here in Tennessee. I know both of them don't play very well. But I beat him when he was here too. So I don't know. I can't win my own tournament, but at the same time, boy, we're going to have some fun that day. We're going to have some fun that day, and we got the hole in one contest, and we got closest to the pin longest drive. So we got a lot of fun stuff set up for that day at the golf course for guys to participate in to help raise extra money for Sharone."
For more information:
Website for info and registration: www.wabsports.com
Email: wabsports@gmail.com
Phone: (331) 472-9828.
Date:
August 17, 2020
Tee Time:
10 a.m.
Course:
The Walker Golf Course (Clemson University Course)
210 Madren Center Drive, Clemson, SC 29634
Format:
Foursomes with a Clemson celebrity on each team
Price:
$1,000 per team
Special Offer:
Choose your own Celebrity if you wish based on bid
Prizes:
Goodie bag, post-tournament meal, Awards for Top three teams
Never miss the latest news from Clemson Sports Talk!
Join our free email list