Clemson Football
Atlantic Coast Conference puts the ball in SEC's court
---

Register this week, and you will be entered to win a LIMITED EDITION Clemson football and a Clemson Sports Talk National Champions t-shirt.
---
"Your move, SEC."
Essentially those were the words the Atlantic Coast Conference uttered yesterday afternoon with the release of their "10 plus one" model that grants for a single non-conference game played in the home state of the ACC school.
So Clemson and South Carolina can happen, but it's now up to the SEC. Florida State and Florida can play, but again it's up to the SEC.
By getting out first, the ACC puts the Southeastern Conference in a tough spot. Balk at the chance to get it done, and you become the bad guys. Fans in both leagues will throw their hands up and say, "Hey Greg Sankey, you SEC guys ended some of the great rivalries this season!"
Even if the Atlantic Coast Conferences' 11th game never materializes, putting the option out in advance of the SEC's decision, alleviates the burden from the ACC.
© Brett Davis-USA TODAY Sports
Sadly, for Clemson and South Carolina fans, that move would end the longest-running non-conference matchup in America. The Tigers and Gamecocks have played every year since 1909, trailing only Minnesota and Wisconsin, who are both in the BIG 10.
In an article in Sports Illustrated, Pat Forde noted that the move the ACC made to get out in front of the Southeastern Conference did not go over well in that neck of the woods. You have to wonder at this point if the SEC will simply decide that they will only play conference games because their hand is being forced, just to spite the Atlantic Coast Conference.
Personally, I can't wait to see what happens.
Unfortunately for college football fans, while this will create very unique scenarios, if there are no non-conference games played at the Power Five level, the decision of who is in the playoffs truly becomes the glorified beauty pageant we've always fussed about.
While the dates have yet to be determined, we did get an idea of how the ACC will handle things in conference play this season, and that includes Notre Dame. The teams will also stack up in a single division, playing five games at home and five on the road.
As for the Fighting Irish, they will share their revenue from their exclusive deal with NBC, and in return, the ACC gets national games and eyeballs.
It's a "one hand washes the other" scenario for the Irish and John Swofford.
In a year where money is the most significant factor for these universities, every penny that they can earn helps offset losses during the most turbulent financial times athletic programs across the country have ever seen. Swofford made the once unthinkable happen. Notre Dame is fighting for a conference title for the first time, and they've played football since 1887.
The league will get underway the week of Sept. 7-12, setting the start date back just a bit. Anyone who plays against an ACC team must also meet the medical protocol requirements as agreed upon by the Atlantic Coast Conference.
There will be 11 games played over a 13 week season, and teams will have two open dates. The top two teams, with the highest winning percentage, will play in the 2020 ACC Football Championship Game played on either December 12 or 19 at Bank of America Stadium in Charlotte.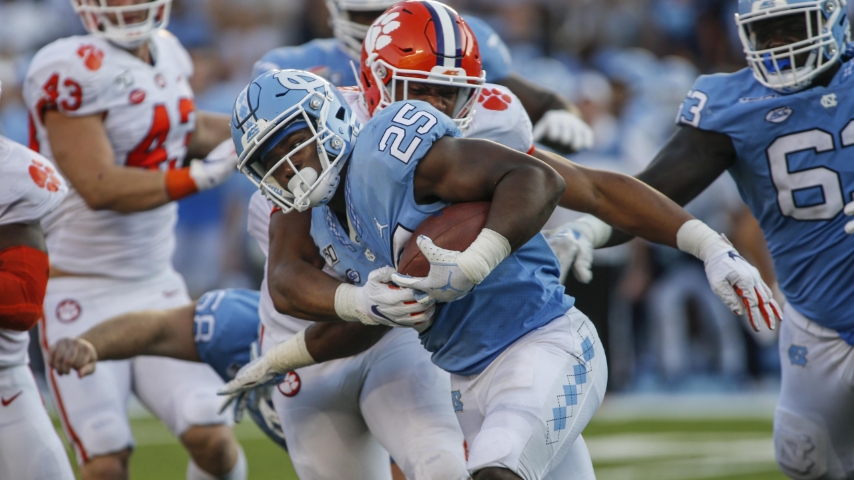 Clemson Sports Talk
One thing's for sure, as we broke down the schedule and took a look at the matchups from top to bottom, I think the biggest loser in this revamped Atlantic Coast Conference slate of games is North Carolina.
The Tar Heels were considered to be the favorite in the Coastal Division, and would likely have faced Clemson in the ACC Championship game. Now with a 15 team league and no divisions, UNC's schedule features a matchup at home against Notre Dame, meaning even if they win out, and lose that game, surpassing the Irish for one of the top two spots will be difficult. They also have to face Miami, Virginia Tech, and added FSU in their new schedule.
As for Clemson, they replace NC State and Louisville with Miami and Virginia Tech. While Louisville was expected to play well under Scott Satterfield in his second season, it also feels like the Tigers have a tougher road ahead, adding two traditional football schools. Also, after reviewing every game, I believe that Clemson and Notre Dame will most likely end up playing twice this year, once in the regular season, and then in the ACC Championship.
The road to a sixth consecutive College Football Playoff just got more difficult in Tiger Town, if we are fortunate enough to get that far into the season with COVID-19 in our midst.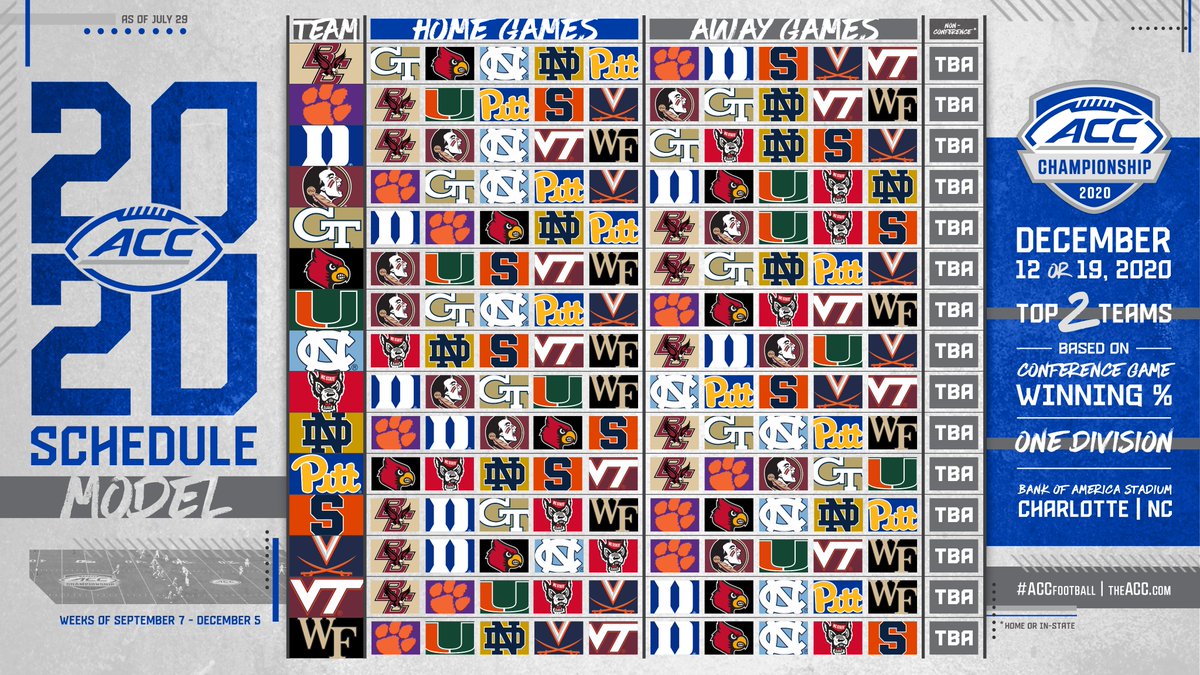 Projected order of finish in the ACC:
ACC Championship: Clemson (10-0) vs. Notre Dame (9-1)
Clemson 10-0
Notre Dame 9-1
North Carolina 8-2

(Lost to Miami, Notre Dame)

Virginia Tech 8-2
Louisville 8-2
Florida State 6-4

(Lost to Clemson, Louisville, Notre Dame, UNC)

Miami 6-4

(Lost to Clemson, FSU, Louisville, VT)

Pitt 4-6

(Lost to Clemson, FSU, Louisville, Miami, Notre Dame, VT)

Duke 3-7

(Lost to FSU, NCST, Notre Dame, UNC, Virginia, VT, Wake Forest)

Georgia Tech 3-7

(Lost to Clemson, Duke, FSU, Louisville, Miami, Notre Dame, Pitt)

NC State 3-7

(Lost to FSU, GT, Miami, Pitt, UNC, Virginia, VT)

Wake Forest 3-7

(Lost to Clemson, Louisville, Miami, NCST, Notre Dame, UNC, VT)

Virginia 2-8

(Lost to BC, Clemson, FSU, Louisville, Miami, UNC, VT, Wake Forest)

Boston College 1-9

(Lost to Clemson, Duke, GT, Louisville, Notre Dame, Pitt, Syracuse, UNC, VT)

Syracuse 1-9

(Lost to Clemson, Duke, GT, Louisville, NCST, Notre Dame, Pitt, UNC, Wake Forest)
** Over the next few weeks, I will look over these results again, but this was my instant reaction to the matchups.
Never miss the latest news from Clemson Sports Talk!
Join our free email list