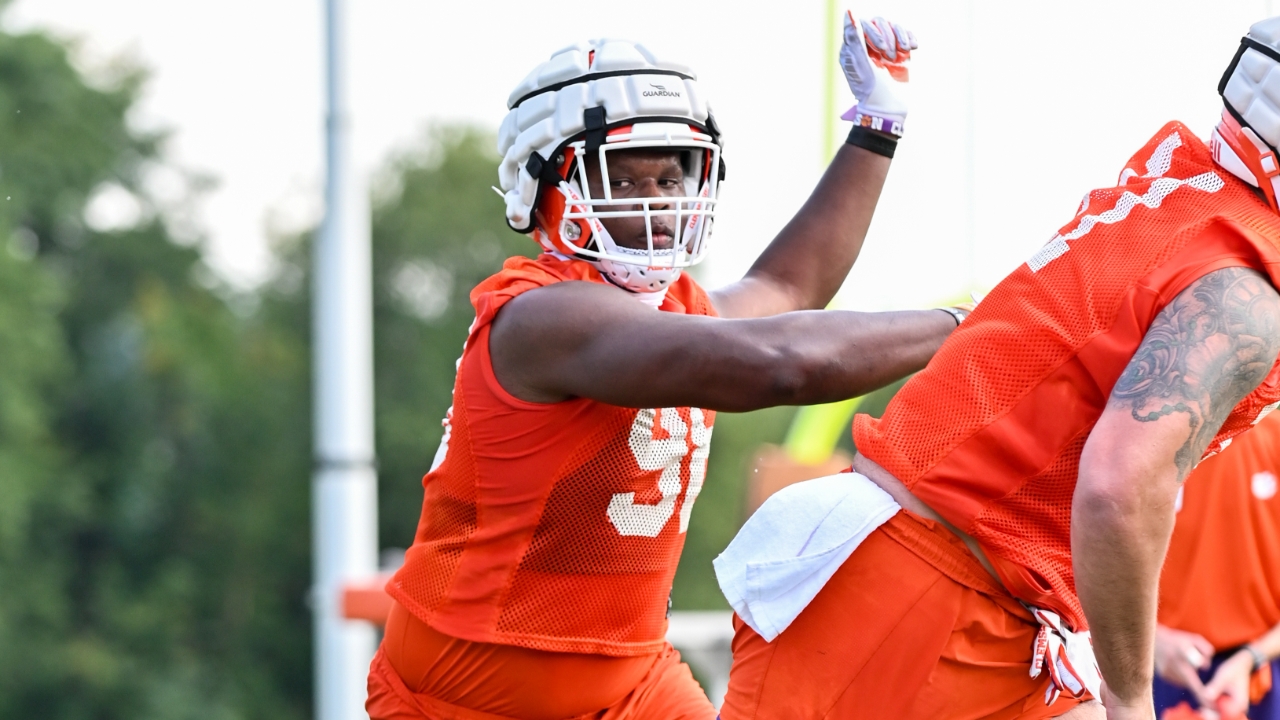 Photo by Courtesy of Clemson Athletics
Clemson Football
Unleash the beasts: Clemson's defensive line filled with freakishly talented freshmen
---

The MOST DIGITAL CONTENT covering your CLEMSON TIGERS.
---
The No. 1 rated Clemson Tigers enter the 2020 campaign with boatloads of talent, and the new redshirt rule will allow the freakishly talented freshman to hit the field early and often. According to K.J. Henry, several of those young players have started to flash, including both former five-star defensive linemen Myles Murphy and Bryan Bresee.
"Being here, I expect everybody to play. I know that's how we are preparing," Henry said. "Everybody should be ready to play from top to bottom, side to side. That's what we expect of ourselves honestly, that's probably not the answer you want, but it's the truth."
Until this past season, the college game made it hard for a young player to be redshirted and stay engaged as the season pressed forward. Realizing their shot to play wouldn't come for a year, it was hard for guys not to lose their edge. But last season's shift to the four-game redshirt rule allowed for better player development.
This season's full-year redshirt rule really opens up even more opportunities for the talented young defensive front.
"The way we study. The way we work guys after practice and things like that, that's what we expect, everybody to be ready for that moment," Henry noted. "That's kind of what I'm expecting when the game comes around."
Henry, who describes himself as a guy who arrived and could "crossover" into the basketball arena, said that five-star freshman Murphy was ready-made for college football.
"Myles was nothing like me when I came in. He couldn't have been a good basketball player because he's too big. That dude is a freak of nature, to say the least," Henry stated.
Henry, whose father Keith Henry coaches at Western Carolina, said that his goal is to be a coach one day, but even as a player, he can't help but notice the 6'5, 265-pound freshman.
"I'm sitting over here as a teammate, like, 'dang, where do we find this kid?' because he is awesome. He's so smart, a great kid, and he's gonna be special this year, man.
"He's so strong and long and explosive. Loves the game, just wants to get better every day. I can only say good things about him. So I'm excited for his opportunity. Getting to meet his family and stuff makes it more personal, so he's going to be great for us this season."
In addition to Murphy, the Tigers also signed five-star Bryan Bresee from Damascus, MD. Bresee, 6'5, 290-pounds, was considered by many to be the No. 1 prospect in America. Henry thought some of that hype might have been due to a lack of competition in the area.
"Y'all [saw] him in high school. We talk it about all the time, I hate to knock the competition, but he's got to come to North Carolina, cause we're gonna give him some competition because that was crazy up there."
Watching Breesee's tape made Henry and the rest of the team joke that the police might need to get involved.
"We felt like we were going to have to call the cops or something cause that had to be abuse," Henry chuckled.
Now, practicing with Bresee on a daily basis, Henry says the talent is legit, and it's still noticeable at the college level.
"He's transferring and doing some of those same things on this level. Bryan is an animal, to say the least, and he'll be another great player for us."
Henry went on to call Bresee a "freak of nature" as well and noted that all of the young guys are incredibly talented. So much so that he's glad that he has a few years of experience on them. Pressed on if this is the best class he's seen in his time at Clemson, Henry said it wasn't up for debate.
"Heck, yes. I see why this is our first No. 1 recruiting class. These boys are some ballers and from side to side, man these boys can play. Strong, physical, three years ago, I'd be so jealous," Henry said. "Y'all wouldn't see me up here cause these boys are taking my spot. I'm glad I got some years on them because they are some ballplayers."
The Tigers defensive front was expected to be good this season, if not great. Still, with the additional talent getting to play all season, they may just set the bar nationally as the deepest and most talented group in America. Not to mention this year is a "freebie" for every one of them, and Henry said they are all ready to go.
"Physically, ready. The mental side has grown since they've all gotten here. I can only speak good things about them. The God-given talent is definitely there."
Never miss the latest news from Clemson Sports Talk!
Join our free email list
PRESENTED BY