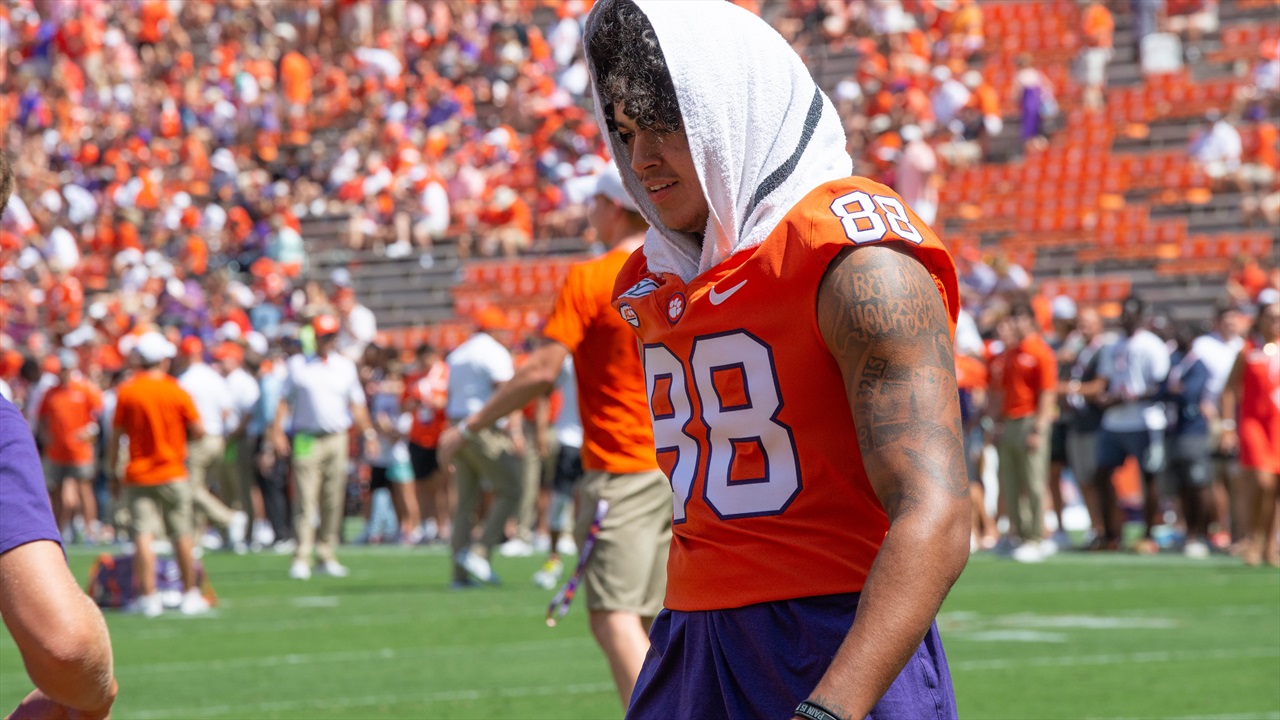 Clemson Football
Braden Galloway on last season's suspension: 'one of the lowest points of my life'
---

The MOST DIGITAL CONTENT covering your CLEMSON TIGERS.
---
Clemson tight end Braden Galloway was the real loser in Clemson's Osterine suspensions at the end of the 2018-2019 season.
Before the postseason, Galloway, Dexter Lawrence, and rarely-used reserve offensive lineman, Zach Giella, were all found with traces of the banned substance in their system. Galloway always maintained his innocence.
"That was definitely one of the lowest points of my life as far as not being able to play football," Galloway said yesterday.
The NCAA's recent ruling on players being able to play the entire year and still redshirt essentially has given Galloway the year he lost back, which is a massive benefit for the young tight end.
Of all the players hit by the suspension, Galloway paid the most significant price and could have certainly used a year on the gridiron to season his game, given that he's still quite raw.
"I didn't really play in high school much until later on and then getting here [I was] excited to play. Then getting that taken away kind of hurt me," Galloway noted.
Even though he didn't get much work in front of fans, playing in only the national championship, Galloway did have more yards receiving in that contest (60 yds) than he did in the three games he played in as a freshman. So there is a lot of confidence in his ability heading into the 2020 season.
Galloway said that even though he didn't get to play that much, he didn't let the year get wasted.
"I was able to grow a lot. Working with Coach V every day, you really get pushed over there. It's like a whole completely different level that you're playing with," Galloway noted. "Even during practice, it's like I was playing the whole year, but nobody was seeing it."
As for where his game improved the most, the 6'5, 225-pound tight end said there were three areas that he felt like he'd done well.
"Probably the biggest things I was able to work on was blocking, hand placement, and route running."
Galloway also watched a lot of film and tried to mimic what other tight ends across the country were doing.
"I'm scouting different offenses, doing what different tight ends are doing from different colleges. So I'm able to work on different things outside of our offense," Galloway stated.
While the months slowly ticked by, Galloway continued to stay invested in getting an opportunity, no matter how small a year ago and Clemson support staff was a big part of his success." The support staff and guys around here keep me invested in our offense, keep me up to date with changes and things like that," Galloway said.
This season Galloway expects to make a more significant impact and hopes to have a season similar to Jordan Leggett's 2016 campaign. That year, Leggett was a valuable asset for Deshaun Watson and was frequently flanked out in space, creating unique matchups.
While he's comfortable playing anywhere on the field, as Leggett did at times, Galloway said that 99% of the time, he will be at the more natural spot for a tight end. But nothing beats having the opportunity to play and to have an additional year in his back pocket.
"It was a tough situation. I wouldn't wish that on anybody, but we finally got through it."
Never miss the latest news from Clemson Sports Talk!
Join our free email list
PRESENTED BY