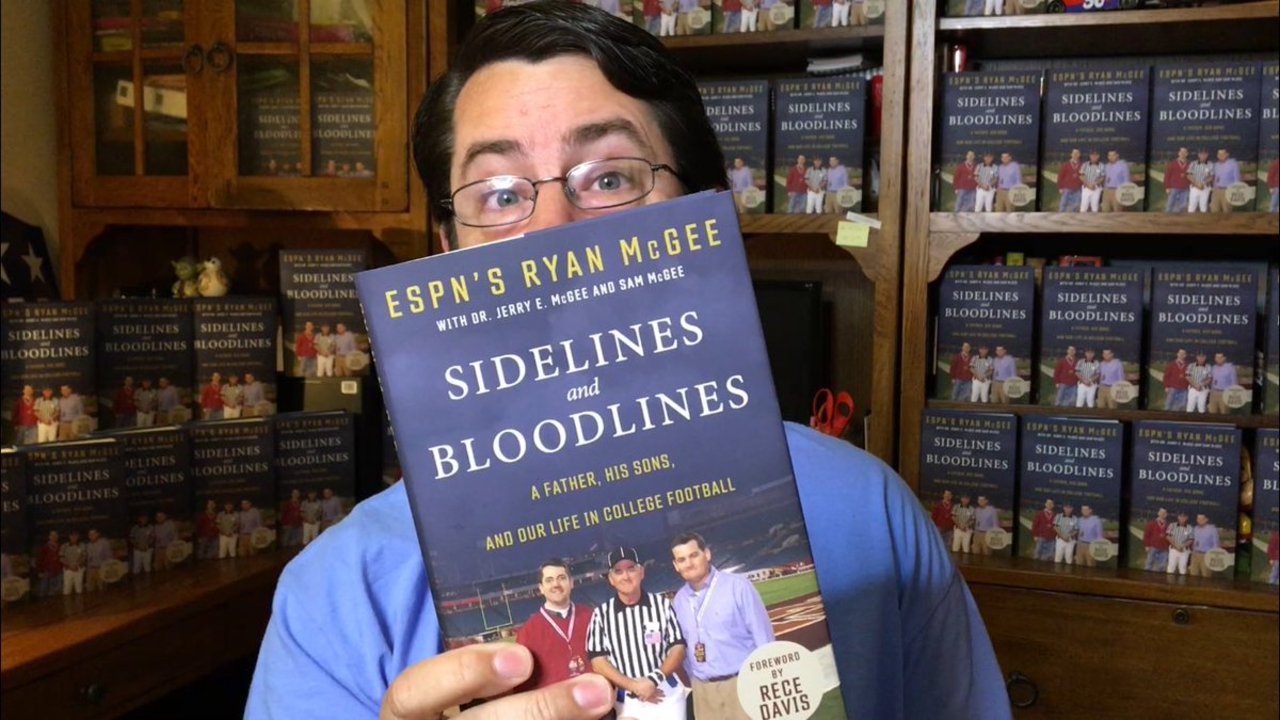 Photo by Twitter: @ESPNMcGee
Clemson Football
McGee: 'If you can work Sigma Nu versus Kappa, you can work the Rose Bowl'
---

The MOST DIGITAL CONTENT covering your CLEMSON TIGERS.
---
We recently had a chance to sit down with ESPN's Ryan McGee to discuss his new book Sidelines and Bloodlines: A father, his sons and our life in College Football.
As a senior writer for ESPN.com, McGee is the co-host of Marty and McGee, which airs on SEC Network and ESPN Radio.
McGee is a regular contributor to SportsCenter, SEC Nation, SEC Now and more.
The following notes are unedited and the entire interview can be heard above.
Lawton Swann: On closing in on football season:
Ryan McGee: "We're all just, we're waiting, right? But the good news is I think we're gonna get some games kicked off. I mean, who knew we live in a world where Central Arkansas-Austin Peay was like the greatest thing that ever happened in the history of the world. Because it proves that we can play some football."
LS: On his new book Sidelines and Bloodlines: A father, his sons and our life in College Football
RM: "I appreciate you mentioning it. It has meant so much to our lives. And I mean, places like Death Valley were just pivotal places in our lives. Because the first time Dad went down to Clemson was the day it felt like Dad had arrived, right?
"He worked so many small college games and so many high school games in the Carolinas. We were living in Raleigh at the time, we remember [him] coming back and going, 'guys, we thought we knew what college football looks like. But I have seen what college football actually looks like when you go down to Clemson for the first time.'
"This was an opportunity for the three of us, to really for the first time in my brother in our adult lives, for us just to sit down for hours together here Charlotte where we live and just tell these stories and get them down on paper and finally share these stories that we love so much with and how much the game means to us with everyone."
LS: We know your father was an official, but what does your brother do?
RM: "My dad was a long time university administrator. He's retired now, (he) was a college president. He was Vice President at Furman, for years that was before I graduated high school in Travelers Rest. And my brother is an attorney, here in Charlotte, he went to Yale Law School. So he went to Wake Forest and Yale, so my father has three degrees. And my brother has a law degree from Yale and then there's me. So that'll tell you where I rank I tell them I said, I felt a little bad. My name is bigger on the cover of the book, but the reality is that everybody knows that in the McGee academic wars, I'm a distant third."
LS: What game is this that photo from on the cover of the book?
RM: "It's the inaugural ACC Championship game. It was Florida State-Virginia Tech down in Jacksonville and it was the inaugural ACC Championship game. Two things are crazy about it. No. 1, that's the only picture we can find is the three of us, like together at a game. (Actually) that's not true. We have one picture of the four of us when my mother was still alive. The four of us at the Orange Bowl on the field in the old Orange Bowl in Miami, but that's the only picture we had the three of us.
"We were there so many times but this is pre smartphones. So you didn't document every five minutes of your life back then. So we asked someone to take a picture of us on the sideline before the game, but the story is in the book, we thought that was Dad's last game. He's been officiating in the ACC since 1982. And he knew after 25 years, he's thinking all right if I get this inaugural ACC Championship game, that might be a good one to end it on.
"My brother and I both have little baby girls at the house and we went to our wives and go listen, we hate to do this, but we got to go to Jacksonville. And so we went and we squeezed it in between our jobs and we got down there. And had such a great time and it was a much better game than I thought it was gonna be.
"The game is over with and we're in the van in the tunnel at the stadium at the Gator Bowl and the officials ran off the field jumped in the van, police escort back to the hotel and were just hauling butt down the highway and I'll never forget, reached over to shake their hand and said what an amazing career. And Dad didn't you make eye contact with us? He goes, 'I think I'll do one more year,' and he ended up doing three. He ended up doing three more years he worked a Cotton Bowl, a Rose Bowl and then his last game was the BCS National Championship game. So yeah, there were several times when we thought he's gonna hang it up. And he didn't because he just loved it that much. And we're glad he did it as long as he did."
LS: On how officials are treated and begrudged after games:
RM: "There's a whole last chapter of the book is about after dad's officiating career but how my career as a sportswriter has been shaped so amazingly, by my experiences growing up in a house with a college football official and my brother. We just watched the game differently. When you talk to kids of coaches, they just learn the game of football differently. And when you're the kids of officials or the kids the players, there are three teams on the field is the way I grew up watching football, which is you got the two teams that are playing and then there's a third team on the field and that's those officials and they work just as hard.
"I wish everyone could have seen like my Dad running backward wind sprints in the backyard. All the neighbors thought he was nuts and the reason was because he was a field judge. He was downfield so he ran every play running backward.
"Him sitting at the pool, my brother and I were playing in the pool, and my dad's got his rulebook out with a highlighter, that he's getting ready for exams and he's going to meetings and every single week all the local officials wherever we live, or having meetings and watching film and taking tests and having to take heart stress tests and having to prepare for the one-mile run and go into clinics. The payoff was, hopefully, you got a great schedule and got to step out on that field. So yeah, you just learn the game.
"So when I was a kid, if, let's say, the NCAA instituted a new rule about kick returns or punt returns. And so Dad's gonna explain the new Halo rule, right? Around the receiver. And guess what we're doing? He's taking me because, 'alright, Ryan, you're gonna be the kick returner, Sam, you're a downfield defender, go get your mom. We need another defender,' that's how we learned football.
"So when I watch games, instinctively in the press box, I count the number of players on the field on defense because that's what Dad did, and I know immediately if there's a substitution infraction and I'm watching the game clock and I'm watching the play clock which Dad used to keep on his wristwatch during games and so there are just little things detail wise that I just I do instinctively. Because that's how we watch games and miles."
LS: My nephew is a high school basketball official and when we start watching a basketball game, and there's like a big dunk, he's like, 'oh, man, did you see that?' And I'm like, 'what?' He goes, 'the form when he called that charge?' I'm like, 'No, I didn't see the form?'
RM: "Yeah, that's a win. My brother talks about this in the book about how our friends, our college roommates, and our friends in high school and even our friends as adults. We see that as a victory. When I was at ESPN right out of college and was working on SportsCenter and on a college football Saturday, you're down in this bunker. We call it a screening. And everybody is assigned to a different game and your job is to watch the game and cut the highlight, deliver it to SportsCenter or (College) GameDay or whoever. It's just amazing energy in this room.
"I would love it when like the big Saturday night game and most people are watching that and there's so and so throws a long touchdown pass. There was like, Oh my gosh, how do you get so open? I'm like, how'd that back judge beat him to the goal line? But eventually, you get them to realize how hard the officials are working.
"We wrote this in the book. We're not naive. We know where referees rank in the minds of fans but the goal and my goal, throughout my career as a sportswriter has been not to convince you that you should never boo a referee. My dad boos officials at games, but you should respect what they do, because, believe it or not, they're working awful hard.
"It's important you say about your family member because the struggle with the officiating industry right now is recruiting young people because you have to put up with a lot In the social media era, and one of the chapters in our book is, 'if you can work Sigma Nu versus Kappa, you can work to Rose Bowl,' because when Dad started officiating intramural games at East Carolina, and a lot of ways, officiating those games was way more difficult than officiating Clemson-South Carolina, because, you're dealing with drunks, and if you're officiating High School football, you're dealing with parents, and you're dealing with crazy coaches. If you can get through those ranks, it's worth it. But it's just hard recruiting young people to even deal with that."
LS: On the Big Ten's leadership over the past month.
RM: "Well, I get the emotion behind the parents of the players and it's not all the parents. A lot of parents have come out and said, No, no, no, we're on board with this. But the ones who are vocal and the ones who are marching and the ones who are writing open letters and getting petitions signed and filing lawsuits and all that stuff. I get the emotion behind that. Just like I understand the emotion behind players saying we want to play with Justin Fields quarterback at Ohio State, kind of lead that charge in the Midwest, and certainly a lot of the PAC 12 players did too.
"But the decisions made, man that hay is in the barn and you can't unscramble that egg. The reality is their leadership made the decision that they thought was best for them based on the information that they had. And quite frankly, I think it probably resolved or evened out. I have my questions about (it) And listen, I'll be there. I'm all in. I'm not rooting for not having football. That's why I wrote a book, I love the game so much, and it's meant so much to me.
"I have my questions about whether the teams in the ACC and the Big 12 and the SEC can get in a full season. And I hope they do. But the reality is that I think it'll all even out in the end. Teams are gonna play and fall and they're gonna play in the spring. And it sounds like we're gonna have some teams trying to play in the winter. And by the time we get to next spring, everyone's going to have to play whatever games they can play, so I get the emotion behind it.
"I get it, there has to be a Darth Vader and right now, that's the Big Ten Commissioner. But at the end of the day, those decisions were made by the university presidents based on the information that they had. And different conferences see it a different way but I hate it for them but that's just how it is."
LS: I've stopped calling it a season. I've said we're playing a schedule. It might be eight for one team and 10 for another, I have no idea.
RM: "It's written in pencil. You have to go into it knowing this is all written in pencil because let's just say, I won't say an actual team. it's State University. All of a sudden, they have a Florida Marlins type of outbreak. Well, they're gonna have to park it for two weeks. And the team they just played is probably gonna have to park it for two weeks. And maybe you'll get those games rescheduled, maybe you won't, but I've said this all a lot in the last couple of weeks when my daughter was a little girl we used to say to her, yeah, you get what you get, and you pitch a fit. The reality is your team gets in seven games, and that's all they get in. Then you get what you get and be happy with that."
LS: You're all over it. I said the other day, I said, Look, somebody's got to get that yellow popsicle. I mean, I know you didn't want it, but somebody's got to get it.
RM: "Yeah, it is funny you think back to like, April, when we were just a few weeks into this thing, and everybody's like, well, I will not watch baseball without fans. Yeah, you will. And this bubble idea, this is dumb. This is dumb. No, it's not. You'll take whatever you can get. Listen, I'm the biggest Indy 500 fan in the world and it broke my heart not to be there in person over that weekend there in the middle of August. But the reality is I was really happy that the Indy 500 was even run. So you just take whatever you can get right now and just be happy that this is all ultimately a speed bump and 10 years from now we can look back on it and talk about it and write books about it and reminisce about it and be upset about it. But everybody just do the best you can do with what we have right now."
LS: On the AP poll still had the Big Ten and the PAC 12 teams in and if they start in November are those teams going to start popping back into the polls? And what do you think it will look like? I know this is a big hypothetical, but for the college football playoff committee?
RM: "What I have told my much younger colleagues is that we're kind of rolling it back to like 1979. I remember going to games with Dad. I remember when we were at the Orange Bowl in 1990. And it was No. 1 Colorado and No. 4 Notre Dame. It was not the "Rocket" game. That was the next year. It was at the old rickety Orange Bowl, home of the Miami Hurricanes.
"Throughout the game during like TV timeouts, the crowd would just start cheering at these weird times and I realized it was all the locals who were watching Miami play and they were No. 2, they were watching them play in the Sugar Bowl, an entire timezone away. And kids, that's how it used to be all the time. You kind of had multiple seasons going on because you just knew that if a PAC 12 or Big Ten team was number one in the country, they were gonna play in the Rose Bowl, they weren't coming to the Orange Bowl, they weren't coming to the Citrus Bowl, they weren't coming to the Sugar Bowl, they weren't going to any of those games.
"Back in the day, we kind of had these, ask Georgia Tech fans about it. You kind of had these years where he had split national champions and big arguments, who was actually best and that's kind of what we're gonna have this year. And the difference is, it's going to be spread out. If it all goes to schedule, it'll just be spread out starting this past weekend with some FCS games all the way through if the Big Ten and PAC 12 play all the way through the spring. Hey, maybe in the end, we'll just be happy we had football for nine months."
Never miss the latest news from Clemson Sports Talk!
Join our free email list