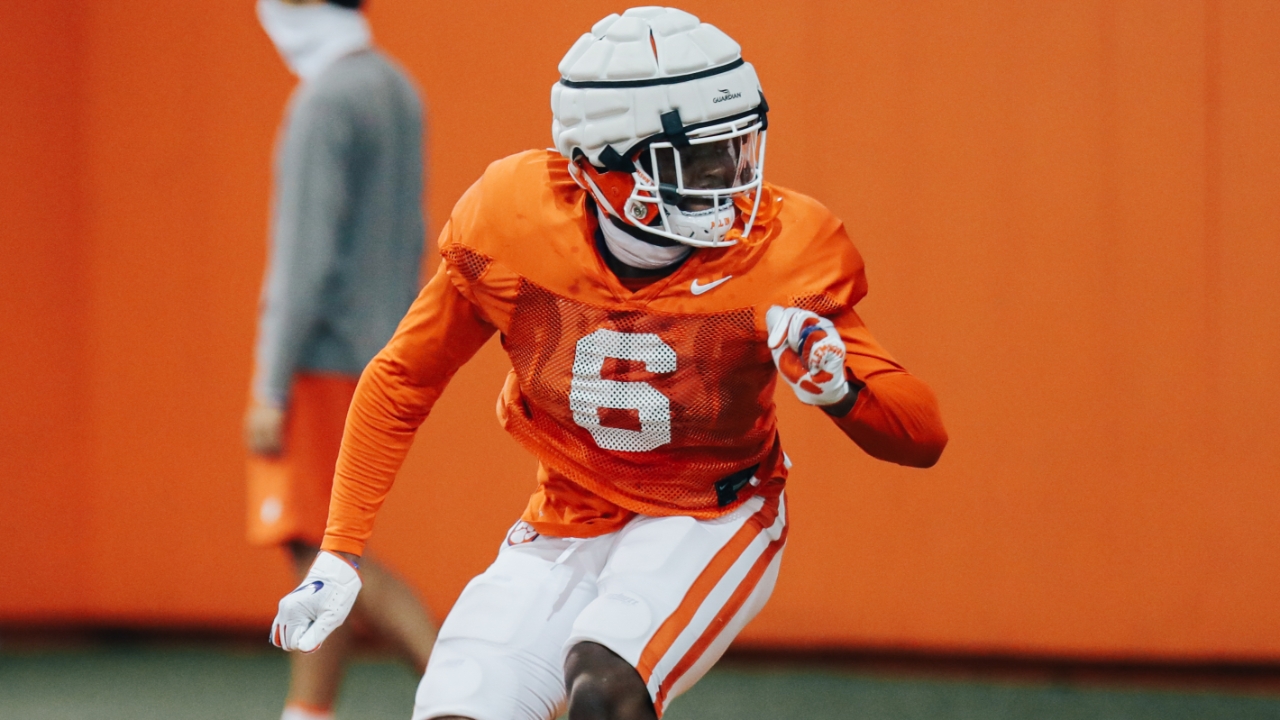 Photo by Courtesy of Clemson Athletics
Clemson Football
Mike Jones Jr. on social justice reform: "Sometimes, you've got to say something."
---

The MOST DIGITAL CONTENT covering your CLEMSON TIGERS.
---
Clemson's Mike Jones Jr. has some huge shoes to fill on the field this season as he attempts to replace Isaiah Simmons as Brent Venables' do-it-all defensive stopper. Jones, who has become a leader off the field, hopes to do the same on the field this Saturday at Wake Forest.
We caught up with the redshirt sophomore linebacker earlier this week. Here are a few unedited notes, plus the full interview above.
Mike Jones Jr.
On having the opportunity to prove himself as a starter:
"I was telling Coach Swinney the other day, I think I came to Clemson camp my first time in sixth grade. And so this whole thing man... I've been living a childhood dream. So I'm blessed. I'm thankful for the opportunity and I'm ready to go out there and do it."
On the social justice initiatives taking place throughout college football:
"It's awesome. I feel like this stuff is long overdue. A lot of it at least. I'm appreciative of the platform we have and the platform that colleges have provided other players across the country. And to now see some of these things actually come into works and continue to come into works over time, it's a great feeling. It's good to see not all of this was for nothing. Things are actually going to continue getting better. So that's been awesome to see."
On finding his voice through the social justice movements taking place:
"I feel like up to this point, I've always been a more vocal guy on the field. And whenever I'm passionate about something, I don't really hold my tongue. But, through this time I've felt in my heart that sometimes you've got to say something. And so this has really shown me a lot about myself. About what matters to me, my values and just realizing that I'm more than a football player. All these things are more than just dealing with football players. And eventually, football is going to be over. So what type of legacy do you want to leave while you're in the position you're in? And so that's kind of been a big thing for me. And I'm appreciative of everything that has gone on and all these moments that we've done these things because overall, they've shaped me to be a better man."
On Trevor Lawrence using his platform nationally:
"I would definitely say Trevor is a national leader on the things that have been happening. I feel like it's kind of hard not to see it coming. He's always been that guy. He's always had a huge platform. It's just who he is; it's just in him. None of this has surprised me. Him speaking up and him being a part of everything, that's just regular Trev."
On Kirk Herbstreit being moved to tears while discussing racial injustice:
"I did actually get to hear that. One of my friends, he sent me that. Man, that was powerful. And watching that, and thinking about his sons who are on our team, his sons are the same way. They're two awesome dudes. And we actually had a team roundtable conversation where we had some conversations. And one of them was in my group. And I was like, man, this dude cares about me as much as I do. And to see that, it didn't surprise me at all because I see his sons. I see their character. That's definitely his kids for sure. But yeah, that was powerful."
On a lack of fans affecting the players during Saturday's game:
"I've thought about a good bit. And I've tried not to think about it. I feel like once you're really on the field, the only thing you really notice about the fans is just how loud it is. So that will definitely be something different. It just is what it is right now. We're just glad we're able to play. Ten fans, twenty fans, a hundred fans. It doesn't matter to me at this point. I'm just excited to go play."
On developing a stronger knowledge of Coach Brent Venables' schemes:
"I would say that came more this spring. I always thought I was a knowledgeable guy. But after doing it two years, it's like, "Okay, I'm really starting to get this. I'm really starting to understand this." But I feel like this spring and especially this fall camp, it has become simple to me. And now I don't even have to think about it at all. It's just, go out there and play, and then come back and reflect and watch film. This is just so easy now like, how did it get like this?"
On the performance of some of the younger players on the team:
"All of our young guys have actually been pretty amazing. I would say, of course I have my bias because I play Sam and Nickel, but Trenton Simpson. He's kind of been a dude I try to put under my wing. Trenton is a freakish athlete with freakish speed. He's crazy explosive, a great tackler. And I know by the time he's my age and maybe even sooner, he's going to be an amazing player. A freakish athlete for this defense. He's going to be another top guy. He's going to be a baller."
On the nicknames given to each other by the Clemson linebackers:
"Let me think about this. Sergio's the Aztec. We have a lot. We have an Instagram page, a Clemson football linebackers page with all of our little nicknames on there. So check that out. But yeah, we've got a lot of good ones."
On game preparations ahead of this Saturday's matchup with Wake Forest:
"One of the things we really paid attention to is the offensive line and how they are constantly finishing off runs, helping push that running back forward. They do a great job. They're really aggressive. They're finishers, grinders. And that's one thing we've had to really focus on. Their running backs, they lost their oldest running back, #36. He was a great player, but they've also got guys behind him who are very talented and run the ball really hard, great backs. And so we really focused in on that and focused on trying to be physical with them boys."
On the playmaking ability of Wake Forest QB Sam Hartman:
"Whenever he's getting to playmaker mode, if you're in coverage, find somebody and latch on. Because he might look like he's running it, and he will dump it off and make a big play. That's kind of who he's been as a player. One of those guys who just finds ways to make plays. Maybe it's not even scrambling outside the pocket. He sometimes scrambles inside to go get four or five yards on some plays that should have been a sack. And so that's definitely been a point of emphasis for us."
Never miss the latest news from Clemson Sports Talk!
Join our free email list