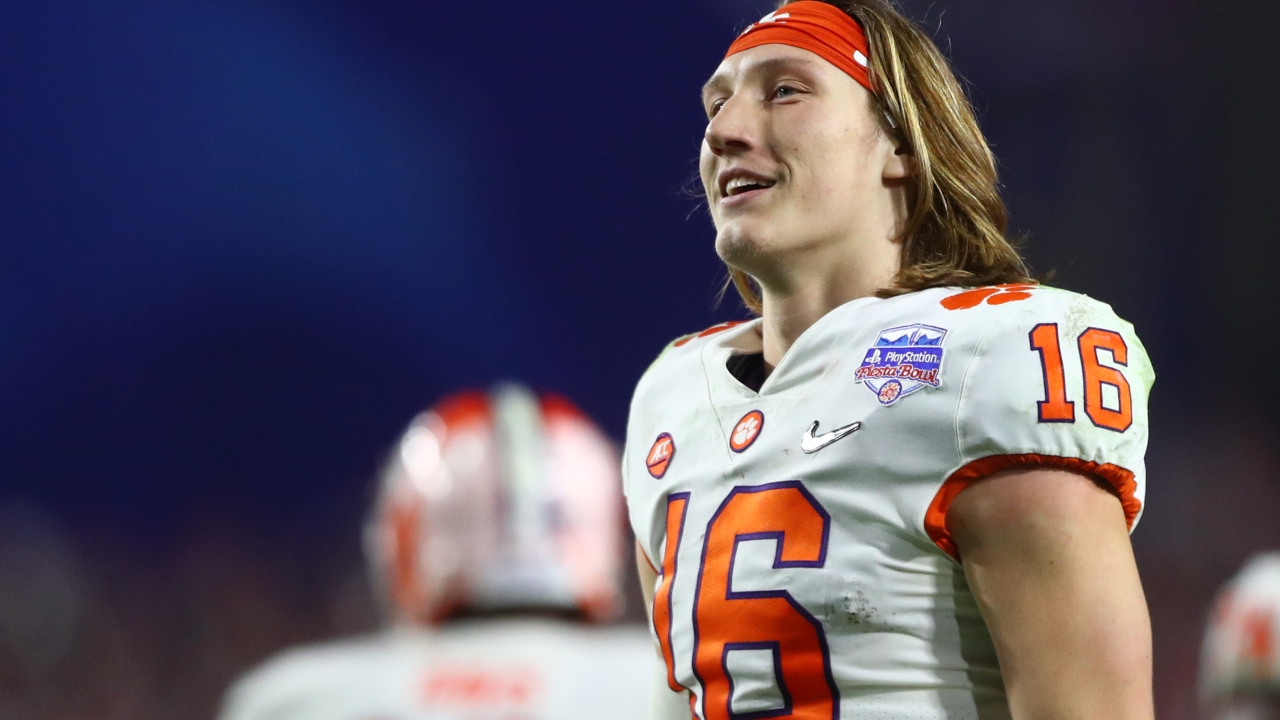 Photo by © Mark J. Rebilas-USA TODAY Sports
Clemson Football
Lawrence: "I'm planning on this being my last season."
---

Feel the difference - The MOST DIGITAL CONTENT covering your CLEMSON TIGERS! Avoid clickbait and sites bloated with advertising!
---
It was the truth we all knew deep down in our hearts, but hadn't yet been forced to swallow.
The 2020-21 season will be quarterback Trevor Lawrence's last for the Clemson Tigers.
In a segment produced for College Gameday Saturday morning, Lawrence spoke about the decision to fight for the chance to play football this season and his reasoning behind it.
"I just love football," proclaimed Lawrence to ESPN's Tom Rinaldi via Zoom. "I'm graduating in December. I'm planning on this being my last season."
Since taking over at the helm for the Tigers in the middle of the 2018 season, Trevor Lawrence has staked his claim in Clemson lore, both with his on-the-field performance and his overall character. He has represented the Tigers with dignity every single day, carrying the mantle of starting quarterback with a grace Clemson fans everywhere can be immensely proud of.
On the field, his actions have been no less impressive. Lawrence currently sits among the top-five quarterbacks in Clemson history in completions, passing yards and passing touchdowns, and is poised to advance further on the list during his last campaign.
"There have been a lot of players with NFL aspirations and clear potential who have opted out," said Rinaldi to Lawrence. "Why do you want to play?"
"I'm just excited to have one more [season] with my brothers, with my teammates and with my coaches that I've grown so close to these past three years."
This offseason, Lawrence has also emerged into a national voice on the subject of racial inequality, using his platform to promote awareness and provoke change on the matter.
Heading into the final season of his college career, Lawrence appears primed to become the No. 1 overall pick in next year's NFL Draft. There should be little doubt in the mind of whichever team lands in that coveted spot that drafting Lawrence would provide infinite return.
On the gridiron, Lawrence's future NFL suitor will get an extremely passionate competitor, willing to lay everything on the line to put his team in the best position to win. Off the field, Lawrence promises to be the personification of the perfect face of any franchise, carrying himself in a polished and dignified manner, day-in and day-out.
But of course, all of the aformentioned hypotheticals will play out in due time. Lawrence has one thing on his mind right now: leading the Tigers back to the promised land in his final season.
"I respect everybody else's decision. But I'm a football player," said Lawrence.
"At the end of the day, that's what I love to do."
Never miss the latest news from Clemson Sports Talk!
Join our free email list