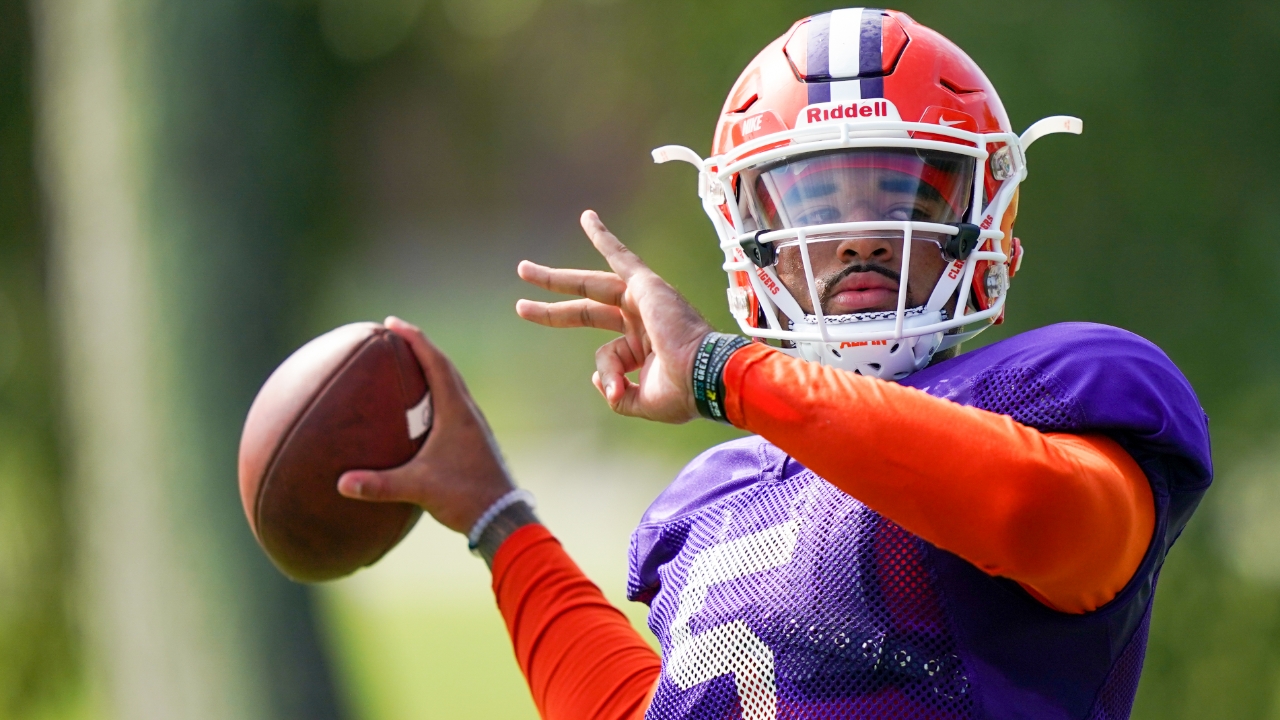 Photo by Courtesy of Clemson Athletics
Clemson Football
D.J. Uiagalelei: Learning under Trevor Lawrence is an 'accomplishment'
---

Feel the difference - The MOST DIGITAL CONTENT covering your CLEMSON TIGERS! Avoid clickbait and sites bloated with advertising!
---
A "once-in-a-generation" type of talent is a commodity most college football programs can only lay claim to, well, once in a generation.
But for the Clemson Tigers and the apparent assembly line of star quarterbacks being churned out of Death Valley, "once in a generation" is a phrase that continues to be redefined.
Kicked off by Tajh Boyd at the beginning of the decade, the torch full of talent was passed from Boyd to Deshaun Watson, then to current QB Trevor Lawrence (albeit with an awkward gap year in between both transitions). After this season, Lawrence is expected to hang the cleats up on his career as a Tiger, leaving the door open for a new prodigy to begin writing his legacy at Clemson.
And who is that player expected to try and fill those shoes? That would be D.J. Uiagalelei, freshman at Clemson and former star high-school quarterback from Bellflower, Calif.
Uiagalelei (pronounced oo-ee-AHNG-guh-luh-LAY) was one of the most highly-touted recruits of the 2020 class, and was the marquee signing of the year for the Tigers. He passed for over 10 thousand yards during his three years at St. John Bosco High School, accumulating 127 touchdowns in the process.
On Saturday night against Wake Forest, Uiagalelei finally fulfilled a lifelong dream. After Clemson took a 37-3 lead late in the third quarter, head coach Dabo Swinney took Trevor Lawrence out of the game and inserted the freshman quarterback for the first college football action of his career.
"It was such a great experience," Uiagalelei said of his time in the game. "It was something I'd been working for my whole life; to be able to take the field and take my first steps as a Clemson Tiger."
Uiagalelei performed well in his limited appearance, completing two of his three passing attempts for 16 yards. It was a microscopic sample size of Uiagalelei's capabilities, but the young quarterback understands that before he becomes great in his own right, he must wait his turn. When asked about backing up college football's biggest star, Uiagalelei made his admiration clear.
"Trevor, he's the best quarterback in college football," Uiagalelei raved. "For me to just learn under Trevor, I try to see the things he does on and off the field. Seeing him every day, just the way he works, the different sacrifices he makes…there are a lot of great things I try and take from him so that I can get to be as good of a player as he is."
It's an aspiration that may sound nearly unattainable. Can Uiagalelei truly live up to the legacy Trevor Lawrence will be leaving behind after he plays his final game as a Tiger?
The same question was asked after the departure of Deshaun Watson in 2017, and it's arguable that Lawrence has matched or even outperformed those massive expectations.
Who's to say Uiagalelei can't do the same?
But Uiagalelei, while a humble student, isn't willfully ignorant to the pressure he will soon bear upon his shoulders. He understands the impact left by those having come before him and what it means to be compared to the likes of both Watson and Lawrence.
"It's a great honor to be compared to both of them [Deshaun Watson and Trevor Lawrence] who are two great quarterbacks that have come here."
"It's a great honor to be compared to both of them [Deshaun Watson and Trevor Lawrence] who are two great quarterbacks that have come here," said Uiagalelei. "I just want to do whatever I can for the team… make sure I'm accountable, know my stuff and just be the best teammate I can be."
Uiagalelei already has a firm grasp on the mindset instilled in every player from the moment they commit to playing a part in Clemson's football program. He knows he won't get much playing time this season, but appreciates his role as mentee just as much as he would the role of a starter.
"For me, coming here and being able to learn under Trevor, that's a bigger accomplishment than going into somewhere and starting from day one, I feel like. It's a great first step."
Uiagalelei compared his role under Lawrence to that of the situation the Green Bay Packers had in 2005.
"It's kind of like when [Aaron] Rodgers came into the NFL," explained Uiagalelei. "He went behind Brett Favre and got to pick his brain and learn from him… I feel like if he would have gone to the league and started, he may not be as good of a player."
He will have to remain patient this season as Lawrence finishes out a historic collegiate career, holding to his role as the young Aaron Rodgers to Lawrence's Brett Favre. But there's no question that if Uiagalelei continues to receive careful guidance from Lawrence - and display such a remarkable level of character and intelligence - Clemson football may soon have yet another "once-in-a-generation" quarterback on its hands.
Never miss the latest news from Clemson Sports Talk!
Join our free email list