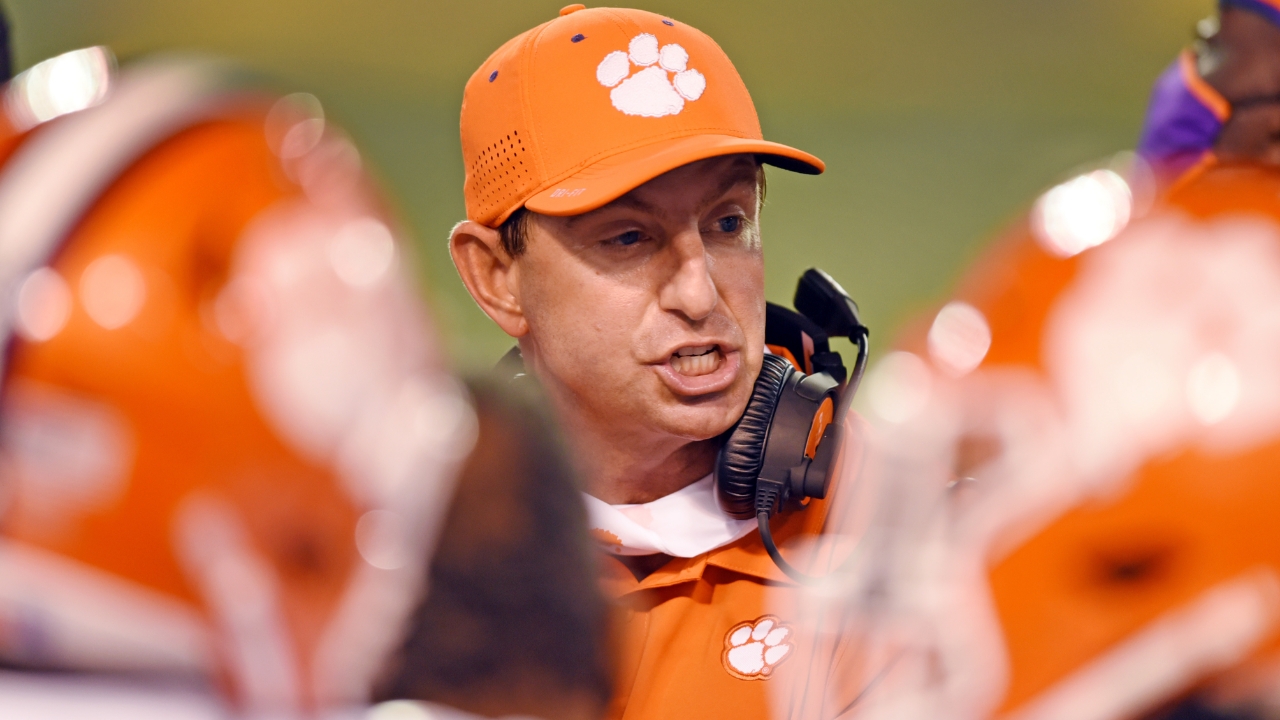 Photo by Courtesy of ACC Media Portal
Clemson Football
Last Look: The Citadel
---

Feel the difference - The MOST DIGITAL CONTENT covering your CLEMSON TIGERS! Avoid clickbait and sites bloated with advertising!
---
This may not have been the one non-conference team most Clemson fans wanted on the schedule. But hey, we'll take what we can get, right?
The Clemson Tigers are set to square off against the Citadel Bulldogs – an FCS challenger – on Saturday, Sept. 19 at 4 p.m. EST. ACC Network will anchor the TV coverage.
The Tigers currently hold a 32-5-1 lead in the all-time series. The first meeting between the two teams dates all the way back to 1909, where Clemson came away with a 17-0 victory in Charleston. Their most recent clash was as lopsided as they come, with the Tigers steamrolling the Bulldogs 61-3 in 2017. Clemson has won the previous 17 matchups overall.
The Tigers roared into Winston-Salem last Saturday and marched right back out with a win, utilizing most of the roster in a convincing 37-13 victory. As Clemson prepares to play in front of a (modified) home crowd for the first time this season, here is what to watch for as we take one last look at this week's matchup.
HOME FIELD HEROES
Clemson has absolutely dazzled onlookers at Memorial Stadium throughout their historic run, going 41-1 in Death Valley since 2014.
The Tigers will attempt to add to their current 22-game home winning streak on Saturday. That run of form for the Tigers is currently the longest active streak in the FBS. The Tigers' last loss in front of a home crowd came in 2016 at the hands of Nathan Peterman, as Pitt knocked off the Tigers on a last-second field goal to win 43-42.
Since that game, however, Clemson has been an unstoppable force at Memorial Stadium, winning their last 22 home tilts by an average of 33.3 points per contest.
© Joshua S. Kelly-USA TODAY Sports
Whether watching on TV or experiencing the game in-person, the multitudes of changes to the game day atmosphere in Death Valley will be evident. Only 23 percent of its usual capacity has been allotted for fans, as just 19 thousand members of Tiger faithful will be allowed entry.
"We are thankful for the careful review and approval from Governor McMaster, the South Carolina Department of Commerce and the South Carolina Department of Health and Environmental Control for our plan to host fans in our venues this fall," said Clemson Director of Athletics Dan Radakovich when the plan was originally announced.
"Our IPTAY and athletic staff have worked tirelessly and taken a comprehensive look at the gameday experience."
The 19 thousand fans in the stands will certainly do their best to bring the noise, but there's no question that Death Valley will be sounding a bit different than in years past. The Tigers will look to adjust accordingly on Saturday and move to 2-0 on the season.
ETIENNE INTO THE RECORD BOOKS… AGAIN?
It seems as though every week, Clemson running back Travis Etienne, Jr. has the potential to break a new school or FBS record. Last week, Etienne rushed for over 100 yards in a game for the 18th time as a Tiger, setting a school record for most 100-yard rushing games in a career.
"That record means a lot to me," Etienne stated when prompted about the accomplishment after last Saturday's win. "It just shows you that we have a great offensive line, year in and year out. Those guys want to leave it all out there on the field for us."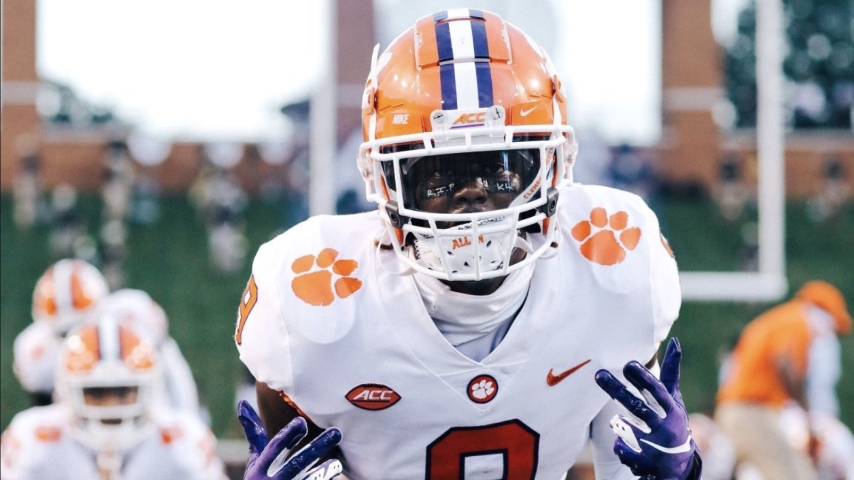 Twitter: @ClemsonFB
Should Etienne add another 100-yard outing to his resume on Saturday, he would tie former Virginia Tech running back Tiki Barber for most in ACC history.
This time around, however, Etienne has an opportunity to set the FBS record for most total games accounting for at least one touchdown.
Etienne has contributed at least one touchdown (either rushing or receiving) to Clemson's offensive attack in 37 games throughout his career. With a touchdown of any sort on Saturday, Etienne can jump to 38, tying him all-time with Louisana Tech's Kenneth Dixon and some guy from Florida named Tim Tebow.
DEFENSIVE DOMINANCE
Last week, Tiger fans were treated to stellar performances from nearly every member of the defensive unit. What caught the most attention, however, was the production of the true freshman – notably that of defensive lineman Bryan Breese and defensive end Myles Murphy.
The pair combined to record nine tackles (3.5 of which were for loss) along with two sacks and a blocked field goal. Both registered their first playing time as Tigers on Saturday, showing out as part of a Clemson unit that stymied Sam Hartman and the Demon Deacon offense all night.
"It was special," admitted Murphy following the game. "My first drive out there, I was actually very nervous. But once you make first contact on the field, all that anxiousness gets out of your body. After that, I was telling myself 'it's just football.'"
Breese made his biggest impact during the first quarter, managing to collect both a half-sack and a blocked field goal attempt in his first few minutes of action. He expressed similar sentiments to Murphy regarding his nerves fading as the game went on.
"Getting that half-sack and then blocking that kick was definitely a big relief for me," he explained. "That was just when all the butterflies went away and I was just out there playing football."
Tiger fans will want to keep an eye on the amount of damage Murphy and Breese — along with the rest of Clemson's defensive line — can do on Saturday. The Tigers will line up against a Citadel team that struggled to get anything going offensively in last week's 27-6 thrashing against USF.
ENJOY THE PRESENT AND FUTURE
This season is one that was never promised. Not to Clemson, and especially not to Citadel, whose Southern Conference decided to postpone their entire slate of fall sports. So despite how different Death Valley may look, players and fans alike will be thankful for the sense of familiarity that comes with taking in a Tigers home game on a Saturday afternoon.
As for the outcome of the actual game, this one is not expected to be close. It would be trivial to pretend otherwise. Therefore, Clemson will likely find themselves divvying up playing time to names on the roster that may not be recognizable to many. Keep a close eye out for some of the Tigers getting a little extra action on Saturday.
Last time Clemson faced the Citadel, then-freshman running back Travis Etienne, Jr. and wide receiver Tee Higgins had the best performances of each of their seasons. There will likely be future Clemson superstars getting brief tastes of action this week, so be sure to remember some of the names you may otherwise not keep track of.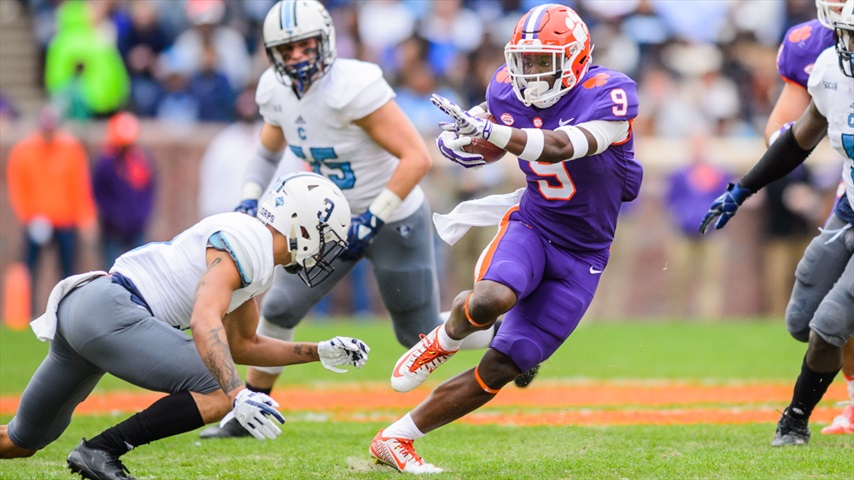 Clemson Sports Talk
FINAL WORD
As the Tigers valiantly set out to defend their home field for the first time in too long, the excitement around Clemson is buzzing. So enjoy the Valley tomorrow, Tiger fans. There's no better place to be.
Let's all just collectively remember to never, ever take a Saturday afternoon at beautiful Memorial Stadium for granted again.
Never miss the latest news from Clemson Sports Talk!
Join our free email list
PRESENTED BY