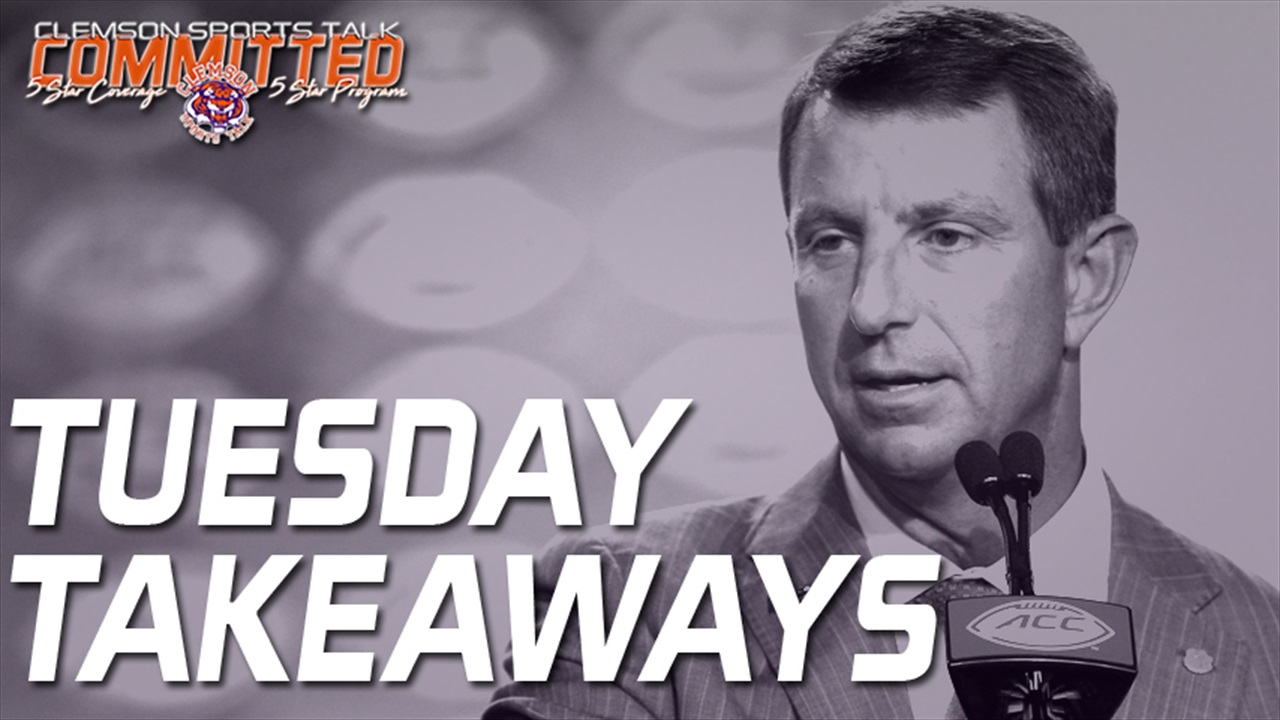 Photo by © Jeremy Brevard-USA TODAY Sports
Clemson Football
Swinney's Tuesday Press Conference
---
A few notes from what Dabo said at his press conference this morning:
Excited to be back home. Appreciate each game in The Valley.
Very tough, hard nosed and physical team. Different mindset you have to bring when you play Boston College.
They are never going to beat themselves. You have to win the physical matchup.
On Saturday, we played our worst game defensively of the three games we played.
Trayvon Mullen has earned the right to be the starter at corner right now.
DJ Greenlee has a strained MCL so he is out.
On Tavien Feaster: I thought they all played well. Tavien had the most production with their opportunities.
On Travis Etienne: There's a lot of water that goes under the bridge. He's got to put the work in. He's got to settle down on the kick return. Etienne's run the other night was an inside zone call. He runs with desperation every play.
How you play without the ball is more important than how you play with it.
We've got a long way to go on offense. It's not just one guy and as a group, we've got to get better.
Felt great about the win, but then when looking at the tape there is stuff we have to fix.
Justin Falcinelli is one of the MVP's of the first three games so far.
Work ethic. Maturity and consistency. Ray-Ray sometimes thinks one thing while the coaches may think another thing. He is becoming that consistent performer, but it comes through consistent preparation. Challenge to him: Be the guy that I know what I am going to get out of him.
Ray-Ray is as tough as they come. He has just had a lot to learn.
That trophy for the BC game is one that means a lot to me. That was my first win.
Dorian O'Daniel is the Vic Beasley of this team. Always saw the talent. Vic and Dorian played running back in high school.
To media: raise your hand if you thought Kelly Bryant would be 3-0 at this point in the season and be the guy going forward. Short room in here.
Streeter does a phenomenal job for us. I was always going to hire him; it was just a matter of when. Streeter did a really good job with Deshaun and it has rubbed off on Kelly.
More to come later on as we dig deeper into Tuesday interviews. Welcome to the new site.
Never miss the latest news from Clemson Sports Talk!
Join our free email list