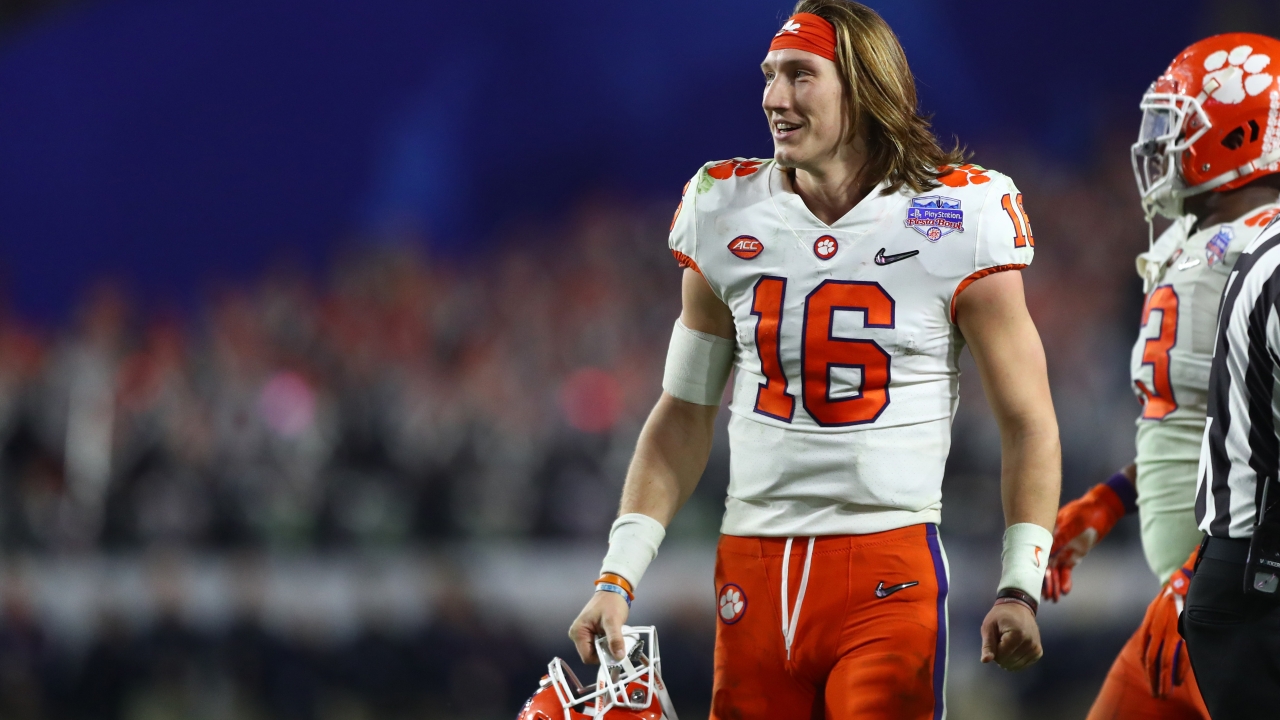 Photo by © Mark J. Rebilas-USA TODAY Sports
Clemson Football
Trevor, Twitter and The President: How the 2020 college football season became reality
---

Feel the difference - The MOST DIGITAL CONTENT covering your CLEMSON TIGERS! Avoid clickbait and sites bloated with advertising!
---
As the rising sun warmly greets the country at different points throughout the morning, this Saturday — the first of the autumn season — brings with it a hint of reassurance.
To many, today's sunrise may carry little meaning aside from the ringing in of another care-free weekend. But for college football and its devoted, die-hard and diverse demographic, it represents a much greater significance.
Yes, college football has been "back" for a few weeks now. For anyone having kept a keen eye peeled upon the tabloids and glued to the television, that's prior knowledge. But while college football has slowly started to become a part of our increasingly-normal lives again, there's no denying that it's still taking some getting used to.
Yet while we gaze out upon the greener football pastures, it's hard not to recognize that the light at the end of the tunnel is just within reach.
The SEC begins play this week. The Big Ten and PAC-12 have scrambled together, announcing plans to soon do the same. College football fans will soon enjoy a smorgasbord of action-packed Saturday showdowns, and as of this moment, the appetizer has hardly even been served.
But as is custom before diving into any full-course meal, it's of dire importance that we give thanks for what lies before us. Our foremost responsibility is to be appreciative of exactly what it took — and who it took — to get it here.
Less than a couple short months ago, college football was on the brink. Conferences were frantically attempting to throw together a plan to play a fall season, but very few instances of progress were recorded. Before too long, the biggest blow to the hopes of players and fans was dealt: the Big Ten announced that it would be postponing its fall season to the spring.
The Pac-12 soon followed suit, and all that remained of the Power Five conferences were the ACC, SEC and Big 12. All eyes were glued to those three conferences, anxiously anticipating their next moves. The few days of deliberation and closed-door discussions that followed would write the narrative for the rest of the season.
Enter Trevor Lawrence.
Lawrence, seeing the infrastructure of the 2020 season — likely his final one as a college quarterback — crumbling by the second, began leading the charge to play football in the fall.
"I don't know about y'all, but we want to play."
What began as a simple tweet from Lawrence soon molded itself into a movement, gaining traction across the entire college football landscape.
"I don't know about y'all, but we want to play."
"This is what we love to do," Lawrence said in a media availability shortly after the Big Ten and Pac-12 announcements. "We're passionate about it. We've organized things really quickly to show how much we care about it. We feel safe. With communication and chain of command, we really can provide a safe way to play."
Spoken like a bonafide leader, Lawrence's encouraging outlook was a beacon of light to many who felt the season was a lost cause. His passion for his message and ability to guide others caught the attention of many and sparked excitement across the country.
One of the more noteworthy people captivated by Lawrence's words and actions? President Donald Trump.
According to a Clemson football spokesperson, the White House reached out to Lawrence and provided him with a number to reach the President.
"A great, great talented quarterback Trevor Lawrence called me two days ago," said President Trump on August 15, following his discussion with Lawrence. "I spoke to him a couple of times."
Lawrence expressed to the President his desire for a fall season to take place.
"He said, 'Sir, I want to just tell you we want it back, we want to play.' He's an incredible quarterback from an incredible school, Clemson. And he's going to have a very good future in the NFL.'"
Despite some of the negative pushback he received for his phone call with Trump (it comes with the territory) the call cemented Lawrence as a national icon and the face of the #WeWantToPlay movement.
#WeWantToPlay, the hashtag coined by Lawrence on Twitter throughout the entire back-and-forth process, garnered massive amounts of support via Twitter and other social media platforms. The movement culminated with the upload of the following graphic:
The graphic was retweeted over 12 thousand times on Twitter, with many other prominent student-athletes sharing the image, as well. It outlined several different policies that they sought to put in place, from player eligibility to opt-out potentiality.
"If every program can get on the same page, I believe there's a way we can do it," explained Lawrence. "We've been in communication with other guys from other teams. We just really feel like if the NCAA can talk, with other conferences, and put a plan together and bounce things off us… I feel like we can do it."
Lawrence managed to do just that. He got the bulk of the college football world on the same page, and his prediction couldn't have been more spot on. Soon after his efforts took center stage, the ACC, SEC and Big 12 all announced intentions to push forward with the fall season.
Now, a little less than two short months later, the Big Ten and PAC-12 have retracted their decisions and chosen to move forward with a season of their own. Having seen the endeavors of Lawrence and his fellow student-athletes come to fruition, minds all across college football were changed.
These first few weeks have been different, and required coaches, players and fans alike to adjust. That was inevitable from the start.
But Lawrence's projections had always been correct: It was absolutely possible to create a safe atmosphere for this season, and so far, that's been proven across the board.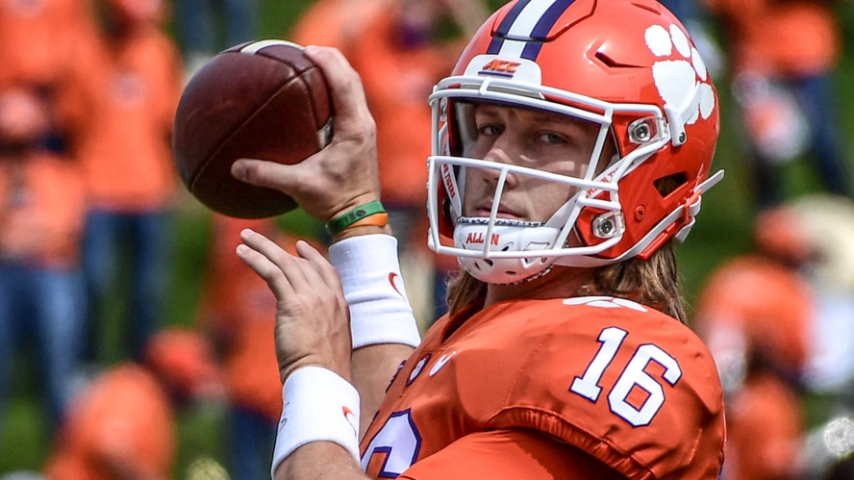 Courtesy of ACC Media Portal
We've seen some cancellations and postponements of specific games. We've had coaches and players test positive for the virus, but thanks to contact tracing, the safety of student-athletes has not been placed in jeopardy. Things have been running almost flawlessly so far, so much that it has placed every Power Five program's season back on track.
So today, while we enjoy the first Saturday where it truly begins to feel like a normal season again, let us be grateful.
As a whole, football is finally back, and Tiger fans — along with the rest of college football — owe a large debt of gratitude to Trevor Lawrence.
Lawrence took hold of a movement that appeared to be doomed from the start and carefully steered it into reality, providing us with the joys that lay before us on this glorious Saturday.
So enjoy it all. College Gameday, tailgates (if allowed) and primetime parties alike. This was never promised to any of us. Yet thanks to the efforts of Lawrence and so many others involved in the ordeal, what was once a fading possibility is now an actuality — one that we will get to bask in every weekend until the end of the most unique college football season of all time.
Never miss the latest news from Clemson Sports Talk!
Join our free email list