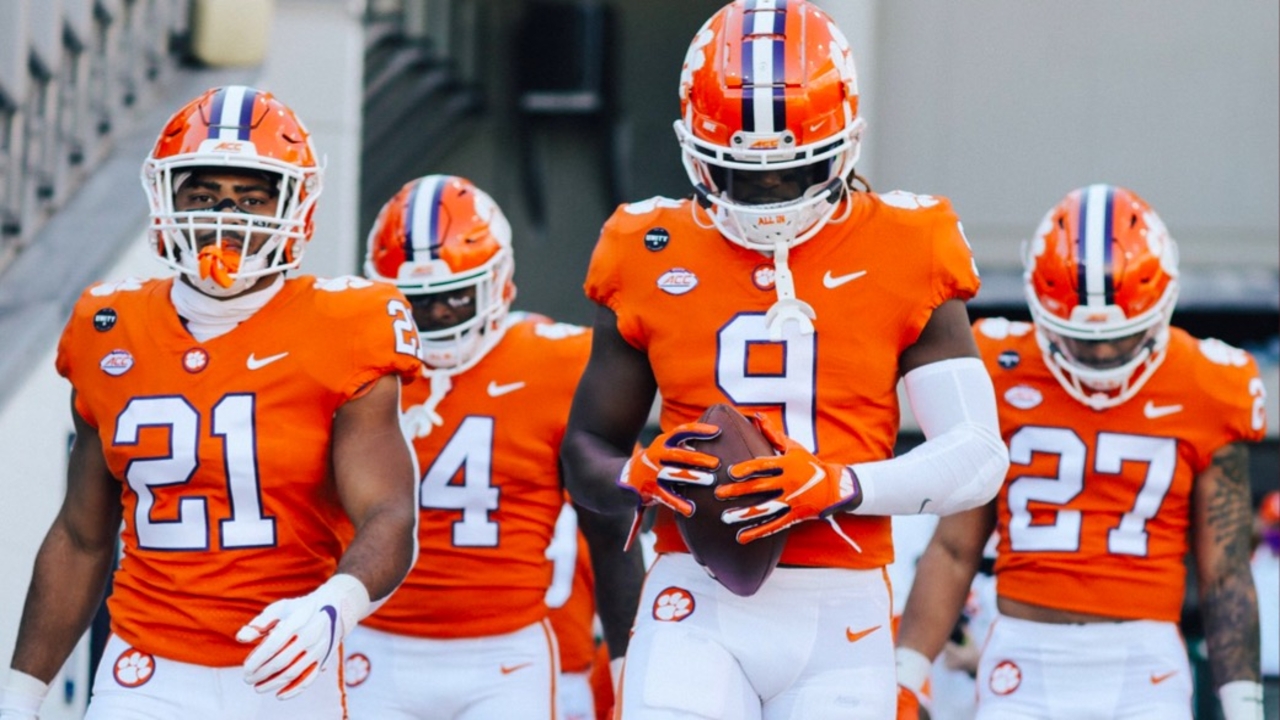 Tony Elliott
Brent Venables
Trevor Lawrence
Amari Rodgers
Nyles Pinckney
Andrew Booth
Clemson Football
They Said It: No. 1 Clemson 73, Georgia Tech 7
---

Feel the difference - The MOST DIGITAL CONTENT covering your CLEMSON TIGERS! Avoid clickbait and sites bloated with advertising!
---
Tony Elliott
On Ajou Ajou:
"Just getting him opportunities, probably has the most to learn, but if we can get him the ball in space…he can make a run after the catch."
On Trevor Lawrence:
"It's the highest level of football I've seen out of him. He is highly competitive and extremely intelligent."
On the offense:
"We want to stay balanced, but we want to take advantage of what the defense is giving us."
Brent Venables
On Tre Williams:
"He's a pleaser. Both he and Bresee are like little boys, they just can't wait to go out there and play."
On touchdown pass given up by Mario Goodrich:
"No, he's a quarters player. I think they motioned to a three back set. So he's got to tuck inside and stay on top of that route. It's quarters coverage and he doesn't have help on that particular play. So it's got to stay inside and stay on top of it.
Andrew Booth
On the DB's improvement:
"We've grown tremendously. Wake Forest, they were going really fast. But we went back and got more detailed in our preparation. Coach Reed, repped drills, turn your head, being patient at the line and we went back and we fixed it. We're so blessed and so deep at the position. It's a great thing."
On being a Peach State product playing in the ATL:
"It was a blessing. I've never been to Georgia Tech. They had a very good atmosphere with everything that's going on right now. It was cool, just looking up and being in Atlanta. It was fly. I really enjoyed it. And to get that win in that fashion."
On staying focused in a blowout:
"Practice is so intense and when game time comes around, it's just so much easier, like how we practice. It's crazy. So when we get to the game it's easy to focus. It's easy to play hard. Knowing our our jobs because practice is so intense. We get out here, it's just so easy. So easy Coach V. he protects us with his calls and he really dials it up. So game time is cake."
On some players we haven't seen emerge yet:
"Fred Davis. He's coming, he's coming. All our DBs can play, if somebody goes down, and we need somebody to go in, everybody can play. We got the young guys, everybody, we're deep, so I feel like we've got pretty good depth."
Nyles Pinckney
On his touchdown run:
"Honestly, all I saw the endzone. I was trying to make sure I got the ball first. Ball security is the most important thing."
On how it felt to get a chance to carry the ball:
"It's a great feeling, especially being here five years to see guys like Christian (Wilkins) and Dex (Dexter Lawrence) getting the chance on that package. Me finally getting my chance and I'm doing the best I could when I get in the endzone. I didn't want to lose my mind when I got in there. But it was a good feeling."
On the defense preparing for each game:
"We just take every game as our best one. Coach V, during the whole week, he shows the stress of the game, pushes us, we actually feel like practices are harder than the games because of the stress he puts on us. We hold each other accountable. We treat every practice, like a game rep. I feel that when we finally get to the game, and we actually get a chance to execute we do the best we can and we actually show what we worked on all week."
On staying focused in a blowout:
"We always hold ourselves to a standard no matter who's in the game. No matter if we have a freshman in, to the seniors. We all just want to be able to execute at a high level because we know what the standard is and what Coach V wants to see out of us. We have goals each week. turnovers, PBUs, tackles, TFLs, anything like that. If we got a young guy in and they feel like, 'Oh, it's a blowout, I don't got to do that well. Doesn't matter it's not gonna be a big deal.' We still have a standard we want to show every game."
On Swinney telling him to act like he's been there before:
"Last night, our movie watched was Any Given Sunday with Jamie Foxx. I saw the celebration he had when he scored a touchdown. So I told myself, 'if I get a chance to get this touchdown, I'm gonna do it.' When I scored it, I didn't lose my mind with it, but I kind of got my chance and I did it. Then I told some of my teammates and we did it as well. So it was a good feeling, but I told them it won't happen again."
Never miss the latest news from Clemson Sports Talk!
Join our free email list