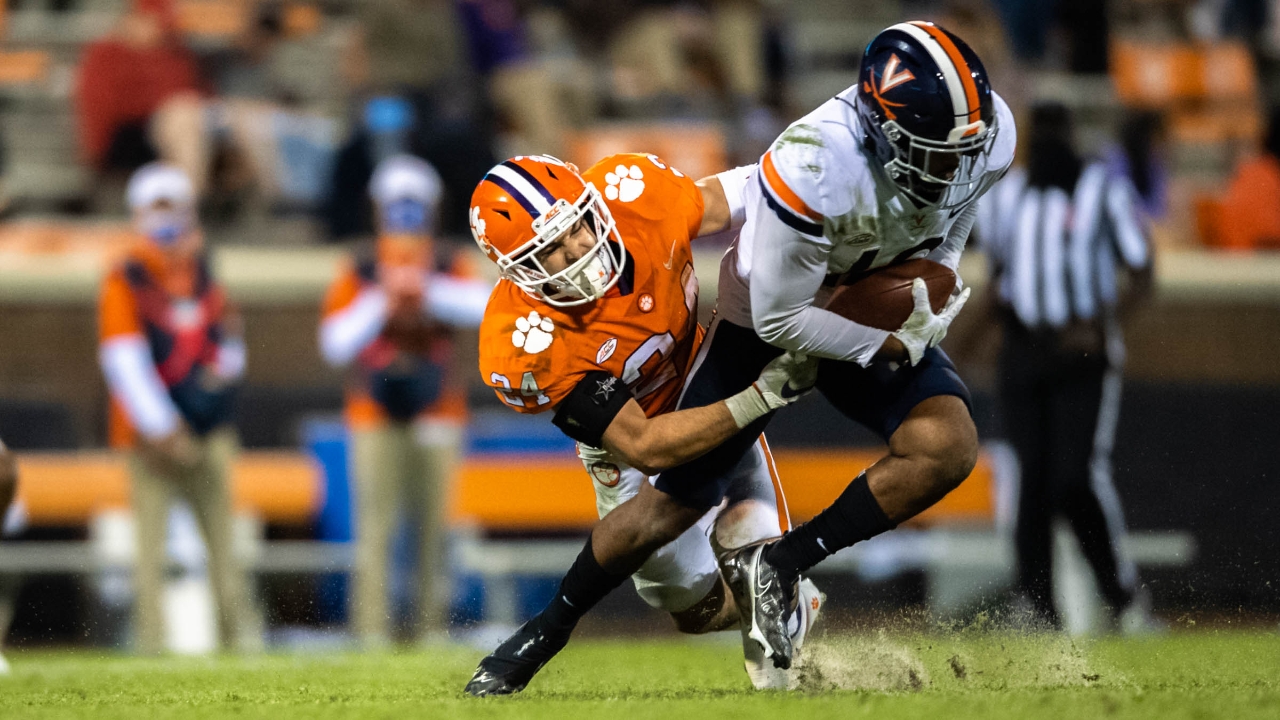 Photo by Courtesy of ACC Media Portal
Clemson Football
'I think we're playing really confident': Nolan Turner breaks down defensive mindset
---

Feel the difference - The MOST DIGITAL CONTENT covering your CLEMSON TIGERS! Avoid clickbait and sites bloated with advertising!
---
On his interception on Saturday:

"I think that they were running a little RPO slant behind me so they're trying to read off the safety, off the backer, trying to bring us down in the box and create some space, throw a slant in. I don't think the quarterback ever saw me. I just slid underneath it and grabbed it. But it was a good, fun play. You know, it's fun. It's always fun to make an interception in a game like that."

On the defense getting six in the last three games:

"I think we're playing really confident, you know? As a back seven, as a defense in general, we're creating a lot of disruption up front. So give a lot of credit to those guys, putting a lot of pressure on the quarterback, giving us opportunities to get in good position to make plays. And then guys (have) been finding the ball well, getting their heads back, making plays on the ball, especially at corner. (They've) just done a great job of making those competitive plays this year."

On how difficult it is to replace the talent that they lose every year, but continue to play at a high level:
"Well, first of all, that's a huge credit to Coach Venables. What he does, the guys we bring in, and then just the commitment of the players, developing and just waiting for their turn to make some happen. So, it's a developmental game. And we have a lot of guys that are super talented that. Just say (for example), Baylon Spector. Nobody really knew Baylon. And then this year, you come out and they're like, where did this kid come from? He's just been grinding and developing over these last couple of years. And he's always been a great player. And now he's just showing everyone that. He comes out and makes huge plays every week. Such a physical linebacker and great tackler. And every year, we have those guys leave. And then (the) same thing, these young, talented dudes that are just learning and developing in our system come up and do the same thing. So it's just how this program's run, you know, off of consistency and hard work."

On the dance the defense does after turnovers:

"I don't even really know how to explain it. It started this summer, during our skills and drills stuff. We always have fun, and whenever a defensive guy would make a play on one of our offensive guys, he would start pointing at them and doing that over his head, just messing around within the team. That started over the summer, then worked his way into fall camp a little bit, obviously, you can't do that in a game, I think they throw a flag on you and not very sportsmanlike of us. (It) started becoming a thing at practice and over the summer, and it was something funny that the guys would do and turned into their little thing."

On what Coach Venables thinks of the dance:

"He probably doesn't think a whole lot of it, as long as we don't get flagged for it. But I think he thinks it's funny. It's like the energy that the guys are bringing in. The excitement of making a play and celebrating together."

On if the offense ever gets mad about the dance at practice:

"Nah. It's all fun with the team. We got such great chemistry within this team. And it's cool to see and a lot of great relationships. So it's all fun when we're out there competing against one another. It gets intense sometimes. But never in that situation, we're always just having fun with it. The offense will do stuff back in the summer, too and they'll have some fun, but that was our defensive thing that we would do whenever somebody (would) make a play over the summer."
On the impact Xavier Thomas can make:

"Oh yeah, for sure. It's been great having X out there. It's just another elite guy put out on the field and just another playmaker. And he's shown that over the last couple of years, and yeah, I've definitely seen him, you know, just grinding and working to get back and get to where he needs to be, or where he wants to be as a player. So it's been, it's been cool to see him working and getting back to himself. But yeah, it's great having him out there. It just brings just another element of the defense of pass rusher and physicality up front and speed. It's always good to have a guy like X back out there."

On if he ever thinks about Clemson and Alabama potentially meeting, since his father played for the Crimson Tide:
"Yeah, I mean, obviously, we always focus on one week at a time and we're focused on Syracuse this week. I got to watch them play. We got home this weekend, watched Alabama and Georgia play, two great teams, fun game to watch. I'm sure they'll have plenty of success for us this season. And ultimately, if we get to where (we) want to go, I'm sure that matchup can happen again. So it's just another great opportunity that we'd have to make it that far and play another great team in a fun matchup. So yeah, it'd be cool being from Birmingham. It's always cool to play the hometown team. But yeah, just focused on this week and Syracuse. And that's how we've got to be for the rest of the season, if we want to get to that opportunity in the postseason."
Never miss the latest news from Clemson Sports Talk!
Join our free email list