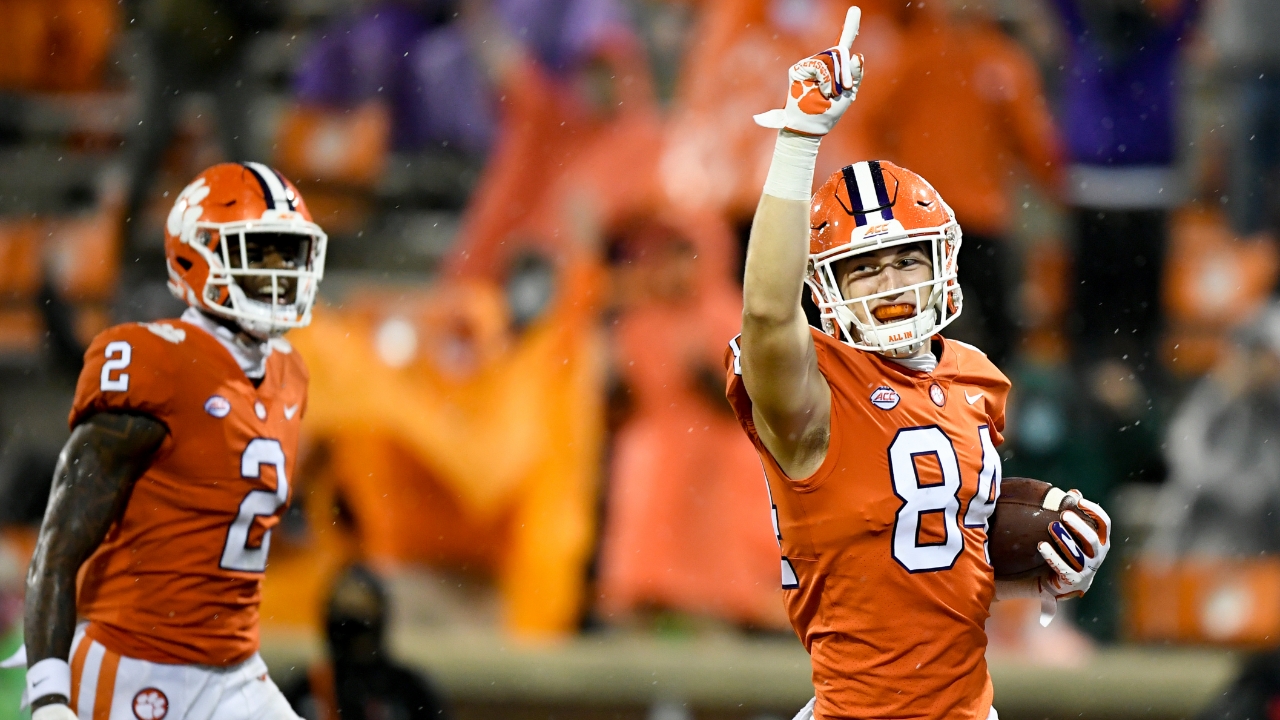 Photo by Courtesy of ACC Media Portal
Clemson Football
TE Davis Allen quickly developing into a weapon for No. 1 Clemson
---

Feel the difference - The MOST DIGITAL CONTENT covering your CLEMSON TIGERS! Avoid clickbait and sites bloated with advertising!
---
CLEMSON, S.C. – Standing 6'6 inches tall and weighing 250 pounds, Davis Allen has all the measurements desired to develop at the tight end position. Luckily for Clemson fans, Allen might be on his way to doing just that.
Recruited out of high school mainly as a linebacker, the Georgia native has made the transition to the offensive side of the ball. If the last two games against Miami and Georgia Tech are any indications of what is to come, Clemson fans will be hearing "Touchdown, Davis Allen!" a lot more this season.
When asked about some influential tight ends, Allen mentions Jason Witten, George Kittle, Travis Kelce, and Zach Ertz. The commonality in all of these players: physicality. "I like to watch other guys at the next level and see how they do their thing." Allen said about the tight ends he admires, "I just take mental notes and watch how they play their game."
Allen finished the 2019 season with just 5 receptions for 53 yards. This year, through the first five games, Allen has already eclipsed his totals from last season with 7 catches for 151 yards with two touchdowns coming during back-to-back games against Miami and Georgia Tech.
It is far too early to declare Allen the next George Kittle or Travis Kelce but as the Tigers offense continues to roll, Allen's development should progress as well.
Allen spoke about his struggles from last season in learning the position.
"We've got to know what the offensive line's doing and what the quarterbacks thinking on this play, and the reads we have to make, we got to know a lot," Allen noted. "That was a change a little bit coming in last year, just all the terminology I needed to learn and the concepts I needed to learn. It was a challenge at first."
That year of experience has created another valuable weapon for Clemson at the tight end spot.
"I feel like I was still learning throughout the entire year, last year. I was still picking up on things," Allen said.
"I feel like I was still learning throughout the entire year, last year. I was still picking up on things," Allen said.
The collegiate level transition might have been difficult for Allen, but it seems that his year of experience has paid dividends going into his second year.
Allen's confidence level coming into this season has translated to his body of work as he is much more comfortable with his role and responsibilities. He knows how important it is for the tight ends to execute as he mentioned early into the season that "tight ends definitely have a huge, huge job when it comes to the offense and knowing what to do."
While his stats aren't necessarily eye-popping, they are indeed indicative of a player who is poised to make an impact in this offense. When watching Allen's best plays of the season, some of his most noticeable attributes include his pass-catching, route running, physicality, and blocking.
Allen has enjoyed finding the endzone this season but actually gets more joy from making great blocks.
While most of America only saw Travis Etienne's 72-yard touchdown run against Miami as a statement about the senior running back's ability to challenge for the Heisman Trophy, it was Allen's block that made the play happen.
Crossing over the face of the defense, Allen worked from the right side of the backfield to the left edge and hammered his defender, sealing the edge for Etienne's incredible run.
"Those blocks are fun," Allen said with a smile, "It brought a lot of joy. The play just came together and worked to perfection. That was probably the highlight (of the game). I think I liked that better than the TD catch" – his first of his collegiate career – "honestly because it was a play that was executed really well."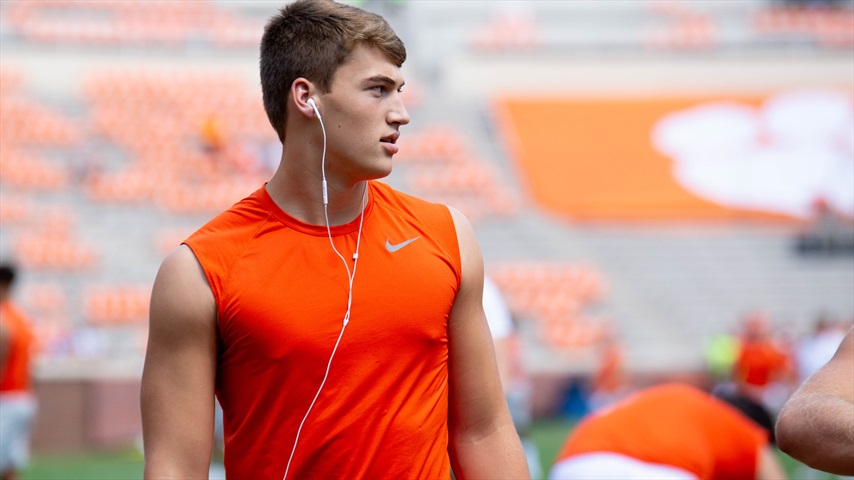 Clemson Sports Talk
Later in the same game, the sophomore tight end showed Tiger fans a glimpse of the athlete he is poised to become when scoring his first touchdown at Clemson.
The score came in a clutch moment at the end of the Miami game, where he sold the linebacker on a play-action block. Right when the Miami defender stepped up, Allen blew past him and caught the ball in stride at the Miami 9-yard line. Allen took one step before taking a shot from Miami safety, Bubba Bolden. The young tight end gave his best George Kittle impression as he absorbed the hit, refused to lose balance, and sauntered into the end zone for the dagger touchdown, officially ending any hope Miami had left of a comeback with 4:33 remaining in the game.
Fresh off his best game in his college career, Allen provided an encore performance against Georgia Tech. Once again, he baited the coverage into thinking he was blocking, this time on a fake pitch. Trevor Lawrence then found Allen on a perfectly ran seam route that he took to the house.
As Allen continues to develop, his physicality will play an instrumental role in his ability to impact the Tiger offense.
"I just love football. I try and take pride in being physical. I'm just trying to do my job. Being physical comes with it, and you've got to be physical playing tight end, especially at this level," Allen said of his game. "I'm someone who wants to get my job done and not only get it done, but I want to do it really well. I feel like in order to do that; you've got to be physical."
It goes without saying if Allen can continue to learn, improve, and grow during his time at Clemson, his progression and that of Braden Galloway will give opponents more than enough headaches when facing the Tigers' offense.
Allen uses the words "love" and "pride" when he discusses his role on the team and doing what he describes as his "job." When you combine that approach with his attitude and physicality, he could very well find himself in the NFL with those that he admires one day.
Never miss the latest news from Clemson Sports Talk!
Join our free email list