Photo by Courtesy of ACC Media Portal
Clemson Football
Travis Etienne: The next great NFL running back?
---

Feel the difference - The MOST DIGITAL CONTENT covering your CLEMSON TIGERS! Avoid clickbait and sites bloated with advertising!
---
CLEMSON, S.C. – Although most professional eyes remain fixated on Clemson quarterback Trevor Lawrence, Travis Etienne continues to build his NFL stock.
Last January, Etienne decided to return to Clemson for his senior year, and so far, that choice has paid off for both his team and his future. ESPN currently ranks Etienne as the No. 1 overall running back prospect in next year's draft and the 19th-highest rated player overall.
For a player as explosive and dynamic as Etienne, however, a number like 19 may seem meager. Tiger fans — along with the collective landscape of college football — have watched him carve up opposing defenses like a hot knife through butter since his freshman year.
Etienne has taken a red pen through the record books and written his name onto numerous accolades. He's become the ACC's all-time leader in rushing touchdowns and total points by a non-kicker, and he is on track to set the mark for most rushing yards within the next couple of games.
Etienne has also won ACC Player of the Year twice, and should he take home the honor this season, he will become the only player in conference history to do so three times. Only one other player in the Power Five conferences ever achieved three conference player of the year awards, and that was the legendary Herschel Walker, arguably the most outstanding collegiate runner in history.
So it begs the question: No. 19? Really?
Do NFL scouts and executives honestly believe Etienne is the 19th best prospect heading into 2021? Are there 18 other potential draftees carrying the kind of athletic ability and game-changing capabilities Etienne possesses?
Not a chance. If the draft was reordered based on pure talent, Etienne would likely find himself alongside Trevor Lawrence in the top five.
But the truth of the matter is simple: the NFL does not value running backs in the same regard it once did.
Teams are wary at the prospect of selecting a running back in the first round of the draft. Looking around the league today, several teams start backs based out of relatively unknown schools, many of whom went undrafted.
For instance, the Los Angeles Chargers struck gold in finding Austin Ekeler, an undrafted ball-carrier out of Division II school Western Colorado. Ekeler has blossomed into one of the league's rising stars, further enforcing the narrative that valuable early-round draft picks go to waste when spent on running backs. James Robinson of the Jacksonville Jaguars — amid a breakout season — is another example.
But Dabo Swinney sees potential in Etienne that he believes should outweigh early-round hesitancy. Swinney envisions greatness in the Lousiana native's NFL future, and he spent a portion of his Tuesday press conference stumping for his star running back.
"They value those great backs," Swinney said. "And he's a great back. They value complete backs, and he's a complete player."
Etienne has always been a force with his legs, but he only recently developed into a lethal weapon catching the ball from Trevor Lawrence. The senior back has accumulated 274 yards receiving this season, on pace to shatter his total from the previous three seasons combined.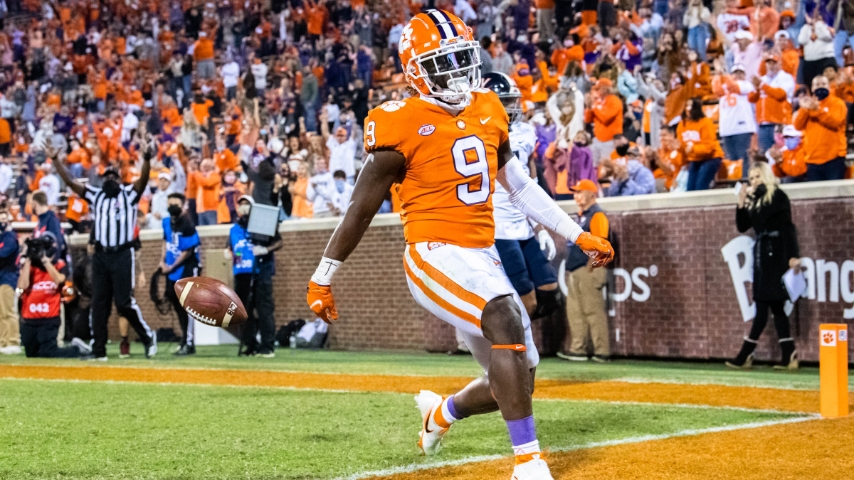 Courtesy of ACC Media Portal
Dual-threat ability is the most critical aspect of a running back's game that NFL scouts evaluate come draft time. Examine the likes of some of the NFL's top backs, household names such as Christian McCaffrey of the Panthers or Alvin Kamara of the Saints. Both are deadly when it comes to their rushing ability, but their proficiency in the passing game haunts NFL defensive coordinator nightmares.
Etienne's stats and highlight tapes do all of the talking. The future first-round pick has polished his ability as both a runner and a receiver this season.
"There's really nothing he can't do," said Swinney. "He's a game-changer."
And in a league that has continued to depreciate his position, Swinney believes Etienne will be different. His name is one Swinney envisions will go down in greatness, alongside those that continue to transcend the stereotypes plaguing the running back role.
"It's a position where it's usually by committee. But if you look around the league and see those great ones, they're highly valued."
Never miss the latest news from Clemson Sports Talk!
Join our free email list