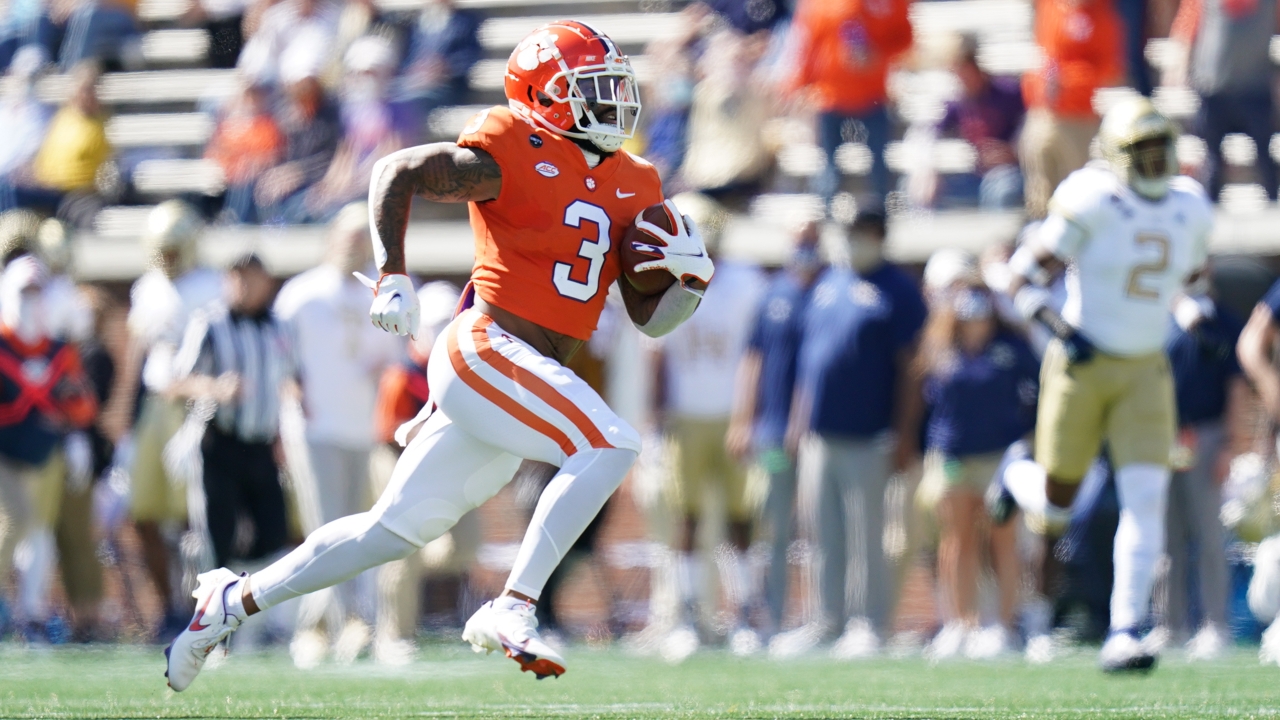 Photo by Courtesy of ACC Media Portal
Clemson Football
Rodgers on playing at Notre Dame: "One of the most historic programs in college football"
---

Feel the difference - The MOST DIGITAL CONTENT covering your CLEMSON TIGERS! Avoid clickbait and sites bloated with advertising!
---
Amari Rodgers had seven receptions for 66 yards and a touchdown against Boston College. On Saturday. As an upperclassman at wideout, he will help lead No. 1 Clemson during their road matchup against No. 4 Notre Dame at 7:30 Saturday night.
Rodgers spoke to the media about the Top 5 matchup.
On whether he and Cornell Powell were expected to step up to help D.J. Uiagalelei:
"Oh yeah, Coach Swinney definitely challenged us before the game that the playmakers on offense. We have to make those plays so that he can get comfortable in the game and be able to feel good about making those throws that he made with me and Cornell and everybody else."
On what Notre Dame football means to him:
"That means a lot. That's a lot of history, man. They have one of the most historic programs in college football, if not the most. So it means a lot to know that, especially that we're playing there. I've been there one time. I didn't go on a visit, but I went there when my dad was coaching at USC. They played at Notre Dame in 2015. And I was able to go there and to the game and be on the sideline and stuff, so I got a kind of feel for the atmosphere and stuff like that. But now that I'm playing in a game, it's gonna be surreal. I'm excited for the opportunity."
On his first impressions of D.J. Uiagalelei and how he thought the freshman handled the big stage:
"With my dad being in Cali for so long. I kind of knew about him coming up in high school and stuff like that. So I knew who he was. He was cool and collected, man, he stayed cool the whole game. He really brought up guys when Travis [Etienne] fumbled. When that happened (D.J.) went to him and said that he got him. That's just leadership-- to show leadership by D.J. and he's just a freshman."
On what he has seen from the Notre Dame secondary:
"They're a very experienced secondary. Nick McCloud, coming from NC State, I played against him the past two years. So I'm pretty familiar with him. Their safety No. 20-- captain, senior, been there for a while, been through some injuries, but he's very experienced. He's a great safety. No. 14, he's very long, fast. He's always at the ball, always getting there and making tackles and stuff like that."
On former N.C. State cornerback Nick McCloud:
"He's a good DB. He's elite. He's long, physical. So you got a good technique versus him, especially in the boundary. He plays boundaries, so less space. So you definitely have to have a great technique and be physical. That's really what I've seen so far."
On what he thinks of the stingy Notre Dame defense:
"They're a veteran group. I think they have like eight returning starters or something like that. So they know how to play. They've been together for a long time. So they do a good job of doing what they do, being where they need to be. They do a good job on third down, especially switching up and making different looks with packages, bringing different blitzes, stuff like that."
On how the emergence of Etienne in the passing game has opened up opportunities for the receivers:
"It opens up a lot. The way that Coach Elliott and our staff have been able to use Travis in a lot of different ways. It opens up everything because every DC (defensive coordinator) coming into the game, their plan is gonna be like to stop No. 9. (There are) always gonna be things open with Travis being the type of player that he is."
Never miss the latest news from Clemson Sports Talk!
Join our free email list