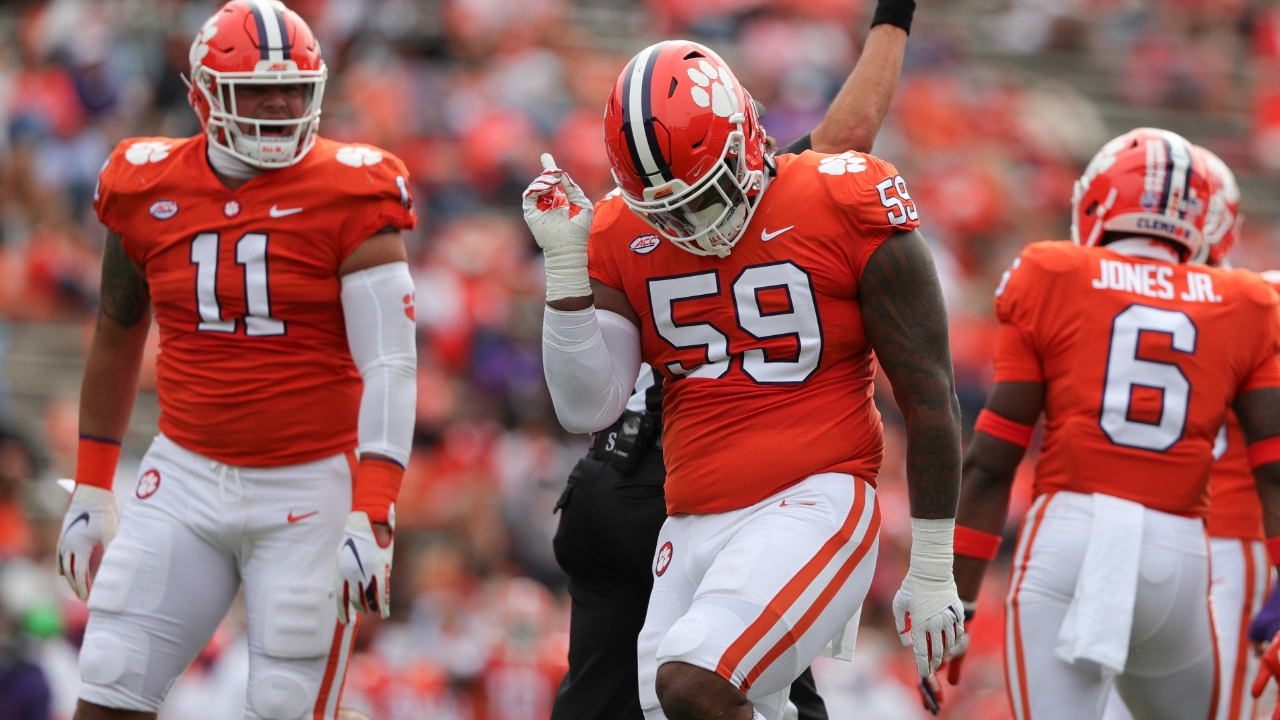 Photo by Courtesy of ACC Media Portal
Clemson Football
Jordan Williams says young guys: 'Have to be ready to play when your number is called'
---

Feel the difference - The MOST DIGITAL CONTENT covering your CLEMSON TIGERS! Avoid clickbait and sites bloated with advertising!
---
Often in football, health is just as important as talent and athleticism. For the Tigers, the 2020 season has shown just how valuable a healthy squad is to a team's success. Talent and athleticism are two traits that Clemson doesn't have to worry about as they head into the season's final stretch.
However, for the first time in recent memory, an injury burdened defense and pandemic plagued school has left the Tigers looking vulnerable.
Junior defensive tackle Jordan Williams reflected on the injuries on the defensive side of the ball, "We're just in a situation where we've had a lot of our injuries happen in a span of time where it's something that we just have to deal with."
Clemson prepares to take on the Seminoles tomorrow after getting some much-needed rest following their first regular-season loss since 2017, at the hands of the Notre Dame Fighting Irish.
"We definitely can't make any excuses about it. That's why as a defense and as a team, in general, we try and create that depth to where the next man up can be able to come in, and it shouldn't be any drop-off." Williams said, referring to the tumultuous series of injuries to the defensive line.
Although the team did not expect it, there was clearly some drop-off in the defense's ability to stop Notre Dame and their mobile quarterback, Ian Book. As younger players were required to step in and contribute on the fly, Book exploited their inexperience as he threw for over 310 yards and rushed for 67 more.
Some of those more inexperienced players will be relied upon if they hope to contain the Seminoles' expected starter, Jordan Travis.
"Jordan Travis is a player that is a great runner and has the ability to make a lot of plays with his legs. And they use him a lot as a runner," Williams said. "So, I mean, I don't know if you can really compare the two. But I feel like Jordan Travis' is a very athletic, very fast, very, very wiry guy."
Regardless of age or experience, the Clemson defense expects to come out and make a statement in the game against Florida State.
"We're a very young team, but these guys are the same guys that are in the meetings as the veteran guys. They're the guys that take the same reps that the veteran guys take. So, we have to be ready to play when your number is called," Williams said.
"You should be able to go out there and be able to execute and know what you have to do. Mistakes are a part of the game, but you've got to be able to respond to these mistakes. But as a young team, it's something that we're going to have to deal with and work with and grow and learn from," the junior defensive tackle emphasized.
"Florida State has always been a talented bunch, and they have a lot of talent; a lot of athleticism, and they have a lot of great key components."
As the veteran leader on the defensive line, Williams knows that they need to be ready to make the stops against Florida State that they were unable to make against Notre Dame. If things shake out how Williams predicts, then the game this week will be determined in the trenches.
"Florida State has always been a talented bunch, and they have a lot of talent; a lot of athleticism, and they have a lot of great key components," Williams noted. "I feel like what stands out to me is that they're a fast team, particularly in the quarterback. As I was watching on film, there's just a lot of things that stand out that show that athleticism."
While treading water in uncharted territories, Clemson will hope to bounce back from their loss without several key defensive players as Dabo Swinney said that he was hoping to get most of the guys back, but wasn't 100% about any of the players labeled as "day-to-day" after the Notre Dame contest.
With Trevor Lawrence back at quarterback, there should be a quiet confidence on both sides of the ball. However, the national media will be looking for Clemson's young defensive line to make a statement as they truly embrace the next man up culture.
Never miss the latest news from Clemson Sports Talk!
Join our free email list