Photo by © Jeremy Brevard-USA TODAY Sports
Clemson Football
Keys to Victory: No. 3 Clemson vs. Pitt
---

Feel the difference - The MOST DIGITAL CONTENT covering your CLEMSON TIGERS! Avoid clickbait and sites bloated with advertising!
---
Each week we give you a look at the game's history, three keys to success, plus Swanny's prediction.
The Match-Up:
No. 3 Clemson (7-1 overall, 6-1 ACC) vs. Pittsburgh (5-4 overall, 4-4 ACC)
Clemson vs. Pittsburgh 2018
Series History:
Overall: Pitt leads 2-1
at Clemson: Pitt leads 1-0
at Pittsburgh: N/A
Neutral: Series tied 1-1
Last Meeting: 2018 (Clemson won 42-10)
Last Pittsburgh win: 2016: Pittsburgh won 43-42
Streak: Clemson has a one-game winning streak.
---
Stat of the Week:
Clemson attempting to improve to 50-3 against conference opponents since the start of the 2015 season, the first year of Clemson's active run of five consecutive ACC titles.
Chasing History:
With a win, Clemson quarterback Trevor Lawrence (31-1) can tie the Clemson record for career wins by a starting quarterback, held jointly by Rodney Williams (32 from 1982-85), Tajh Boyd (32 from 2010-13), and Deshaun Watson (32 from 2014-16). Lawrence opened his career with wins in his first 25 consecutive starts before suffering his only loss in last year's College Football Playoff National Championship. Dating to his time at Cartersville (Ga.) High School, he is 64-0 in regular-season games as a starter, as his only losses across those two levels have come in postseason play.
| | | |
| --- | --- | --- |
| TEAM STATS | Clemson | Pitt |
| Points Per Game | 45.4 | 29.8 |
| Points Allowed Per Game | 19.5 | 22.0 |
| Total Yards | 503.6 | 379.7 |
| Yards Passing | 353.6 | 270.1 |
| Yards Rushing | 150.0 | 109.6 |
| Yards Allowed | 305.1 | 311.8 |
| Pass Yards Allowed | 191.8 | 224.4 |
| Rush Yards Allowed | 113.4 | 87.3 |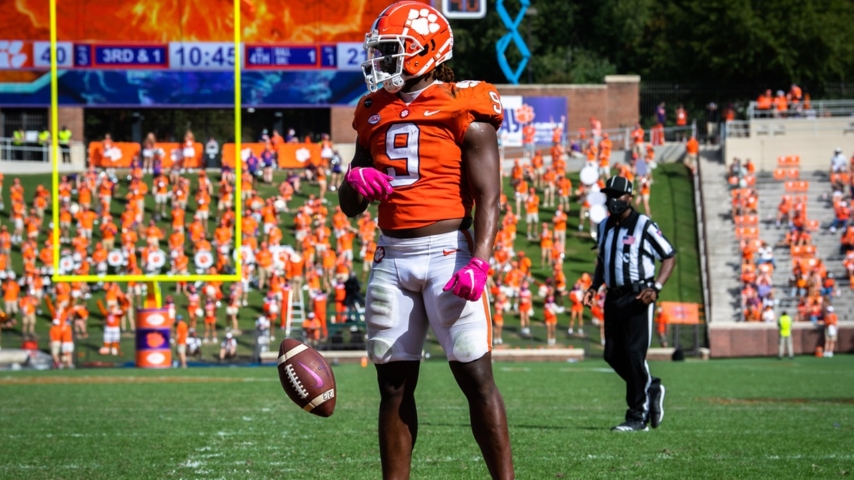 © Ken Ruinard-USA TODAY Sports
Key 1: WARNING - Don't Shoot Own Foot
Ahead of Clemson's game against FSU, this was our second key, but I believe that Pitt is a much better team than Florida State, so I'm moving this one up to the top this week.
Four times this season, Clemson has given up scores on special teams and offense. That's not how you win football games. Think about that...in each of Clemson's last three games-- and in four games this season, the Tigers have given up a non-offensive score. It's madness!
While it didn't cost them against Miami (Blocked FG return), Syracuse (Interception return), Boston College (fumble return), it ended up being a massive blow against Notre Dame after Travis Etienne's fumble turned into an Irish six.
One has to wonder if Etienne's struggles to rush the football has exacerbated the mistakes we've seen from the senior running back. Right now, he looks to be as versatile as he's ever been at Clemson, but also as careless as we can remember.
As long as Clemson doesn't put a hole in their own foot, they should be good to go this week and for the rest of the regular season.
Key 2: Back in Heisman Form
Trevor Lawrence returns to the gridiron for the first time since October 24 against Syracuse. Lawrence was out due to COVID-19 for games against Boston College and Notre Dame. Then following Clemson's bye week and last weekend's FSU debacle, the Heisman Trophy contender finally gets to play again.
As we mentioned last weekend, before the postponement for the Tigers' game in Tallahassee, to close in on college football's greatest individual award, Lawrence will need to put up big numbers.
Unfortunately for Lawrence, Pitt isn't as porous defensively as the Seminoles. Still, one would imagine that even with the additional layoff, "Big Trev the Giant Killer" will be ready to roll.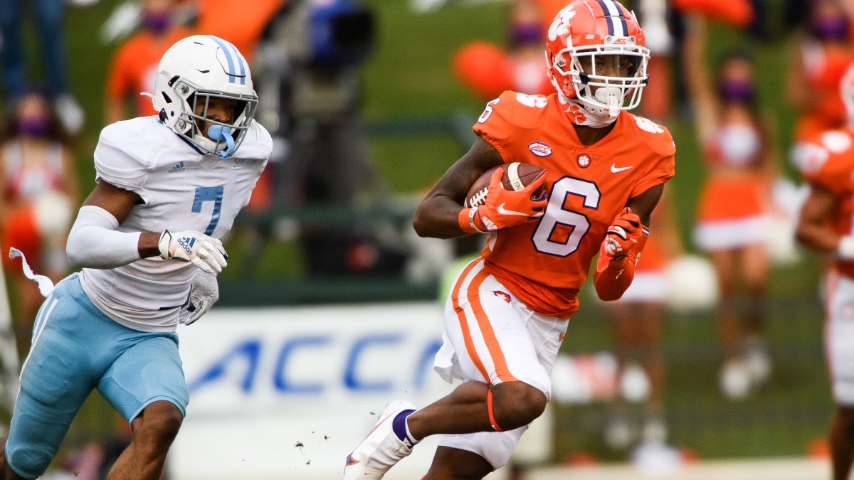 Courtesy of ACC Media Portal
Key 3: Wideout Search
Well, WRU has needed depth all season thinks to injuries throughout the campaign. With the news that Joseph Ngata had surgery to fix an undisclosed abdominal issue that will keep him out until the postseason.
The Tigers, who are without Justyn Ross this year, have found bumps in the road at every turn health-wise, including starter Frank Ladson, who had been hampered by a lingering foot injury and is not expected to play as well.
True freshman E.J. Williams will be called on the step up this week, but Dabo Swinney says the Phenix City, AL, star has grown this season.
"Oh, yeah, E.J.'s been quietly coming. He's already had some big plays. In my opinion, I think he's poised to really have a strong finish for us," Swinney said on Wednesday. "We're really proud of the work he's put in-- the development and progression that he's had since he got here. He's definitely a guy that we are counting on."
Williams, who played at the same high school as Ross, could be a catalyst to a successful postseason if called on. Ironically, it was Ross' emergence in 2018 that helped lead Clemson to the title that year.
According to Clemson SID Ross Taylor, Williams will wear No. 39 for Military Appreciation Day instead of his usual No. 6. His father, Sgt. 1st Class Eddie Williams Sr., died at 39 years of age in 2010 after serving 18 years in the U.S. Army.
Prediction:
Clemson's has to be chomping at the bit to get back out on the gridiron after last weekend. What took place at FSU is still a travesty, and there is no excuse for that contest not being played. I could go back into all the reasons why the game should have been played, but I'll leave it like this-- inexcusable.
I expect a sharp and fired up Clemson team to take the field on Saturday as the seniors are in the midst of a historic run at home. The Tigers are attempting to extend its current school record by winning a 28th consecutive game at home and perhaps avenge its only home loss since 2014, a 43-42 loss to Pitt in 2016.
In the last four years, Clemson's senior class is 26-0 in Death Valley, one victory away from tying the 2017, 2018 and 2019 Clemson seniors (27 wins each) for the most career wins at Memorial Stadium. With a win this week, Clemson's senior class can become the first Clemson class ever to go undefeated in Death Valley since the facility's opening in 1942 and can become the first FBS senior class to post a perfect career record at home since the 2010 Boise State (26-0) and Oklahoma (25-0) seniors.
Swanny's Prediction: Clemson 45, Pitt 17
Swanny's Predictions:
| | | | |
| --- | --- | --- | --- |
| Date | 2020 Schedule Predictions | Swanny's Prediction | Actual Score |
| 9-12-2020 | No. 1 Clemson at Wake Forest | 55-17 Clemson | 37-13 Clemson |
| 9-19-2020 | No. 1 Clemson vs. The Citadel | 52-6 Clemson | 49-0 Clemson |
| 10-3-2020 | No. 1 Clemson vs. Virginia | 47-17 Clemson | 41-23 Clemson |
| 10-10-2020 | No. 1 Clemson vs. Miami | 38-20 Clemson | 42-17 Clemson |
| 10-17-2020 | No. 1 Clemson at Georgia Tech | 44-10 Clemson | 73-7 Clemson |
| 10-24-2020 | No. 1 Clemson at Syracuse | 61-10 Clemson | 47-21 Clemson |
| 10-31-2020 | No. 1 Clemson vs. Boston College | 35-17 Clemson | 34-28 Clemson |
| 11-7-2020 | No. 1 Clemson at. No. 4 Notre Dame | 31-20 Clemson | 47-40 (2OT) Notre Dame |
| 11-28-2020 | No. 3 Clemson vs. Pitt | 45-17 Clemson | ??? |
Never miss the latest news from Clemson Sports Talk!
Join our free email list