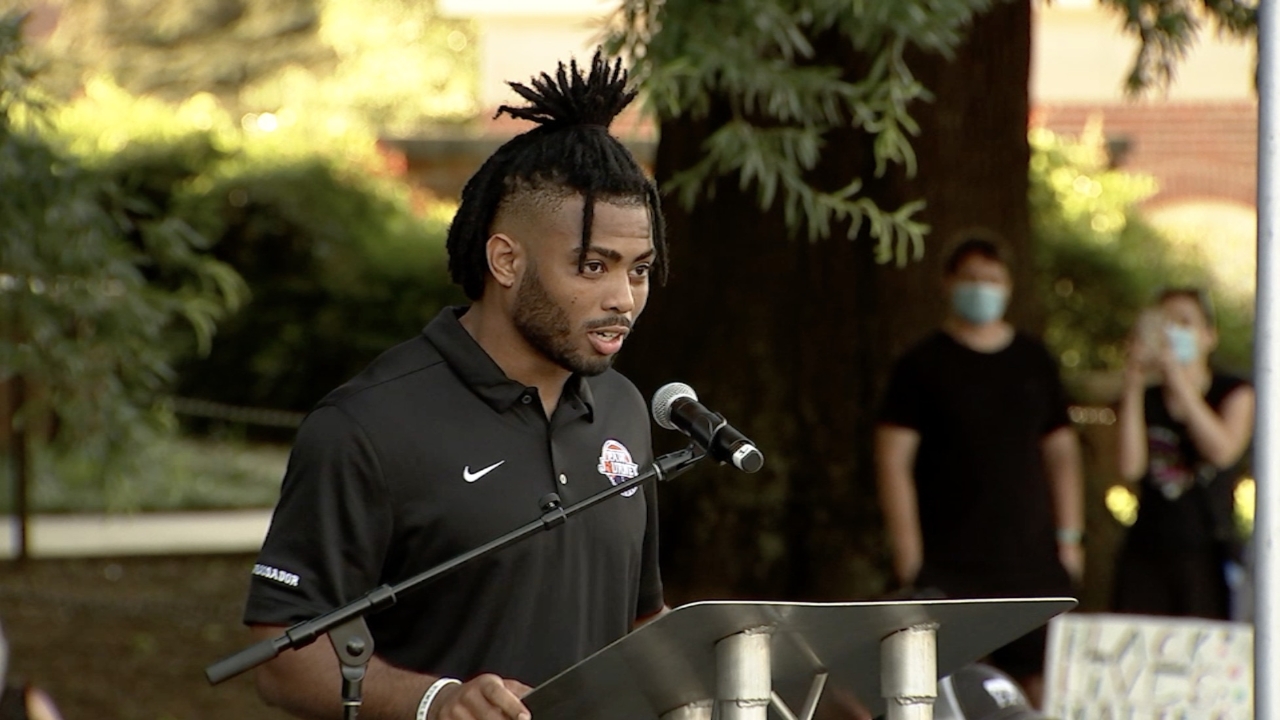 Clemson Football
On and off the field, Clemson's program defined by leadership and accountability
---

Feel the difference - The MOST DIGITAL CONTENT covering your CLEMSON TIGERS! Avoid clickbait and sites bloated with advertising!
---
CLEMSON S.C. – College football's award season is right around the corner, and while Clemson's push on social media of Trevor Lawrence's Heisman candidacy is hitting full swing, one of his best friends, Darien Rencher, already picked up an impressive award.
Earlier this week, Rencher, a former walk-on is the recipient of the 2020 Disney Spirit Award. The award is presented annually to college football's most inspirational player, coach, team or figure. Clemson head coach Dabo Swinney surprised Rencher with the honor at practice Monday night.
Before walking onto the football team in Clemson, Rencher told a mentor of his, "I want to do something Tim Tebow-esque." Now he finds his name etched in history alongside Tebow, arguably one of the most inspirational figures in college football history.
Swinney spoke about his reverence for Rencher during his Tuesday press conference before navigating his way through typical "Lawrence for Heisman" questions before he could elaborate on what the award means to the program.
After hitting on some high points about his 6-foot-6 quarterback, noting he is "the best player in the country," the two-time national championship-winning head coach pointed out that the Tigers weren't seeking individual awards. But if they were, Swinney said, the Disney Spirit Award is one that defines the program.
"This is not a program built on individual things. We're built on team. We want to win the team trophy." Swinney emphasized.
Instead of focusing on how Trevor Lawrence has unfathomably become underrated, he quickly turned the attention to the actual goals of the Clemson program. Swinney reverted to Rencher's award, boasting that the Disney Spirit Award was the embodiment of inspiration in college football.
Rencher, a stand out in high school at T.L Hanna (Anderson, SC), had Division I offers for basketball and football taken away from him after tearing both ACLs in two different, catastrophic knee injuries.
Relying on his family, faith, and sheer determination, Rencher walked on at Clemson University before earning a scholarship. Upon his arrival at Clemson, Rencher flat out asked coach Swinney, "Hey, what would it take for me to be a leader and earn a scholarship one day?"
After being instructed to earn the trust and respect of his teammates and coaches, Rencher knew what he had to do.
"My faith has played a big part," Rencher told media after winning the award. "I felt like I wanted to be a light in this environment, and I wanted to be authentic in this environment, and I wanted to show love." Rencher continued, "If you do those things, you'll make a difference no matter where you're at."
The senior running back has been an influential voice on the team. He was an instrumental figure that banded the team together during the turbulent 2020 off-season, which presented college athletes with more complications than just conditioning and working out.
As the country dealt with a slew of social injustice movements and the NCAA debating whether or not a season would even be played due to COVID-19, Rencher, along with Trevor Lawrence, spearheaded the #WeWantToPlay movement. The pair led a peaceful protest against social injustices on Clemson's campus. Rencher did all this while substantiating the definition of love and inspiration.
Clemson fans surely feel that their quarterback is most deserving of the Heisman Trophy, but they can be most proud to have a program that breeds inspirational young men.
"Those are the types of awards that I want our program to be known for," Swinney emphasized. "The Campbell Trophy (2018, Christian Wilkins), The Disney Spirit Award (2020, Darien Rencher), The Bowden award (2016, Deshaun Watson and 2018, Hunter Renfrow). Those are awards that I think any program should covet."
The Tigers will look to close out their season strong as they prepare for a tough matchup in a cold-weather game in Blacksburg. Assuming they come out of this week's game against Virginia Tech unscathed, Clemson will ready themselves for a postseason run for the ages, potentially catapulting Lawrence towards the Heisman Trophy.
At Clemson, leadership and accountability both on and off the field, from the five-stars to the walk-ons, is what is woven into the fabric of the program and players like Rencher, who inspire others, are as important as Lawrence for the Tigers to hoist the ultimate -– as Dabo put it -– 'team trophy' in January.
Never miss the latest news from Clemson Sports Talk!
Join our free email list
PRESENTED BY