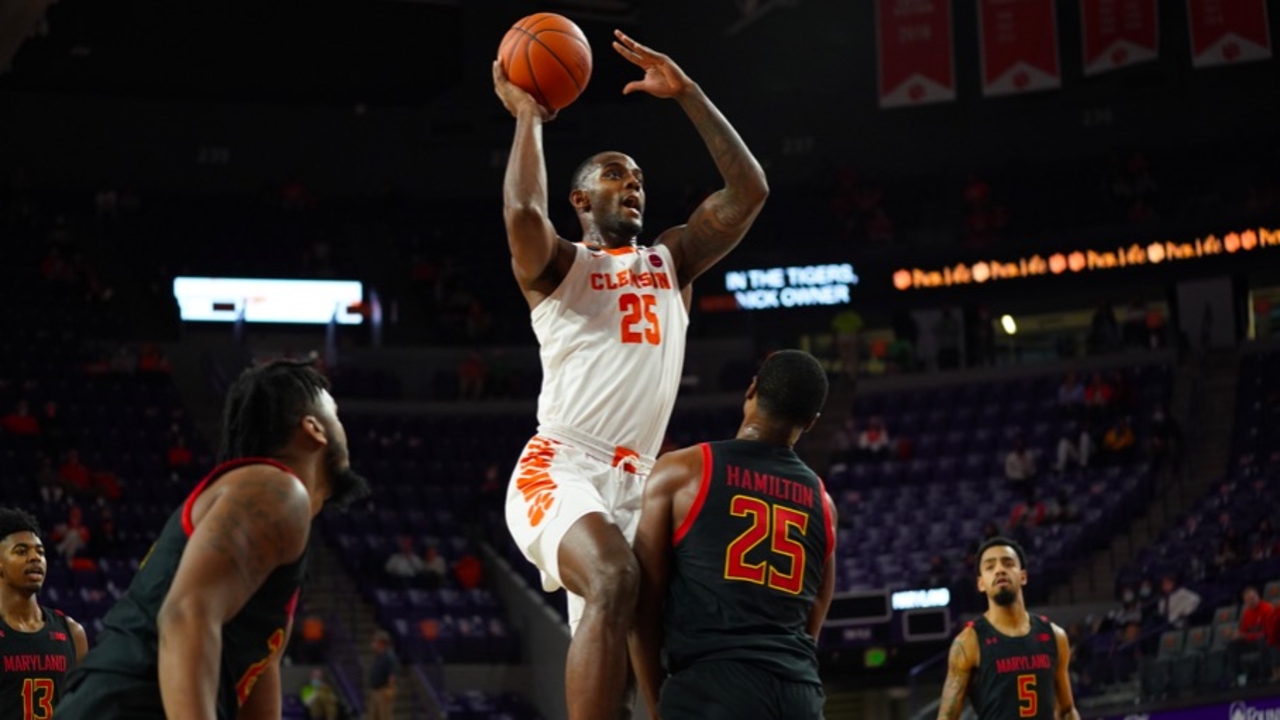 Photo by Twitter: @ClemsonMBB
Clemson Basketball
Tigers look to continue proving themselves after "statement win" against Maryland
---

Feel the difference - The MOST DIGITAL CONTENT covering your CLEMSON TIGERS! Avoid clickbait and sites bloated with advertising!
---
The clock ticked at far too slow a pace. Brad Brownell couldn't wait to get out of Williams Arena in Minneapolis, M.N. and get back to the drawing board.
The buzzer sounded, at last.
He looked up at the clock; then his eyes averted to the scoreboard. Brownell's Tigers had just dropped to 5-3 on the season, tripping over themselves throughout a 78-60 trouncing at the hands of the Minnesota Golden Gophers. Another game Clemson expected to win, and yet again, more business that didn't get handled. The Tigers' 2019 season was off to another slow start.
Brownell begrudgingly made his way to the mid-court stripe and shook the hand of Minnesota head coach Richard Pitino. After the obligatory well-wishes were offered, Brownell left the court and arena scratching his head.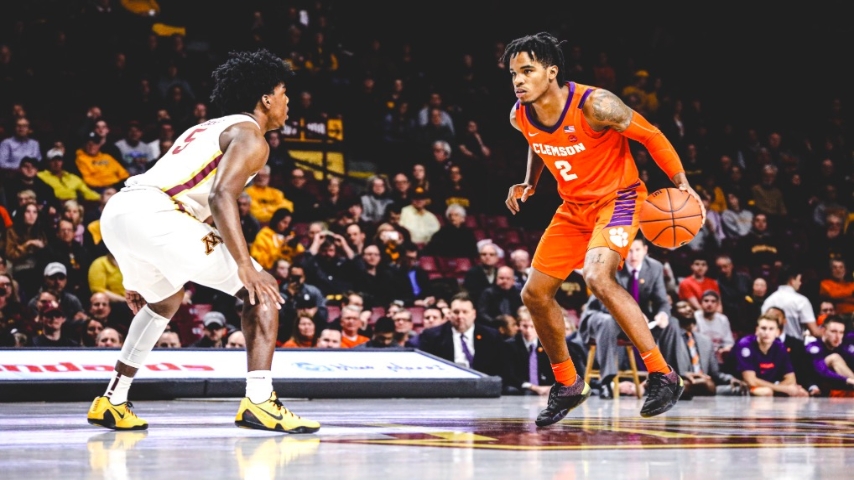 Clemson Sports Talk
Clemson had fallen short for the second-straight season in the Big Ten/ACC Challenge, both losses coming against opponents considered inferior to Brownell's Tigers.
Brownell was heading into his tenth season at the helm and desperately needed answers. If the culture of Clemson basketball was to change, they had to step up in these sorts of games. No excuses, no beating around the hardwood bush.
Just over a year later, it seems Brownell has found all the answers he was searching for. And then some.
In front of a limited-capacity Littlejohn crowd on Wednesday evening, Clemson took on Maryland — the reigning Big Ten champions. The makers of the Big Ten/ACC Challenge schedule spared the Tigers no mercy this season. Brownell's squad was off to one of the hottest starts of any team in the ACC, but this sort of challenge was one of a caliber they were yet to see.
Just don't tell them that, of course.
Clemson controlled the pace of the game from the opening tip and stifled the sharp-shooting Terrapin offense, limiting the Big Ten champs to just 15 first-half points. The woeful first-half offensive showing for Maryland was its worst over the last 261 games.
"This was a good test for us," Brownell said after the Tigers' 67-51 victory over the Terrapins. "Especially on the perimeter. They're trying to drive you, trying to space you, trying to screen you. Trying to get those perimeter guys in good situations."
For a Maryland unit that came into the matchup shooting over 42 percent from beyond-the-arc, the Tigers held the Terrapins in check for the entirety of the game. Mark Turgeon's squad — undefeated before Wednesday's loss to the Tigers — shot just 33 percent from deep on the evening.
Aamir Simms led both teams in scoring with 16 points, while Al-Amir Dawes and John Newman III both added 12 of their own.
Nick Honor contributed 10 points off the bench, and Alex Hemenway provided his own spark with eight, including three from this highlight "made ya look" moment.
"This win was just really important for us," said Aamir Simms. "We wanted to come out and make a statement. We wanted to focus on us, and come out and make a statement going forward."
And make a statement they did.
For the second straight season, the Big Ten outlasted the ACC in the annual conference challenge, but this time, Brownell can proudly say his guys did their part.
"Obviously we want to represent our conference well, you know? We lost last year but didn't really talk about it much. I think our guys just really wanted to beat a good Maryland team tonight."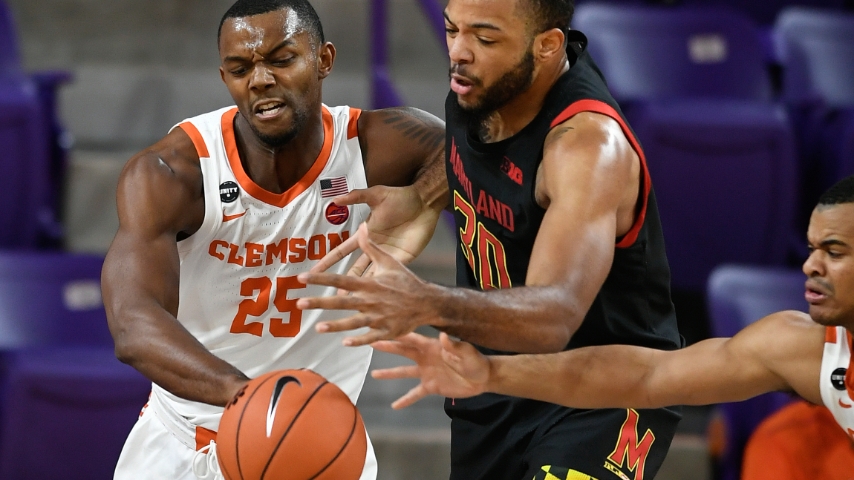 © Ken Ruinard-USA TODAY Sports
While the season is still young, Brownell and his Tigers are off to a blazing hot start, winning four straight games to open the season, three of which have come against Power Five opponents. Due to COVID-related schedule adjustments, the gauntlet doesn't let up anytime soon. Clemson's next three: Alabama for Holiday Hoopsgiving in Atlanta, at 15th-ranked Virginia Tech, at South Carolina.
"These next two weeks are really tough," said Brownell. "But it is what it is. That's just what we've got to deal with.
"And we better be ready."
Never miss the latest news from Clemson Sports Talk!
Join our free email list