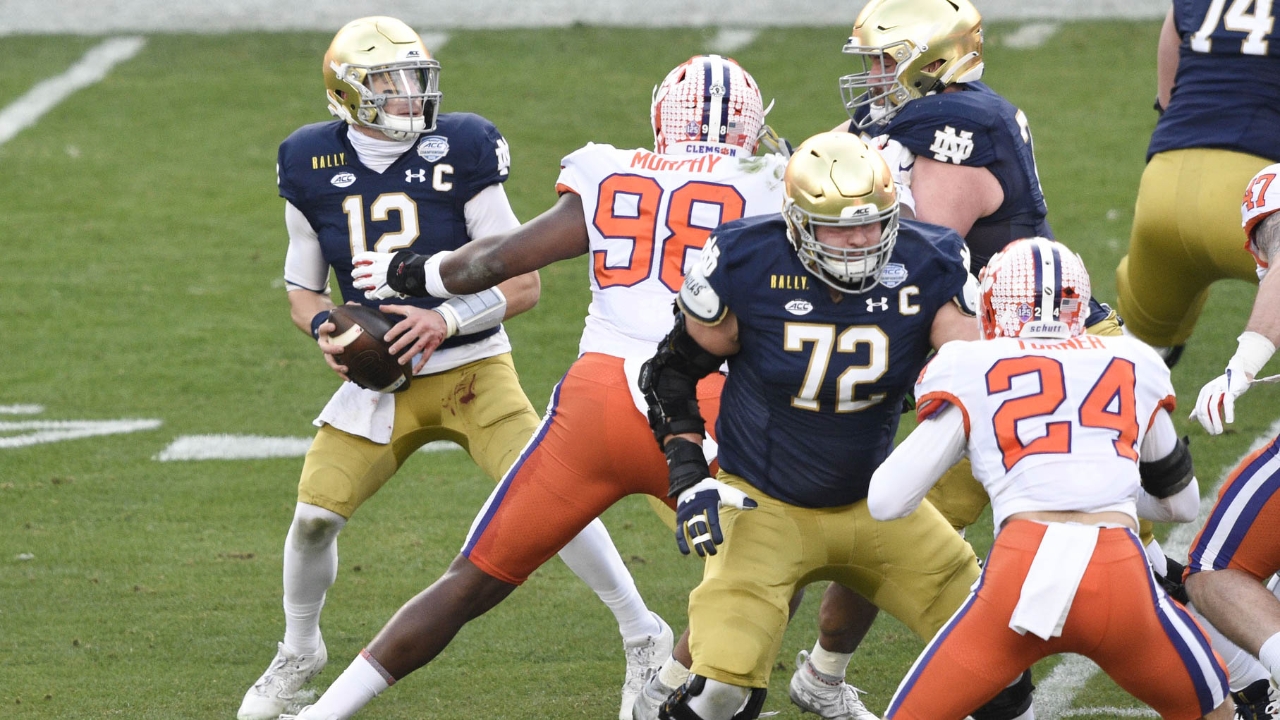 Photo by Bob Donnan-USA TODAY Sports
Clemson Football
With the win: No. 3 Clemson 34, No. 2 Notre Dame 10
---
Clemson, which was already the first team in ACC history to win five consecutive outright titles, became the first team in ACC history to win six consecutive ACC titles outright. (Note: Florida State earned at least a share of nine consecutive ACC titles from 1992-2000 but never earned more than three consecutive titles outright.)
Today, Clemson and Oklahoma became the first teams in any active conference to win six consecutive outright conference titles. The last team presently in the Power Five to win at least six straight outright titles was Oklahoma (12 from 1948-59) as part of the now-dissolved Big 8 Conference.
Clemson became the first program to win 20 ACC titles. Since helping form the conference in 1953, Clemson's ACC-leading 20 titles include 19 outright championships.
Clemson earned its 26th conference championship all-time, including four SIAA championships and two Southern Conference championships prior to the formation of the ACC. Clemson's 26 conference titles across all conferences are the most of any current or former ACC member.
Clemson improved to 7-1 all-time in ACC Championship Games.
Clemson has now won 10 games for a school-record 10th consecutive season. Clemson became only the third program in history ever to post 10 consecutive 10-win seasons, joining Florida State (14 from 1987-2000) and Alabama (13 from 2008-20).
Clemson became the first school to win 10 games in 10 straight seasons as a member of the ACC, as only the final nine of Florida State's 14-straight 10-win seasons came during the Seminoles' tenure in the ACC.
Clemson improved to 18-8 under Dabo Swinney in rematches of losses. Entering Saturday, Clemson had suffered only 32 losses under Swinney and had 25 previous opportunities to avenge its most recent loss against an opponent, going 17-8 in those contests. (There are six programs Clemson has not faced again since a loss in the teams' most recent meeting.)
Clemson improved to 14-10 all-time in games between AP Top 10 teams and pushed Clemson to 9-3 in games between AP Top 10 teams since the start of the 2016 season.
Clemson earned its 13th all-time victory against an AP Top 5 opponent. Ten of Clemson's 13 all-time wins against AP Top 5 teams have come under Head Coach Dabo Swinney.
Clemson improved to 9-5 all-time in games between two AP Top 5 teams. Clemson is now 7-3 since 2016 when both teams have entered a game in the AP Top 5.
Clemson defeated an AP Top 2 team for the fifth time in school history. Clemson has two wins against No. 1 (vs. Alabama to end 2016 and 2018) and three wins against No. 2 (vs. Ohio State in 2016 and 2019 and against Notre Dame on Saturday). Of note: Ohio State was ranked No. 2 by the AP for the 2016 Fiesta Bowl despite being the No. 3 seed in the College Football Playoff.
Clemson improved to 4-2 all-time against Notre Dame. Clemson (4-2), Florida State (6-4), Michigan (25-17-1), Nebraska (8-7-1) and Ohio State (4-2) are the only schools to have played Notre Dame at least four times and hold a winning record in the series.
Clemson earned a 10th win through the first 11 games of a season for the 11th time in school history. Clemson previously won at least 10 games in its first 11 contests in the 1948, 1978, 1981, 2012, 2013, 2015, 2016, 2017, 2018 and 2019 seasons.
The 2020 Clemson seniors improved to 51-4 since 2016 to tie the 2016 and 2019 Alabama seniors for the fifth-most wins by a four-year class in FBS history.
Clemson improved to 52-3 against conference opponents since the start of the 2015 season, the first year of Clemson's active run of six consecutive ACC titles.
Clemson won its 14th consecutive December game, dating to Clemson's 2011 ACC Championship Game victory against Virginia Tech. Clemson entered the game as one of three schools to be undefeated in December since 2011 with a minimum of five games played, a list that also included Alabama (10-0) and Penn State (6-0) as of the start of Saturday's contests.
Clemson improved to 25-13 all-time in December games, including postseason play.
Clemson has now won 87 of its last 89 games, including each of its last 50, when leading at halftime.
Clemson is now 109-2 since 2011 when leading after three quarters.
Clemson improved to 108-2 when totaling more first downs than its opponent since 2011.
Clemson improved to 68-1 when rushing for 200+ yards under Dabo Swinney.
Clemson improved to 52-2 since 2015 when outscoring opponents in the "Middle Eight," defined as the final four minutes of the first half and the first four minutes of the second half.
Clemson is now 52-2 when having a 100-yard rusher since 2011.
Never miss the latest news from Clemson Sports Talk!
Join our free email list