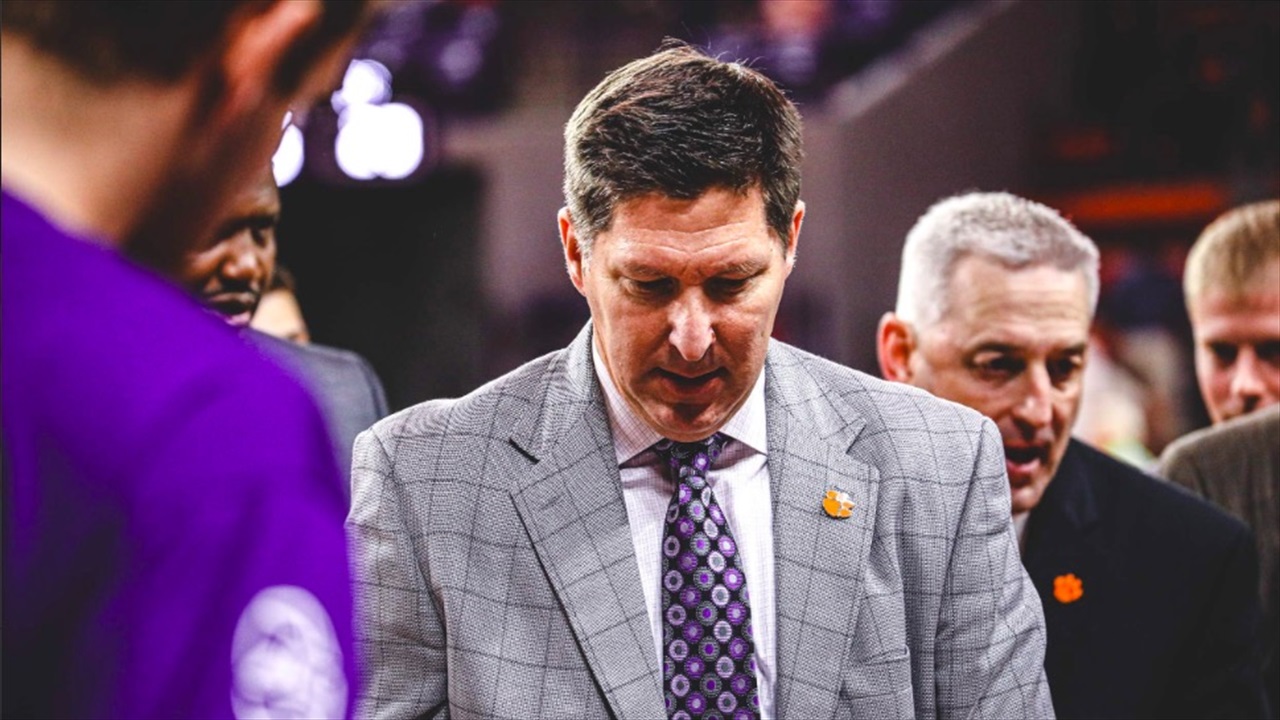 Clemson Basketball
Clemson set for evening tilt with No. 18 Florida State
---
BRAD BROWNELL QUOTES - (Full video above)
"It's nice to get back with our guys. And first off, just to know that we get to send them home for a couple of days and give them a chance to be with their families. I think that was really important. And also, it's been great to come back. We've been very good in terms of no positive test. So we've been able to practice here a couple of days and got a big game against Florida State."
On FSU:
"Extremely talented team, long, athletic, used to winning and just the same style of play that has really served them well, the last several years, you see it again, in this team they defend, really get to the basket and get fouled a lot. Create turnovers with their defense. And obviously, with Scotty Barnes, you have a unique player, a 6-9 guy who plays the point. So that certainly is a different situation, you don't see that almost anywhere else in college basketball. So a lot of challenges. But I think our guys are excited and looking forward to getting back out on the court to play."
SETTING THE SCENE BETWEEN THE TIGERS AND SEMINOLES
• The Clemson Tigers opened the season with five straight wins, including four against Power 5 opponents for the first time since 1934-35. Clemson, 6-1, went undefeated in non-league play and seeks its first ACC win against FSU.
• The contest will be televised on Fox Sports South with Evan Lepler and Mike Gminski calling the action, while Don Munson and Tim Bourret will call the action on the radio waves. The radio call will be available on the Clemson Tigers Network and Tunein.com.
• Live stats will be provided on ClemsonTigers.com and Twitter updates will be available on Clemson's official account (@ClemsonMBB).
CLEMSON BASKETBALL HEADLINES
• Clemson (KenPom: No. 20 overall, No. 2 adjusted defensive efficiency (86.5)) is ranked third nationally in scoring defense (53.4 points per game), which is also tops in the ACC. Field goal percentage defense is ranked 17th nationally (37.0 percent) and ranks first in the ACC.
• Al-Amir Dawes turned in his highest scoring output of the season with 18 points at Virginia Tech (Dec. 15).
• "We Too Deep": Clemson will look to use as many as 12 players in most games as it attempts to utilize its depth as one of its main strengths this season. The Tigers' bench has produced 25+ points in six-of-seven games. Clemson has also had as many as 14 different scorers this season with six averaging over 5.0 points per game.
• A key word in the program under Brownell is "Sacrifice," and that is certainly emphasized this season.
• Clemson stopped Alabama on 10-of-its-last-11 possessions and won the Holiday Hoopsgiving tilt with its defense. The Tigers finished on a 10-1 run in the 64-56 victory.
• Aamir Simms earned Tournament MVP honors after scoring a game-high 24 points (8-13 FG) in the championship game against Purdue (11/26). Nick Honor also received All-Tournament Team recognition.
• Simms was named to the All-ACC Preseason First-Team, becoming Clemson's first since 2016 and second since 2018 to earn preseason league honors.
• Simms was named to the Karl Malone Watch List (Top 20 PF in the country) and became the first Tiger to earn recognition from the Basketball Hall of Fame's preseason award watch lists.
• Simms was named Third-Team All-ACC on March 9. It's Simms' first career ACC postseason accolade.
• Clemson boasted a Top-20 recruiting class in the country for 2020 with the additions of PJ Hall, Olivier-Maxence Prosper and Lynn Kidd. It marked the program's highest recruiting ranking since 2009, according to 247Sports.
Never miss the latest news from Clemson Sports Talk!
Join our free email list