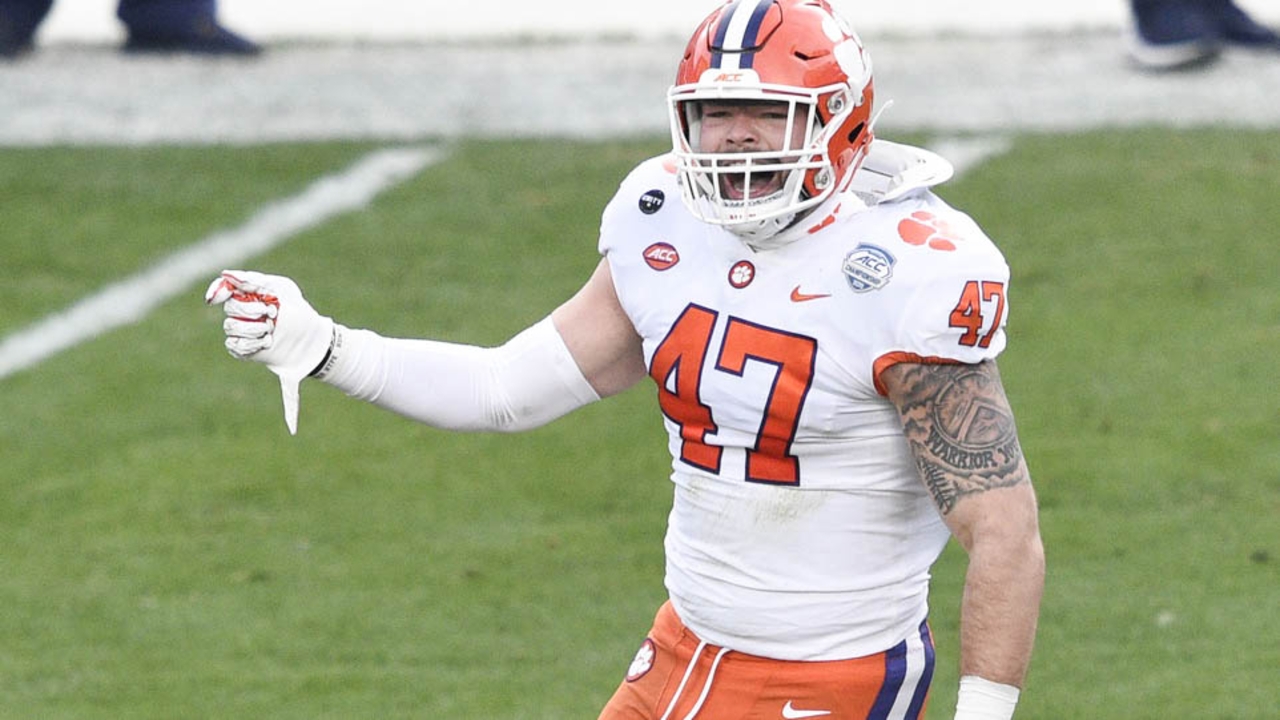 Photo by Bob Donnan-USA TODAY Sports
Clemson Football
THE ROAR: James Skalski's fuel, The best teams in the CFB Playoff Era, and more
---

Feel the difference - The MOST DIGITAL CONTENT covering your CLEMSON TIGERS! Avoid clickbait and sites bloated with advertising!
---
I'm excited to unveil this new feature on the website, perhaps even as excited as these two kids were when they THOUGHT they got a PS5 at Christmas...
So here goes...with a little tip of the cap to our friends over at ElevenWarriors.com for the inspiration-- even if they do cover Ohio State.
SPEED KILLS. Normally when that phrase is uttered, it's about skill position guys, but not the quarterback, yet that's been a huge part of Trevor Lawrence's game since arriving in Clemson.
Yesterday, during the media session with Amari Rodgers, the Tiger's leading wideout in 2020 said that Lawrence was a "low-key dual-threat quarterback," and he's not lying.
Lawrence raced past Ohio State defenders a year ago on this beauty:
Then to essentially put Notre Dame to bed, the 6'6 future No. 1 pick popped off this huge run:
Former OSU defensive coordinator Jeff Hafel recently said that Lawrence's running ability caught him off guard during Clemson's 29-23 win last year.
Current Ohio State defensive coordinator Kerry Coombs called Lawrence "deceptively fast" in addition to being "one of the best college quarterbacks of all-time."
Lawrence enters Friday's Sugar Bowl matchup against the Buckeyes, having lost just once since arriving at Clemson as the starting quarterback.
BTW, did you realize that back in 2016, Clemson lost to Alabama in Glendale, Arizona, then played Ohio State in the Fiesta Bowl the next season in the same venue? This year the Tigers open the CFB Playoffs against the Buckeyes in the Superdome, the site of last season's loss to LSU.
We know how that matchup went against the Buckeyes-- 31-0, Good guys!
LITTLE BLACK BOOK. Former Clemson defensive lineman and current Miami Dolphin Christian Wilkins was mic'd up this past weekend against the Las Vegas Raiders. That certainly didn't stop one of the best in Tiger history from giving his former teammates some grief on the field, including Hunter Renfrow and Trayvon Mullen.
Mr. Wilkins, you continue to amaze.
TOP TEAMS ALL-TIME. Before Clemson went 15-0 in 2018, not a single team pulled off that feat in the 1900s. You have to go back to the vaunted 1897 Penn Quakers-- and those guys were good, giving up just 20 points all season. In fairness, they played 13 of their 15 games at home. That seems significant.
Following Clemson's undefeated season, LSU answered with a 15-0 year of their own, capped with a 42-25 win over the Tigers last season in New Orleans.
According to ESPN, those two teams finished No. 1 and No. 2 in the College Football Playoff Era and your Tigers also had two of the Top 4 teams on the list.
2. 2018 Clemson (15-0)
CFP result: beat Notre Dame, 30-3; beat Alabama, 44-16
Clemson barely survived September unbeaten, needing a two-point conversion stop to escape Texas A&M and a rousing comeback led by backup quarterback Chase Brice to beat Syracuse. But once Trevor Lawrence was healthy and established in the starting lineup, no one had any hope against the Tigers. They beat Florida State by 49, Wake Forest by 60, and Louisville by 61, and they won two CFP games by a combined 74-19. Goodness.
4. 2016 Clemson (14-1)
CFP result: beat Ohio State, 31-0; beat Alabama, 35-31
Clemson nearly lost to Auburn, Troy, and Lamar Jackson's Louisville teams early and did lose to Pitt in mid-November. But as has become a Dabo Swinney custom, the Tigers turned into Angry Clemson after their loss, humiliating South Carolina, keeping Virginia Tech mostly at arm's reach, and shutting out Ohio State. Trailing Bama by 10 in the final, the Tigers played a nearly perfect fourth quarter, exhausting the Tide defense and scoring the title-winning touchdown with one second remaining.
NAILED IT. The moment Travis Etienne shared with us that a bowl of Frosted Flakes can't deliver a full game's supply of energy, after cramping up against Syracuse earlier this year, may have been one of the weirdest moments we've been a part of recently.
After that, Etienne promised to eat eggs and bacon moving forward, leading to this gem from Dabo Swinney: "Let's don't slam Kellogg's now. I love some Frosted Flakes. Tony The Tiger, we're all in the same family."
Well, yesterday, we found out a little bit more about Clemson's breakfast selections, and James Skalski shared what's on his menu.
WHAT A HALF. How about those Tigers? Clemson's basketball team upset the No. 18 Florida State Seminoles in front of a limited crowd at Littlejohn Coliseum, 77-67 last night. Nick Honor scored 13 second-half points, and Al-Amir Dawes scored 11 points after intermission to lead the Tigers to the win. Neither player scored in the first half of the game. Clyde Trapp led all scorers with 15 points in the game. Brad Brownell's team played solid defense throughout the game, holding the Noles to 42% shooting and forcing 17 FSU turnovers on the night.
Clemson is now 7-1, 1-1 and should be ranked for the second time this season.
SONG OF THE DAY. In honor of the fact that many of you had to listen to Clemson's matchup with FSU last night, I figured this might be a good way to start your day:
- "My Big SIster's Radio" - by Mike Schermer -
A BIT OFF THE PATH.
You mention deadly sand traps, and I'm all in. Then how about this modder who made a Nintendo 64 that's smaller than the original's controller. Get me up in Tillman Place on an N64, and I was something else...playing Ken Griffey Jr. Baseball or NFL Blitz...those were the days! To wrap this all up, the Milwaukee Bucks were on-fire last night, setting a new NBA 3-point record.
Let us know what you think about THE ROAR! If you liked it, make sure you SHARE!
Never miss the latest news from Clemson Sports Talk!
Join our free email list