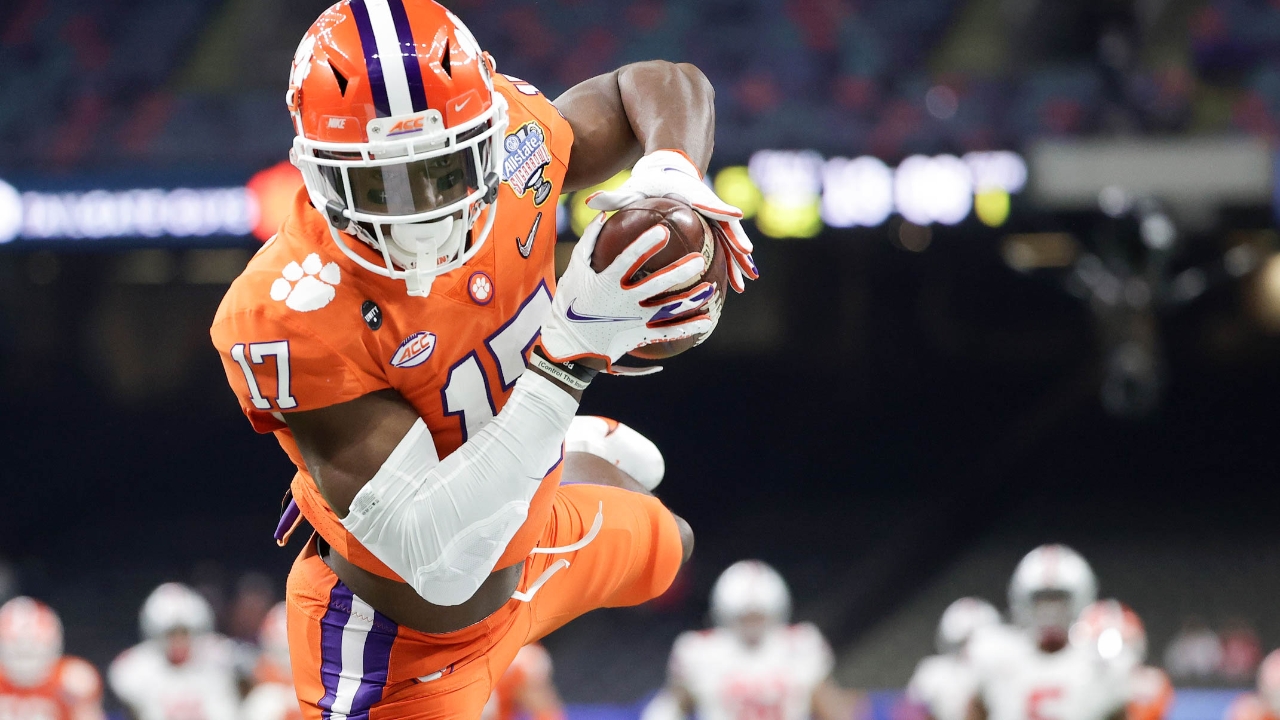 Photo by Derick E. Hingle-USA TODAY Sports
Clemson Football
THE ROAR: Tip of the Cap, Big Pick Up, and Sweep the Leg
---

Feel the difference - The MOST DIGITAL CONTENT covering your CLEMSON TIGERS! Avoid clickbait and sites bloated with advertising!
---
Well, that didn't go as planned. I've already put together another piece for later today on the topic, but Clemson getting hammered by Ohio State was not on my Bingo card to open 2021.
The Buckeyes pounded the Tigers into submission and appeared to had been chomping at the bit to get their hands on Dabo Swinney's squad since the Fiesta Bowl.
There is still a lot to digest from that beat down. Still, if Ohio State goes on to demolish Alabama, I will change my contention that playing only six games was truly a significant advantage in terms of being fresher against teams with tired legs - that had more tread worn off from a full season. But only time will tell.
Kickoff for that game is set for...ah, forget it, it's basketball season for Brad Brownell's 8-1 Tigers, who play NC State on Tuesday at 7:00 PM.
BIG PICK UP.
If there is one thing to turn your attention away from a lackluster Sugar Bowl performance, it's absolutely a five-star pick up on the recruiting trail. If you made the trip to New Orleans, before your coffee and beignets got cold, the Tigers had reeled in one of the top offensive linemen in America in Tristan Leigh‍ who committed during NBC's All-American Bowl: Declaration Day event on NBC.
After watching Clemson's performance up front against the Buckeyes, the news of Leigh's commitment to the Tigers couldn't have come at a better time. Leigh, a five-star player, has a chance to compete from his first day on campus, and at 6-foot-5, 270 pounds, he's got the frame and length Clemson desires at tackle.
In an interview with the Washington Post, his high school coach, Scott Vossler, had this to say about Virginia's top-rated 2021 prospect:
"He could be a first-round NFL kid if everything pans out for him. The sky's the limit for him. He'll be fine with handling that expectation because he'll work every day to get a little bit better."
The other big name fans watched among the declarations was former Clemson commit Korey Foreman‍, from Centennial High School in Corona, California. The five-star and No. 1 rated prospect in 2021 had plenty of pull towards Clemson, but in the end, Foreman decided to stay closer to home at Southern Cal.
The questions will linger as to if there wasn't a pandemic, would Clemson have had a better chance with the stud defensive end.
On to the next one.
TIP OF THE CAP.
Cornell Powell's season was simply incredible, and it feels like we all need to take a moment and tip our caps to a young man who stuck it out and had an unbelievable season and performance against Ohio State in what could be his final game in a Clemson uniform.
Against the Buckeyes, Powell showcased himself to the college football world, hauling in 8 receptions for 139 yards and two touchdowns. He finished with 53 receptions racking up 882 yards and seven scores for the year, obliterating his combined totals of 40 receptions for 329 yards and three scores from previous seasons.
Powell recently accepted an opportunity to play in the Reese's Senior Bowl along with Amari Rodgers. Up until his acceptance to play in the Senior Bowl, there were questions around if Powell would return for another season.
If Powell does indeed play in the game, I can confirm that his career at Clemson would come to an end-- but not before a proper "tip of the cap" to him for making me look right when I said he would be a breakout star for Clemson in 2020.
ACC ATROCIOUS.
Even though the Atlantic Coast Conference littered the Top 25 most of the season, including placing two teams in the College Football Playoff, the league won exactly ZERO bowl games, and the Tigers and Fighting Irish didn't exactly flex their muscles in the playoff.
Yeah, that's tough to defend. Unless you ask your SEC buddies who will tell you that bowl games don't matter unless you are in the playoff. So yeah, that's my defense of a bad bowl season. I mean, that's what they would say.
WHAT THE WHAT.
If you are still upset about the penalty on James Skalski...(which was the correct call, by the way, and Skalski admits it).
Yes, Skalski setup for a great form tackle and Justin Fields spun into him, the 'targeting' was not purposeful, but you have to keep your head up. In fact, that play could have ended Skalski's career, and everyone who has ever played football will tell you that you have to keep your chin up.
But this...from the NFL?
Watch this unreal penalty, talk about ruining football...
That's called roughing the passer, my friends? Even Minnesota fans had to be embarrassed.
SONG OF THE DAY. Look, no one is telling you it's easy to take a 21-point beat down, but the Tigers aren't going anywhere because of a bad performance in the Sugar Bowl.
- "Everything Gonna Be Alright feat. Bob Marley" - Fugees -
A BIT OFF THE PATH.
I don't get too much time to watch television shows with the full-time job, radio show, and writing for the website, but I did manage to squeeze in Cobra Kai this past year, and even though it's cheesy at times, the old school references to Karate Kid are a great memory for any child of the 80s.
If you haven't watched Season 1 and 2, jump on it soon as Season 3 just came out. Just be careful if you have kids; it's not exactly family-friendly like the movies.
This was a great moment from New Years' as Australian professional surfer Mikey Wright saved a lady he noticed being swept away in the ocean.
Then there is this bit of humanity that we should all embrace:
Times are indeed tough, and kudos to this officer for trying to make a difference.
Let us know what you think about THE ROAR! If you liked it, make sure you SHARE!
Never miss the latest news from Clemson Sports Talk!
Join our free email list