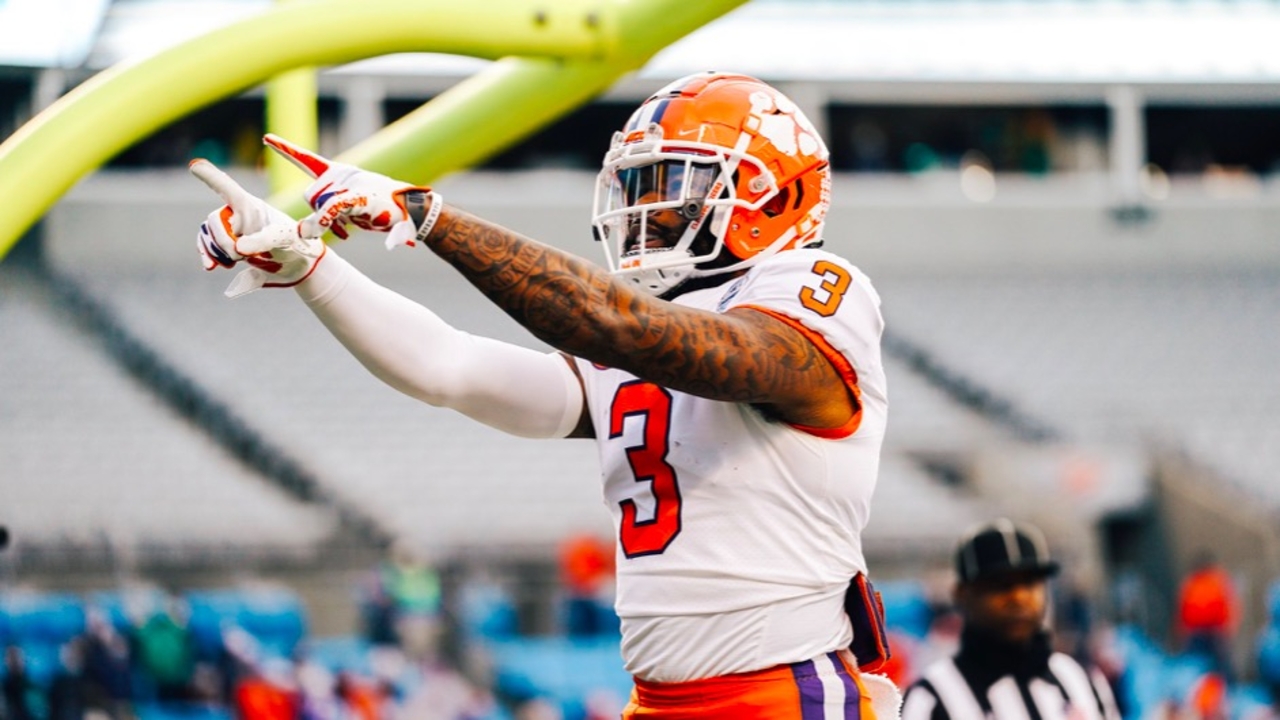 Clemson Football
Amari Rodgers: Forever the hardest worker in the room
---

Feel the difference - The MOST DIGITAL CONTENT covering your CLEMSON TIGERS! Avoid clickbait and sites bloated with advertising!
Register for your FREE ACCOUNT today, and you are eligible to win a LIMITED EDITION CLEMSON FOOTBALL. ←
---
CLEMSON, S.C. – It was a humid spring afternoon in 2019, and Amari Rodgers was in the early stages of rehabilitation.
He wasn't sulking or wallowing in self-pity, as those were never options for Rodgers, native of Knoxville, T.N. However, not unlike the ACL he tore early on into spring practice, his motivation had gone slightly limp.
But just then, Rodgers' phone buzzed beside him. The screen lit up. As Rodgers' eyes scanned the name and message, his smile did the same.
It was a text from Deshaun Watson.
"It's going to be alright," the former Clemson quarterback's text read. "You're going to come back better and stronger."
Watson's message lifted Rodgers' spirit.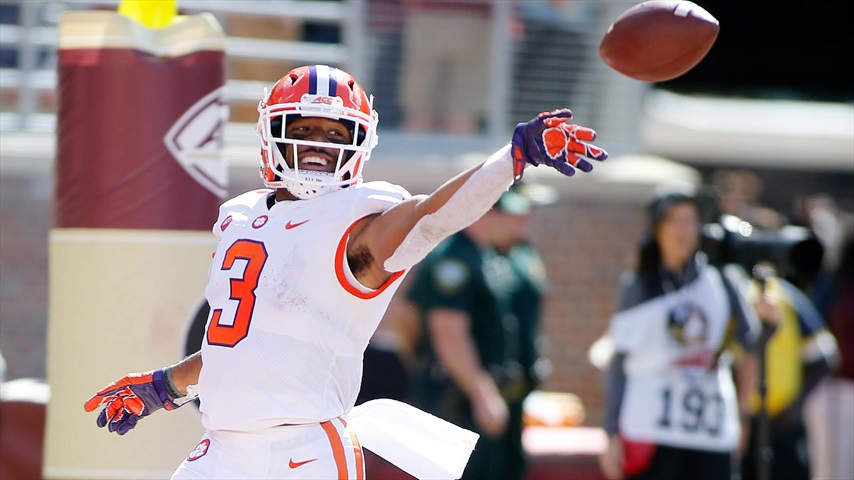 © Glenn Beil-USA TODAY Sports
"That really stuck with me throughout the [recovery] process," Rodgers said.
When the Clemson camp originally announced his ACL injury, most expected Rodgers' to miss most, if not all, of the 2019 football season due to the severity of the tear.
Eight to 10 months was the typical recovery time for the injury Rodgers' suffered, which would have placed his return around mid-November, at the earliest. At the latest, Rodgers was in danger of not making it back for a single snap during his junior season.
Doctors estimated Rodgers' recovery length to be on the lesser end of the spectrum, yet still not a day sooner than the expected eight-month timetable.
But as soon those doctors wrapped up reconstructive surgery for the tear, Rodgers pulled Clemson's fall calendar up on his phone. With his parents sitting by his hospital bedside, he looked them in the eyes, pointed to Sept. 7, and made a proclamation.
"I'm going to be back for the A&M game."
His father, Tee Martin— national championship-winning quarterback with Tennessee — stared at his determined son, baffled. Rodgers' aspirations were, at best, lofty and far-fetched. The A&M game was under 160 days away. For Rodgers' to make it back in time to suit up against the Tigers' SEC foe, he'd need to shift his recovery into hyperdrive.
"That was my goal. I had to be back for [the Texas A&M game]. I knew it would probably be one of the biggest games of the season, so I wanted to be back and be able to help my team."
So as soon as Rodgers was able, he mustered up every drop of strength and determination he could. He attacked the rehabilitation process with aggression. Thanks to his injury occurring in the spring, a more-relaxed summer schedule permitted significant amounts of time to be spent working out and getting ahead of his recovery timetable.
"I took every opportunity to strengthen my knee," Rodgers said. "I was attacking every single day, twice a day. I'd be so tired sometimes, but I knew it was going to pay off in the end."
And despite all the odds tilted against him, Rodgers found himself back on the field for that fateful Sept. 7 showdown with Texas A&M. He caught two passes for six yards in Clemson's 24-10 victory.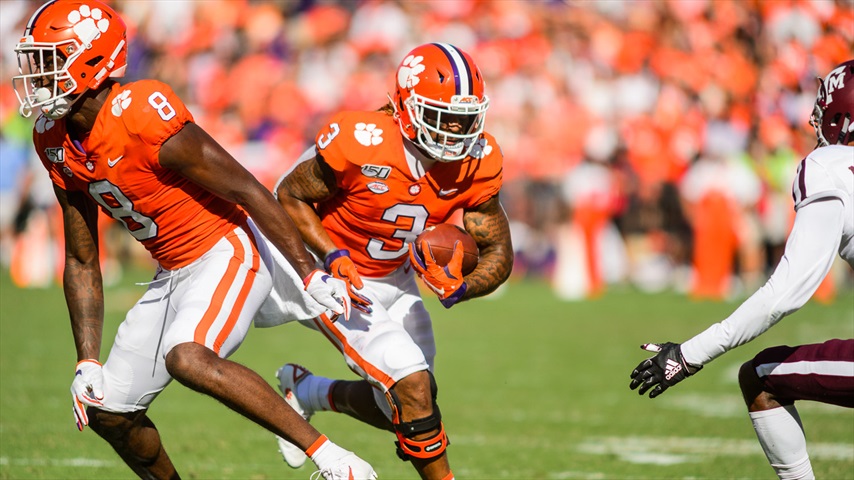 Clemson Sports Talk
It was a modest stat-line, but a massive statement to Rodgers' character. More specifically, his return 166 days after initially tearing his ACL spoke volumes about his work ethic and determination.
"There were so many days when I thought, 'man, I don't want to go to rehab today.' But I thought about what I wanted at the end of it. So I just pushed through and kept going every single day."
"It's just in his DNA, I guess," remarked Dabo Swinney after Rodgers returned two months ahead of schedule. "Work ethic and DNA. He just grinded. And he surprised all of us. He's unbelievably motivated and driven and he just put the work in."
On Monday, Amari Rodgers posted a video to his Twitter, all but assuring his followers and Tiger fans of his intent to declare for the NFL Draft. His upcoming appearance in the Senior Bowl will hammer home that reality.
If Rodgers desired, he would have the chance to stay in Tiger Town for one more year thanks to the NCAA's extra eligibility granted in response to the COVID-19 pandemic.
But days before Friday's Sugar Bowl appearance, Rodgers made clear his intention to hang up his collegiate cleats following the season.
"Coming into this season, with it being my last year, I put everything into my preparation. Knowing that this is my last season out there with my brothers, I wanted to give my all. To my coaching staff, to my teammates."
Rodgers did just that. He finished his senior campaign as the Tigers' leading receiver, hauling in 77 receptions for 1,020 yards and seven touchdowns.
After four impeccable seasons in orange, the legacy Amari Rodgers leaves behind is one every Tiger who comes after will strive to replicate. Hard-working and determined beyond belief, the fourth-year wideout never allowed even the heaviest of adversity crush him in its wake.
And Rodgers wouldn't want to be remembered any other way.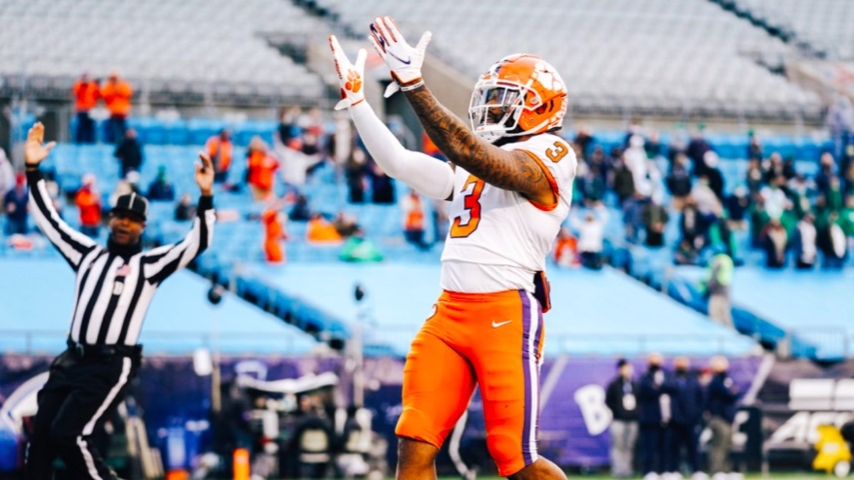 Clemson Sports Talk
"I just think my legacy will be someone who was known to be a really hard worker," Rodgers said. "With my journey and my injury and things like that, that's what I've had on my mind. I feel like that will be my legacy, and I'll be remembered for that. Just not giving up. With an injury so significant, I could have easily let that get the best of me.
"But I didn't. And I bounced back."
Never miss the latest news from Clemson Sports Talk!
Join our free email list