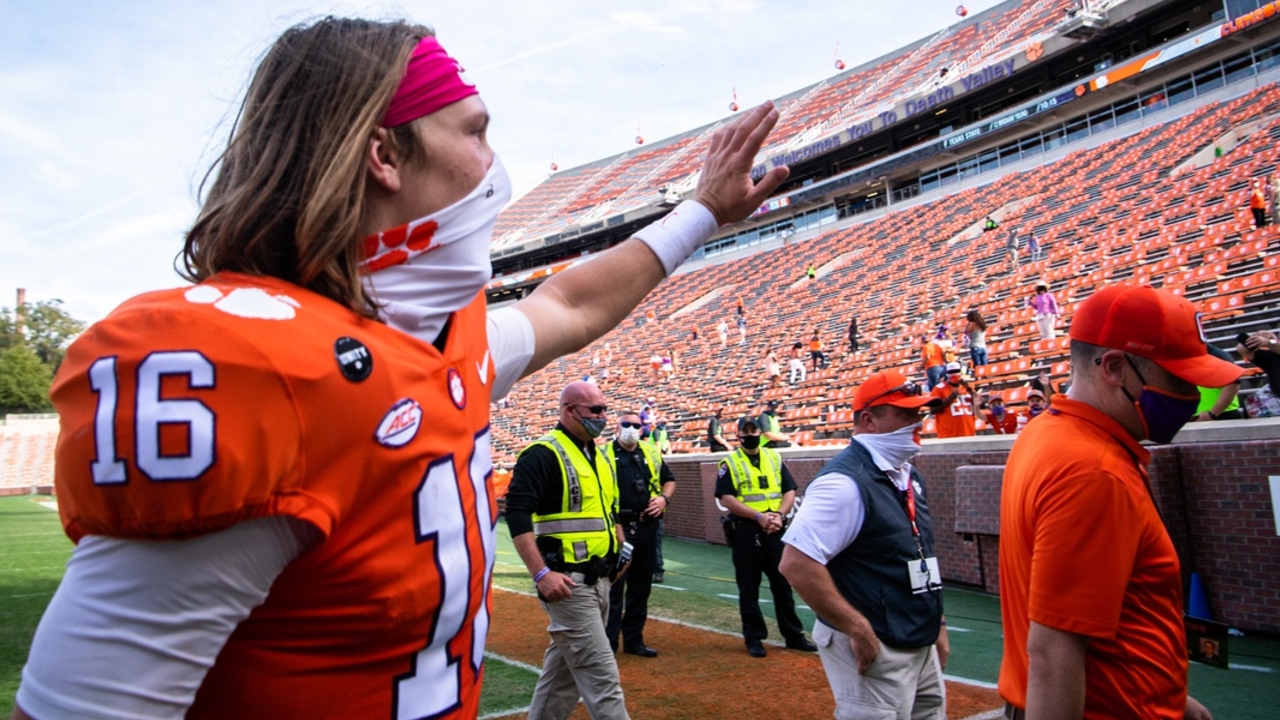 Photo by © Ken Ruinard-USA TODAY Sports
Clemson Football
THE ROAR: No Heisman, Cardiac Cats, and Dr. Dre
---

Feel the difference - The MOST DIGITAL CONTENT covering your CLEMSON TIGERS! Avoid clickbait and sites bloated with advertising!
---
Not a whole lot to open with today, but if you missed yesterday's radio show, I've got you covered:
POSTPONEMENT.
Late yesterday afternoon news began to circulate that the Ohio State Buckeyes might have to postpone the National Championship Game to January 18 as COVID-19 issues were being faced in Columbus.
I spoke about it on my radio show and there was certainly plenty to talk about on the subject including if the Buckeyes could be holding out to allow Justin Fields more time to heal. It's a reasonable thought-- but then Nick Saban's daughter Kristen dropped this now-deleted tweet:
"If you're not confident to play then SAY IT. I call BS on the COVID cases. They're just worried about their QB and want him to have more time to heal. If he's hurt put in your backup. You didn't see us postpone the rest of the season to wait for [injured star wide receiver Jaylen] Waddle. BYE."
According to ESPN:
In a statement posted to Twitter a couple of hours later, Setas apologized for her earlier tweet.
"The tweet I posted earlier this evening was uncalled for and hurtful," she wrote. "I made a huge mistake and I apologize. In a moment of frustration, I let my anger get the best of me and acted before thinking. I sincerely regret my choice of reckless words. In no way did I intend to undermine the seriousness of the global pandemic and my heart goes out to those it has affected. The health and safety of others is first and foremost and I pray that we all can find peace soon. I am ashamed and embarrassed. I hope you can forgive me."
She has since deleted her Twitter account.
As for if the game will be moved, College Football Playoff executive director Bill Hancock told ESPN on Tuesday that the College Football Playoff National Championship remains on schedule for Monday in Miami.
CARDIAC CATS.
The Clemson basketball team moved to 9-1 yesterday after their overtime win over NC State. Transfer guard Nick Honor led the way with 21 points while freshman PJ Hall hit a late hook shot to seal the game for the Tigers.
Honor, who transferred in from Fordham said after the game that playing on this level was a dream of his growing up.
"As a young kid, I always wanted to play at the highest level. God always makes the way. Glad to be here and thankful to be in this position."
After a sluggish start, Clemson tightened things up defensively in the second half to tie the game before closing out the Wolfpack in overtime.
Over the weekend, it was Aamir Simms' last-second bank shot that delivered a road win at Miami a trend that's kept Tiger fans on their toes so far this season.
SECOND.
Trevor Lawrence didn't raise the Heisman Trophy last night, but after watching DeVonta Smith reach over and grab the trophy near him in the room, I thought back to the fact that there was a Heisman in the presence of Lawrence and Company back in Tiger Town.
Picking up the 45-pound trophy is typically reserved for the winner, but I've got to wonder if Lawrence didn't get his hands on the trophy before it left the facilities. I mean at least a picture or two, right?
Again, only the great ones get to lift the most prestigious individual award in college football as noted below.
During the ceremony, Lawrence was asked about being the frontrunner heading into the season and dealing with those expectations.
"Yeah, I think, how crazy this year was in general, that was kind of the last thing on my mind was winning the Heisman," Lawrence said. [I was] just trying to be a good teammate, and play the best I can, every week for my team was the main thing-- trying to stay healthy with COVID and everything going on."
As for the Heisman Trophy, the 6'6 star said that it wasn't on his radar, but he was honored to be a part of the ceremony with talented players like DeVonta Smith, Mac Jones, and Kyle Trask.
"That was the last thing was just you know living up to the Heisman expectations, but to be here now is a great feeling, and to be in the presence, I guess, in a certain sense, not technically in the presence, but just with these other three guys who had amazing seasons, it's an honor for sure, so I'm glad to be here," Lawrence stated before Smith was announced as the winner.
Lawrence was thrust into to heads of college football fans as a freshman, leading Clemson to a 44-16 win over Alabama in the National Championship Game in 2018, but it was his off the field contributions that stood out as much nationally this year.
"There's been a lot of adversity this year with everything going on, and I feel like just my main thing is just to treat people right and be good to people," Lawrence said. "Those things fall in line with social justice, and 'We want to play.' Obviously, that affected a lot more people than just me. We all have a passion for football, and [we] came together and came up with something."
"This season has been unique and different, but it's been a lot of fun. I know a lot of guys are appreciative of just having a season. I know I am," Lawrence said. "It's been an awesome year, a crazy ride, but it's been a whole lot of fun."
Here is a quick look at the numbers:
I'M SORRY, BRO
Yesterday we mentioned that Deshaun Watson led the NFL in passing with 4,823 yards this past season while going just 4-12 in Houston. As we noted yesterday, Watson recently said that the team needs a 'culture shift,' but that clearly wasn't aimed at the face of the defense J.J. Watt.
In this exchange after the Texans' last-second loss to the Titans, Watt apologized to Watson for wasting one of the star quarterback's seasons.
"Good job, brother. I'm sorry. I'm sorry. We wasted one of your years. I'm sorry," Watt said as the two walked off the field.
With those two guys leading the Texans, it would seem that they are not far from turning things around.
SONG OF THE DAY. Seems fitting that another Clemson Tiger failed to win the Heisman Trophy, but it's going to happen...someday.
- "Someday" - by Sugar Ray -
A BIT OFF THE PATH.
Dr. Dre suffered a brain aneurysm Monday and was rushed by ambulance to Cedars-Sinai Medical Center in Los Angeles and was taken directly to ICU. 55-year-old music mogul is stable according to reports.
Staying in Hollywood, according to E!, Kim Kardashian and Kanye West's six-year marriage is coming to an end. Shocking, I know!
And finally, there are new Apple patents that point to using your MacBook to wirelessly charge your iPhone and Apple Watch. Great, now we all have to buy a new Macbook.
Let us know what you think about THE ROAR! If you liked it, make sure you SHARE!
Never miss the latest news from Clemson Sports Talk!
Join our free email list