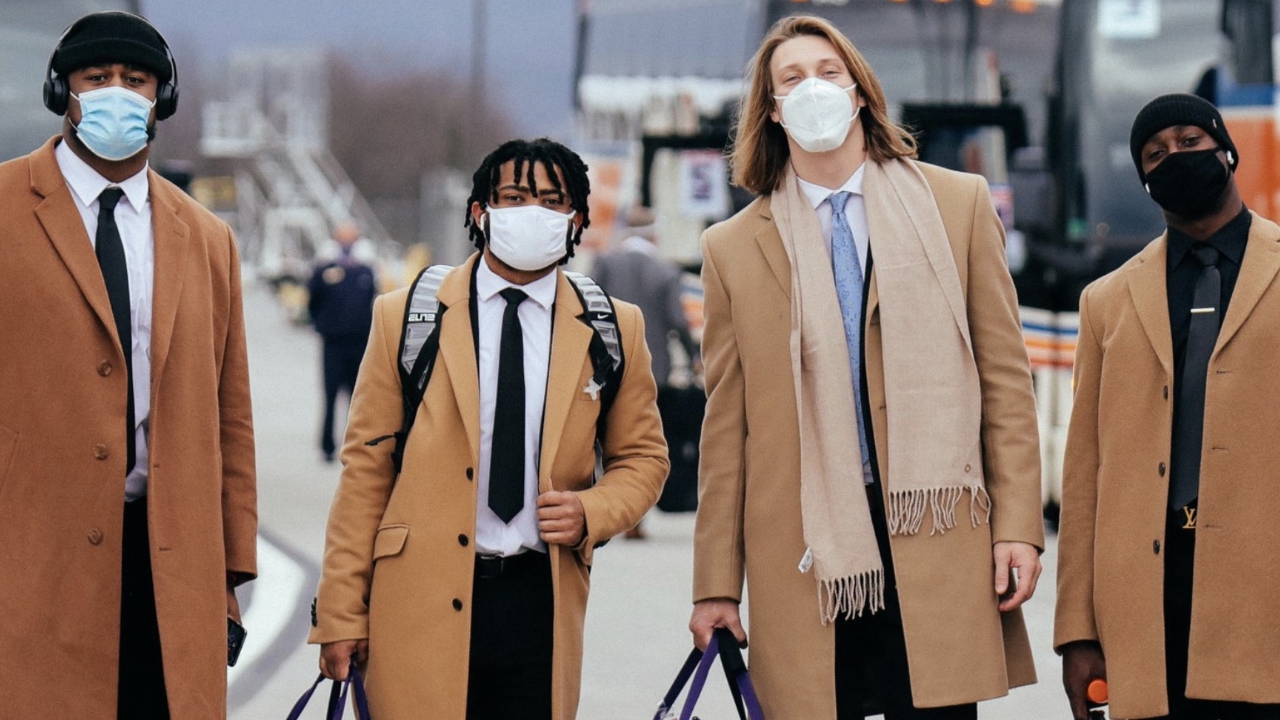 Clemson Football
THE ROAR: Pressing Pause, Welcome to Miami, Powell and Rencher Make Decisions
---

Feel the difference - The MOST DIGITAL CONTENT covering your CLEMSON TIGERS! Avoid clickbait and sites bloated with advertising!
Register for your FREE ACCOUNT today, and you are eligible to win a LIMITED EDITION CLEMSON FOOTBALL. ←
---
Welcome to the final day of the 2020 college football season as No. 1 Alabama faces off with No. 3 Ohio State tonight in the national championship game.
For Alabama, it's a chance to win their third CFB Playoff Championship, while Ohio State is seeking their second CFP title after winning the inaugural season back in 2014.
My hunch is that Alabama has too much in the tank for the Buckeyes tonight. Kickoff is set for 8:00 PM on ESPN.
Here is the full list of MegaCast channels (some are steaming only) if you want to tune in.
If you choose not to watch, here are my top choices to get you through the evening.
8:00 PM - America's Book of Secrets on the Military History Channel
9:00 PM - The Wall on NBC
10:00 PM - Shark Tank on CNBC
11:00 PM - The King of Queens on TV Land
11:30 PM - Modern Family on USA Network
ADIOS, CORNELL - WELCOME BACK, DARIEN.
On Sunday afternoon, Clemson wideout Cornell Powell gave thanks to Tiger fans while announcing that he is moving on after five years in Tiger Town.
"First, I want to thank God for allowing me to attend Clemson University. To my family, thank you for the unconditional love and support. Y'all are truly my backbone and the reason I do what I do. The last 5 years have been nothing short of amazing, from winning a National Championship my first year to leaving it all on the field against OSU in the Sugar Bowl. The life lessons I've learned here at Clemson will remain with me forever. Most importantly, I've gained brothers and created unbreakable friendships that will last a lifetime. I appreciate Coach Swinney for giving me this opportunity. I also want to thank Coach Grisham for believing in me and always being in my corner, even when things didn't look great."
Powell had a stellar final season rocketing himself into conversations about who might play at the next level. In an era of transfers taking place left and right, Powell stuck it out and leaves Clemson firmly in the hearts of Tiger Nation.
As for running back Darien Rencher, he decided to take advantage of the temporary NCAA rule granting an extra year of eligibility to fall athletes and return to Clemson for another season. Originally a walk-on, Rencher has become a leader in the locker room for the Tigers.
On Thursday, Rencher was recognized for his leadership by receiving the Disney Spirit Award virtually on ESPN's College Football Awards Show, the award is presented annually to college football's most inspirational player, coach, team, or figure.
WELCOME TO MIAMI.
Last week, we mentioned that former Clemson quarterback Deshaun Watson was possibly seeking a trade following a disappointing 4-12 season in Houston and not being included on the hiring of Nick Caserio as General Manager.
According to ESPN:
"Multiple people in the Texans organization, including quarterback Deshaun Watson, were upset with how Houston's search took a sudden and unexpected turn, hiring a man that Korn Ferry did not include on its list of candidates.
Watson is said to be furious over the decision, and others are as well, with some saying that there will be employees who wind up leaving the organization during the offseason."
The 25-year-old Watson signed a four-year, $156 million contract extension with the Texans in September 2020 but is rumored to be interested in going to the Miami Dolphins.
ESPN's Chris Mortenson tweeted this on Sunday, confirming rumors:
Watson is currently on vacation, and McNair said he expects to speak with the star quarterback once he returns.
PRESSING PAUSE.
Instead of writing about a potential Clemson winning-streak at North Carolina, I've got to write about consecutive games being postponed. Due to COVID-19 issues and subsequent contact tracing, this weekend's game at Chapel Hill and Tuesday's contest at Syracuse were postponed.
The postponements were the first for No. 19 Clemson, but they have become commonplace in college basketball, and it's almost the norm to get an email announcing a cancelation.
As COVID-19 numbers continue to skyrocket, games are being put on hold more often, and it's even hitting the NBA hard now as well. Last season, the NBA figured out how to use the bubble in Orlando to keep the season alive, but things are getting thin just a few weeks into the 2021 season.
The league is hoping, much like college basketball, to get to a finish line this year, but it's not going to be easy in all honestly.
However, the NBA's model last year does give me hope for the somewhat "bubbled" NCAA Tournament. Clemson is currently projected as a No 4 seed, according to Joe Lunardi.
SONG OF THE DAY.
Here is the official music video from Disney's Safety.
-cancell "Hold Us Together" - H.E.R. -
A BIT OFF THE PATH.
There was no snow in Pittsburgh during the Steelers-Browns game, but an avalanche did occur as Cleveland, making their first playoff appearance in 18 years, ran out to a quick 28-0 lead before the end of the first quarter.
On the first play from scrimmage, Steeler center Maurkice Pouncey snapped the ball over quarterback Ben Roethlisberger's head. After a fight for the loose ball, Cleveland's Karl Joseph recovered it in the end zone, giving the Browns a 7-0 lead with just 14 seconds off the clock.
The Steelers made a game of it in the second half, but in the end, Baker Mayfield and the Brown's advanced with a 48-37 win.
Here is a quick look at the NFL schedule for the Divisional Round coming up this weekend.
Saturday:
4:35 - Los Angeles at Green Bay
8:15 - Baltimore at Buffalo
Sunday:
3:05 - Cleveland at Kansas City
6:40 - Tampa Bay at New Orleans
Outside of the sports world, LG imagines a bed with a hidden see-thru OLED TV set. I'm not sure I like the see-thru idea, but a bed with a television that can be hidden in the bed frame is something I'd like.
And finally, the mystery of the world's loneliest penguins caught my attention as several king penguins have started popping up on Martillo Island in Argentina.
Let us know what you think about THE ROAR! If you liked it, make sure you SHARE!
Never miss the latest news from Clemson Sports Talk!
Join our free email list