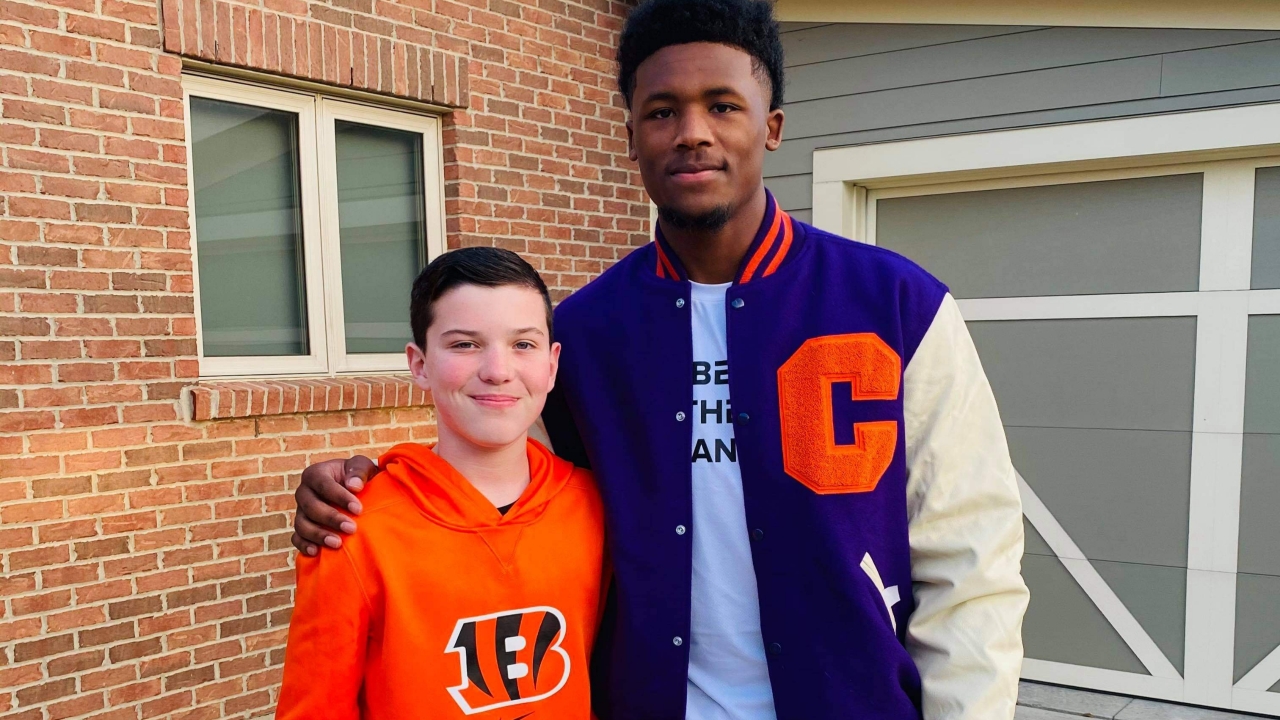 Clemson Football
Martin Luther King Jr. Day: "I Have a Dream Too!"
---

Feel the difference - The MOST DIGITAL CONTENT covering your CLEMSON TIGERS! Avoid clickbait and sites bloated with advertising!
Register for your FREE ACCOUNT today, and you are eligible to win a LIMITED EDITION CLEMSON FOOTBALL. ←
---
**--Note the following is written as close as possible to Casen's original piece.--
"I have a dream that one day. I want to play for the Clemson Tigers. I would love to play with the Tigers. They are a great team with great coaches, like Dabo Swinny, the head coach for Clemson, and offenseve coach, Jeff Scott. And I love their faceility. It is so big. It has the lockeroom, showers, games, pool, bowl alleys, lap pool, Nike room, and lots more stuff. I would love to play wide reciver and be like Mike Williams. He is number 7 and he is 6 feet five inches, and I would love my number at Clemson to be number 5. My favirot player fo 2017 is Tee Higgins. He is also 6 feet 5 inches. I would like to be like Mike Williams and Tee Higgins. They are very good. And that is my dream. I hope I can make it to Clemson."
-- Casen Jenkins
On January 13, 2017, Casen Jenkins, a nine-year-old student at Linden Elementary in Oak Ridge, TN, wrote the above words for his "I Have a Dream Too!" speech as part of a class assignment ahead of Martin Luther King Jr Day (Jan. 16).
Jenkins was already known as a huge fan, or as he has reminded me a few times, the No. 1 fan of star Oak Ridge High receiver Tee Higgins before he signed with Clemson. The two routinely met after Oak Ridge football and basketball games, where Higgins excelled in both sports.
"I think in the beginning Casen really viewed Tee as his hero," said Heather Jenkins, Casen's mom, and the Assistant Principal at Linden. "Casen became obsessed with watching Tee play on Friday nights in high school. I think we actually attended every single game that ORHS played during Tee's senior year. Those traditions continued at Clemson, and their relationship became more like brothers. I often say they're not brothers by blood, but brothers by heart."
On this day, Monday, January 18, 2021, we celebrate Dr. Martin Luther King Jr.'s birthday, and to celebrate him is to celebrate his "I Have a Dream" speech orated on August 28, 1963. The speech is widely recited and a reminder of where we were as a country and King's dream of better days.
In 1963, Jenkins, a nine-year-old white male, could not have the friendship with Higgins, a black male, he has today, and viewing Higgins as a hero, well, would have been seen as blasphemous.
Higgins, who just completed his first season with the Cincinnati Bengals (4-11-1), a dream of his, would have found it more difficult to fulfill that dream in 1963 because, at the time, there was a limit on the number of African-Americans allowed to play in the NFL.
He was selected 33rd overall in the second round of April's (23-25) 2020 draft, and while landing with the Bengals, not a juggernaut by any means, may have met some cynicism, it was a positive moment for him, his family and Jenkins, because Cincinnati is less than a 4-hour drive from Oak Ridge.
During Higgins' three years at Clemson, Jenkins attended five home games, including the 30-3 Cotton Bowl win over Notre Dame in Dallas, TX, and became a regular at Dabo Swinney's Summer Camp.
On Oct. 4, 2020, Jenkins, along with Heather, attended his first-ever NFL game as the Bengals defeated the Jacksonville Jaguars 33-25 in Cincinnati. Their second and final game of the season was the Bengals 27-17 upset over the Pittsburgh Steelers. Higgins had combined stats of 10 receptions for 108 yards and a touchdown in the two wins. In 16 games, he made 67 receptions for 908 yards with six touchdowns. His 908 receiving yards and 13.6 yards per reception led the Bengals.
"It was like a dream come true when I walked in Paul Brown Stadium and realized I was actually getting ready to watch Tee play for the Cincinnati Bengals," said Jenkins of watching his friend play in the NFL. "It's crazy to think that Tee played at Robertsville Middle School, just like me, and now he's playing in the NFL."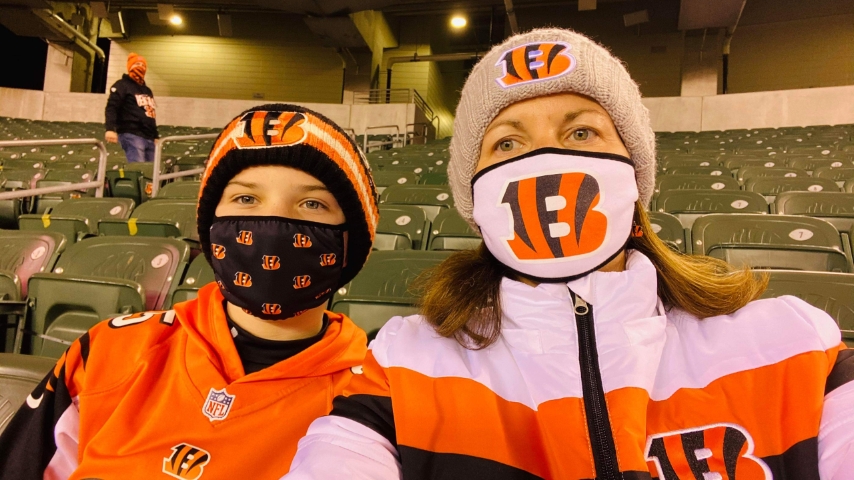 Jenkins wanted to see more games, but the Pandemic protocols limited the crowd size in Cincinnati. He would've loved to be seated for every one of Higgins' games, but that never happened at Clemson either. Heather became a season ticket holder for Higgins' final year, but Casen's football schedule sometimes clashed with the Clemson schedule.
Missing one of his own games was not an option for the middle school safety/receiver as Jenkins has his own dream to chase and is focused on traveling a similar path to Higgins. Even after playing a game the night before, he sometimes travels to train with Dunstan Kendrick (Coach D), Higgins' former trainer, at D-Block Training in Knoxville the next day.
Last year, Jenkins saw his football season come to an abrupt end after only three games. He suffered a broken collarbone while making a tackle from his free safety position.
"He was in excruciating pain and dealing with the fact he'd probably suffered a season-ending injury. I knew I had to be strong for him, but it definitely tore my 'mama heart' to pieces. I told Casen it was all part of God's plan, and we may not understand why it happened, but we had to trust God in the process," recalled Heather from the night he was injured and taken to the hospital. "We were actually waiting to see the orthopedic doctor when Tee texted us. He told Casen that it was just a 'Minor Setback, for a Major Comeback' So that's the motto Casen went with."
Higgins was unable to visit Jenkins as he recovered from the injury, but a gift from him, according to Heather, helped during the recovery, a time when she said her son was the lowest emotionally and physically she had ever seen him.
On Draft Day, Higgins asked the Jenkins to keep his black female German Shepherd named Koda for a few days. Three days later, he picked her up and later brought her back in June as he settled in for the Bengals training camp. Koda has been with the Jenkins ever since and is a permanent member of the household.
"The bond between Casen and Koda is crazy. I often say that Tee must've known they needed each other," noted Heather when discussing the relationship between Casen and Koda. "I don't think Casen would've survived his broken collarbone or quarantine without Koda. She's definitely the best gift Tee could've ever given Casen."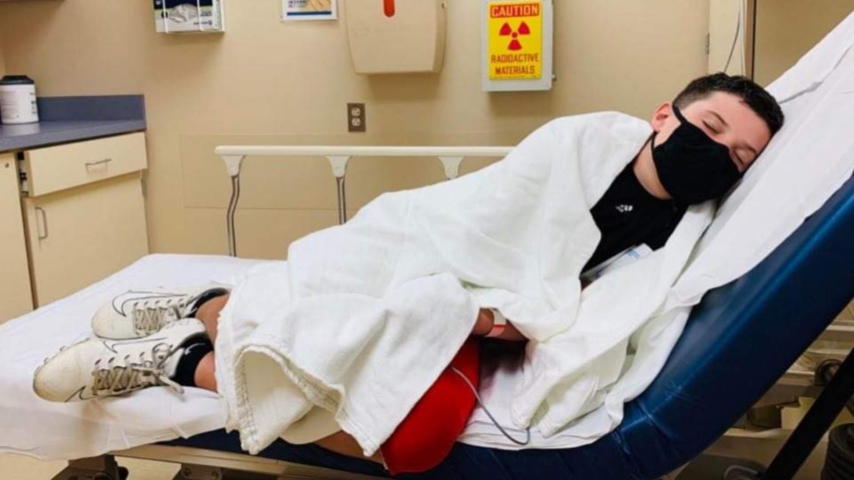 Heather said Higgins has always found time to connect with Casen in Oak Ridge, Clemson and now, Cincinnati. She said his success has never gotten in the way of his friendship with Casen and that humility is admirable and not always found in someone so young.
Higgins, a Football Focus (PFF) All-Rookie first team member, just turned 22 today. Jenkins turned 13 on May 7. When Higgins was busy on the 7th, he celebrated with Jenkins on the 8th.
The celebration included a Bengals cake and other paraphernalia of the team. Higgins' new team has become a part of Jenkins' fandom and seemingly rivaling his love for the Tigers. His autographed Clemson football gloves, a gift from Higgins, have resided on a pillow since 2017, now share Jenkins' bed with a Bengals cover and pillow.
So with Higgins in Cincy and away from Clemson, does Jenkins still want to play football at Clemson?
"Yes. Definitely," he told us. "It's always been my dream to play for Coach Swinney in Death Valley. It inspires me to work hard every day and not let anyone or anything stand in my way. My mom has always told me to 'Trust God' and 'Be Patient with the Process.'"
Jenkins is dedicated and driven too. So much that Heather once told me he drove her crazy sometimes. But she is able to keep up with him and accompanies him to every sporting event that includes his games and Higgins' games. The same can't be said for his father, Cory, who is usually left behind.
I asked, why?
Heather explained with a snicker, "Casen says he slows us down."
Heather also takes Casen to school, and in 2019, she told me Casen steps out of the car, and before closing the door, he routinely says, 'I'm one step closer to Clemson.'
Now a teenager, and with Higgins in Cincy, has anything changed?
"Tee's helped me realize that big dreams really do come true, and I can do the same thing."
No. And it's because that's what he really wants she said, but she reminds him of the importance of education as well.
"I'm really hard on him when it comes to academics. We often talk about how grades are just as important as how he performs on the football field or basketball court. He works hard every day, and I'm proud of him for that."
She said he is presently, doing well in the classroom while excelling on the basketball court and will return to football this season.
Watching Higgins journey to the NFL, Heather and Casen know how hard he worked to make his dream come true.
Furthermore, Heather understands what the journey means for Casen and others.
"Tee has become a real inspiration for Casen and all the youth in Oak Ridge."
And Casen what it means to him.
"Tee's helped me realize that big dreams really do come true, and I can do the same thing."
When King gave his speech from the Lincoln Memorial's steps, his words rang over a crowd of over 250,000 people, which included approximately over 60,000 Caucasians. It was a pivotal time in the country when equality was still distant, but the crowd's makeup was a sign of progress.
The relationship between Higgins and Jenkins started with sports and has grown into a brotherhood that has bonded the families of both, including Lady Stewart, Higgins' mom.
Now that's progress and part of King's dream realized.
Never miss the latest news from Clemson Sports Talk!
Join our free email list