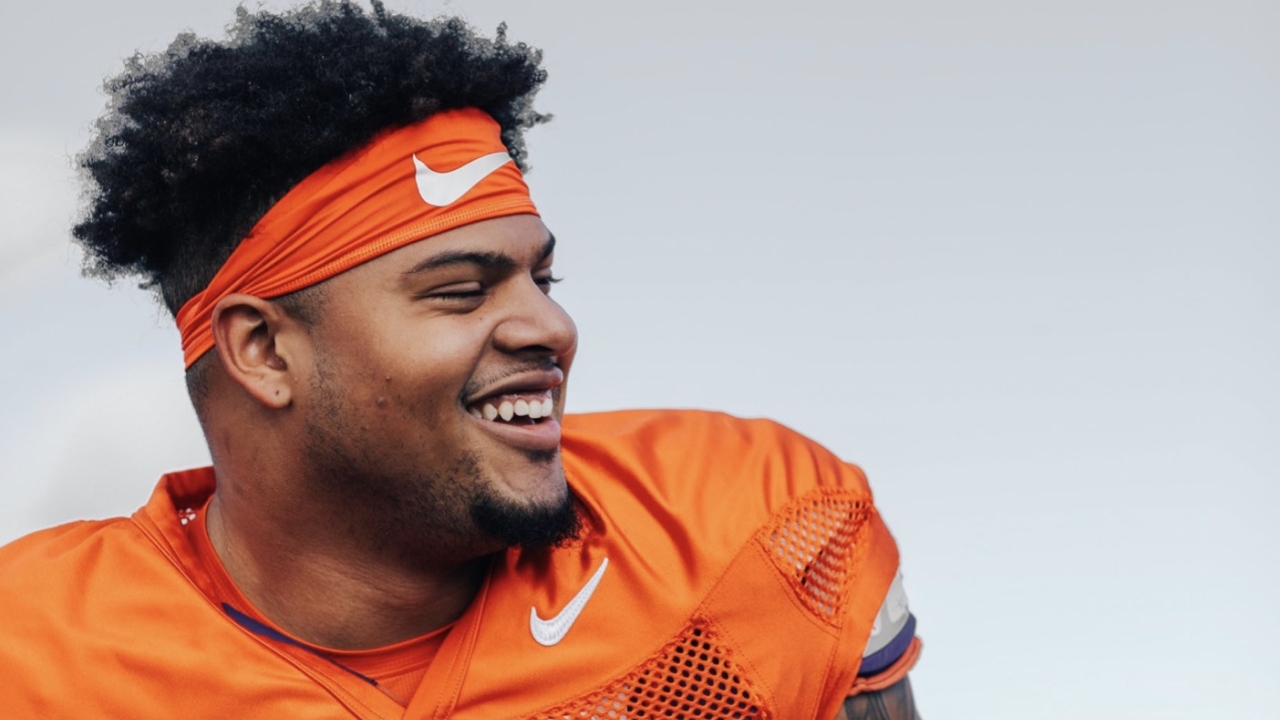 Clemson Football
THE ROAR: 12th Man | Lightning Recruiter | Anyone want to Volunteer?
---

Feel the difference - The MOST DIGITAL CONTENT covering your CLEMSON TIGERS! Avoid clickbait and sites bloated with advertising!
Register for your FREE ACCOUNT today, and you are eligible to win a LIMITED EDITION CLEMSON FOOTBALL. ←
I hope you all had a great weekend. The show didn't take a day off on Monday, but I did take a day off from THE ROAR in honor of Martin Luther King Jr. Day.
12TH MAN.
Before yesterday's announcement that Xavier Thomas was returning for another season at Clemson, Brent Venables' defense already had all 11 starters back for the 2021 campaign. No offense to our friends over at Texags.com, but Thomas' announcement means the Tigers will bring back-- yes, the 12th Man-- into the rotation defensively.
Now look, Clemson's depth is remarkable at this point, but getting a player back like Thomas is huge. He burst on the scene as a true freshman in 2018 with 3.5 sacks and eight tackles for loss, and had it not been for a battle with COVID-19 and strep throat issues during the offseason, Thomas would likely have been one of the most impactful players for Clemson in 2020. In just five games, he still managed 3.5 sacks and four tackles for loss.
Now, a more mature Thomas, both physically and mentally, will be paired opposite of Myles Murphy, with a defensive rotation that could feature. K.J. Henry. Bryan Bresee, Tyler Davis, Tre Williams, and DeMonte Capehart, to name a few.
LIGHTNING RECRUITER.
Over the weekend, Clemson shifted things around on the coaching staff as Danny Pearman will shift into an off-the-field capacity. Pearman has been on staff since 2009 and coached under both Danny Ford and Ken Hatfield. He played tight end on Clemson's 1986 and 1987 ACC title teams, then served as a graduate assistant on the Tigers' 1988 ACC Championship team.
With Pearman's move, Tony Elliott will now take over coaching tight ends. Elliott, the Tigers' offensive coordinator and running backs coach, played wideout at Clemson and should be a nice fit in that area. The Tigers could certainly utilize the position more frequently as the TE numbers, although better in 2020, have plummeted since Jordan Leggett left after the 2016 season.
Elliott's move to the tight ends left a vacancy in the running back room, and former Clemson great C.J. Spiller, who coached the group during the Sugar Bowl loss to Ohio State, will assume that position.
Spiller was recently elected to the College Football Hall of Fame and will be an asset on the recruiting trail as his name still carries a lot of weight in the state of Florida. It will be interesting to see how quickly Spiller can have an impact-- hopefully, it will be lightning quick-- just like many of his touchdown runs.
ANYONE WANT TO VOLUNTEER?
With the news that Jeremy Pruitt would be fired at Tennessee after multiple recruiting violations, it was incredible to think back to the fact that Philip Fulmer's final full season, in 2008, was the same year that Dabo Swinney took over in Tiger Town mid-way through the year.
Since then, Clemson has ascended to the top of college football, winning multiple national titles while making six consecutive appearances in the College Football Playoff. Meanwhile, the Volunteers have had a revolving door of head coaches, starting with Lane Kiffin (2009), then Derek Dooley (2010-2012), followed by Butch Jones (2013-2017), and then Pruitt (2018-2020).
Now, the Vols will seek their fifth head coach, in that time, and Kevin Steele, a former Clemson defensive coordinator under Swinney from 2009-12, will be the interim head coach.
There is a possibility the Dillon, SC native, gets the job after being a finalist for the top spot in Knoxville before the Volunteers gave the keys to Pruitt in 2018.
Here's what University of Tennessee Chancellor DonMIde Plowman said about the violations and boy did she PLOW over Pruitt, pun intended:
"Your failure to promote and maintain an atmosphere of compliance and to monitor the activities of the coaches and staff members that report, directly or indirectly, to you has led to the current NCAA investigation and is bringing and will likely continue to bring the University into considerable public disrepute, embarrassment, contempt, scandal, and/or ridicule."
In an odd note from 247's Anna Hickey reported that Tennessee has offered 238 players in the 2022 class, while Clemson has offered just 48 as of Tuesday, showcasing the vastly different recruiting methods between the two schools.
SONG OF THE DAY.
Speaking of Volunteers, the 1985 comedy featuring Tom Hanks and John Candy kicked off with the Marcels' song "Blue Moon."
- "Blue Moon" - The Marcels-
A BIT OFF THE PATH.
As we all roll through the weeks until football season, one thing we have in common are the television shows we consume. I'm currently in the 1st season of The Man in the High Castle, and I'm not going to lie-- I'm digging it so far.
However, one show, Game of Thrones, is one I've watched in the past, but I had no idea that Dire wolves were even a real thing. I just thought it was a fantasy version of a normal wolf, but boy was I wrong. Apparently, dire wolves were real but weren't wolves.
If you are a coffee fan, I doubt I can change how you drink it, but here are a few healthy ways to enjoy that morning brew.
Let us know what you think about THE ROAR! If you liked it, make sure you SHARE!
Never miss the latest news from Clemson Sports Talk!
Join our free email list