Clemson Basketball
THE ROAR: Look Away! | O-fer | Sweet Feet
---

Feel the difference - The MOST DIGITAL CONTENT covering your CLEMSON TIGERS! Avoid clickbait and sites bloated with advertising!
Register for your FREE ACCOUNT today, and you are eligible to win a LIMITED EDITION CLEMSON FOOTBALL. ←
LOOK AWAY!
Well, it wasn't as bad as their 85-50 loss to Virginia, but for the second consecutive game, a Top 20 Clemson basketball team looked like they weren't interested in being on the court defensively as Georgia Tech hammered the Tigers 83-65.
My goodness, those two games were hard to watch.
Last time out, perhaps Clemson's layoff could be considered in their defense against UVA, but not last night-- Georgia Tech hadn't played since January 3-- a 17-day layoff-- and they were sharp as a tack.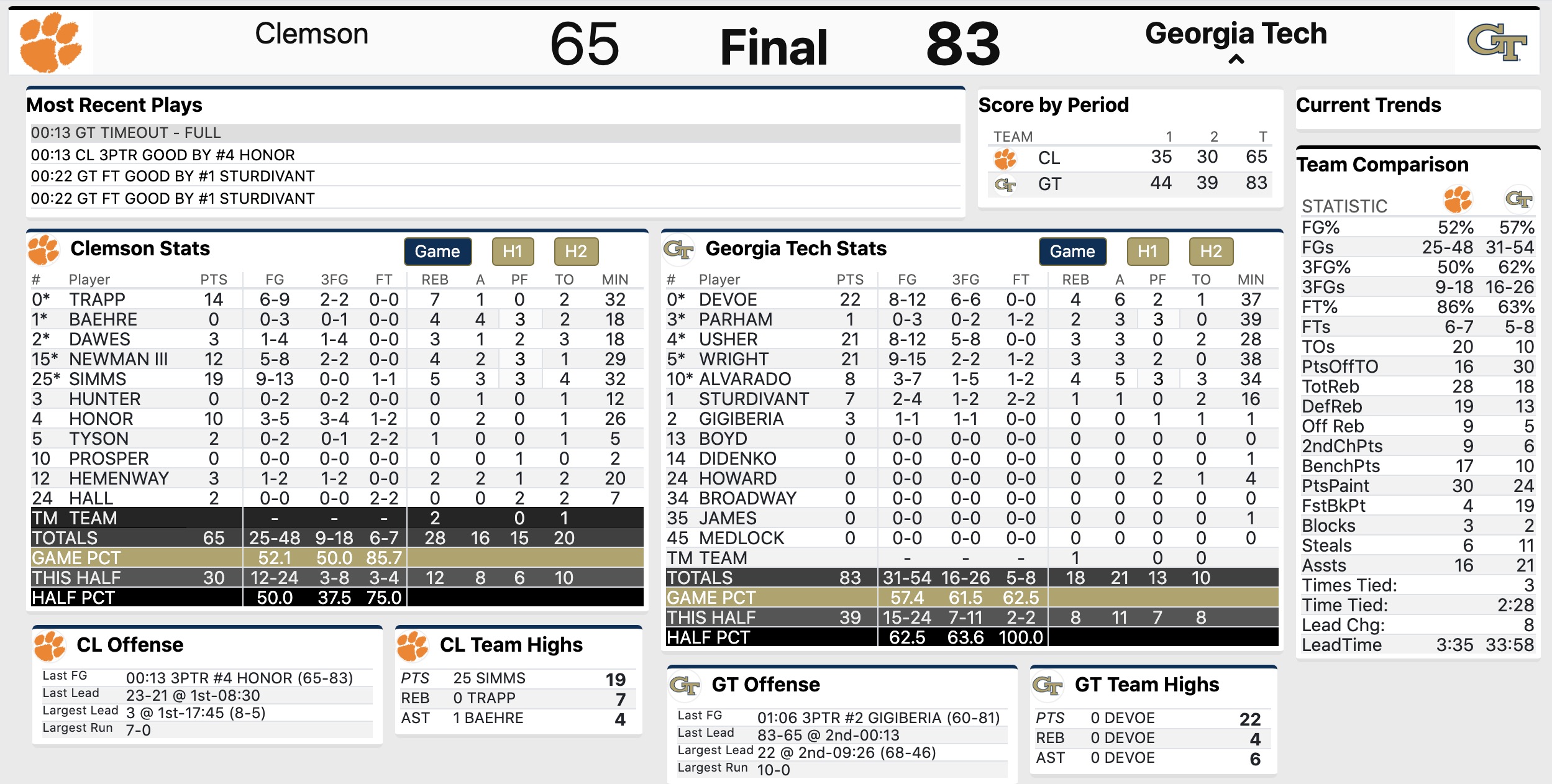 After being one of the top teams in America on defense, Clemson's back-to-back performances against the Cavaliers and Yellow Jackets should leave everyone wondering if their 9-1 start was simply a stroke of good luck.
The Tigers allowed the Cavs and Jackets to combine for 31-of-53 on three-point attempts-- that's an absurd stat! How absurd? How about 58% and an average of 15 made per game. You aren't going to win many games doing that.
The Tigers appear to be in big trouble this weekend as they travel to Tallahassee to take on the Florida State Seminoles (8-2), who are peaking. The Noles hammered Louisville 78-65 on Monday and looked as sharp as they have all season-- reminiscent of how they played a year ago en route to the ACC Title.
If Brad Brownell and the boys want to right the ship, it's going to be incredibly tough against Leonard Hamilton's squad. The Tigers were fortunate enough to defeat them 77-67 earlier this year, but to beat that group twice?? It's going to take a much better effort than we've seen from Clemson the past two games.
The Tigers face FSU at 3:00 on ABC this Saturday.
O-FER.
So Justin Fields announced he's turning pro on Monday via Twitter, and for the Ohio State Buckeyes, that could present a huge problem heading into the 2021 season. Right now, the Buckeye backup quarterbacks have thrown for a collective 0-0 for 0 yards with 0 TDs and 0 Int.
That's real.
Our best guess is that C.J. Stroud will take over as he battles Jack Miller and Kyle McCord for the starting spot. Stroud was the No. 2 pro-style quarterback in the 2020 class.
Head coach Ryan Day is considered a quarterback guru, but this is a different situation to enter the new season.
Again, NONE of the Buckeye backups threw a pass this season. While they will enter the upcoming season with boatloads of wideout talent, including Chris Olave, who decided to return for another year, but with ZERO experience at the most important position on the field, my ears are up.
After knocking off Clemson, essentially the Buckeyes' Super Bowl, OSU laid an egg in the National Championship game against Alabama, getting beat 52-24.
Checking over my notes, I guess Justin Fields' greatest accomplishment at Ohio State was-- beating Clemson.
Here's my official slow clap for Buckeye Nation on that accomplishment.
Can Ohio State get back to the playoffs in 2021? At this point, who knows? Especially given their lack of experience at quarterback.
SWEET FEET.
Multiple players for the No. 1 Clemson Soccer team are making the transition to the professional level.
Midfielder Philip Mayaka signed a Generation adidas contract and is now eligible for selection in the 2021 MLS SuperDraft, which is set to take place virtually on Jan. 21 at 2 p.m. This is the seventh time in program history and second consecutive year that Clemson has had a member of its program sign a Generation adidas contract.
The announcement signals the end of Mayaka's collegiate eligibility and means he will join his new club after being selected in the upcoming draft.
Also, Justin Malou and Kimarni Smith are eligible for this year's MLS Draft, while Grayson Barber has signed with Sporting Kansas City, ending his collegiate eligibility.
Before he arrived at Clemson, Barber was a member of Sporting KC's academy system from the summer of 2015 through the end of 2017. While a part of the academy, Barber was named a member of the U.S. Under-17 Residency roster for the 2017 Spring Semester.
A native of Elgin, S.C., Barber will join Sporting KC after a marvelous career at Clemson. Across three seasons, Barber registered 44 points as a result of scoring 13 goals and contributing 18 assists. During the 2020 season, Barber led the nation in assists (7) and was fourth in assists per game (0.64) while earning the start in each of his 11 appearances. Over the past two seasons, Barber has been responsible for five game-winning goals, with four coming during the 2019 season.
As a result of his excellent play this past season, Barber was named ACC Co-Offensive Player of the Week on Oct. 26, while also being named Player of the Week by United Soccer Coaches on Oct. 27. In 2019, Barber earned second-team All-ACC honors as a result of contributing 10 goals and nine assists.
By returning to Sporting KC, Barber will join defender Amadou Dia, a 2015 graduate of Clemson. Dia was selected by Sporting KC with the 20th overall pick in the 2015 MLS SuperDraft and returned to the club prior to the 2020 season following a three-year stint with Phoenix Rising FC, a member of the USL Championship.
SONG OF THE DAY.
- "Yellow" - Coldplay -
A BIT OFF THE PATH.
Thought Drew Brees couldn't throw the ball downfield this season? Well, you were right. According to his wife Brittany, Brees played through the 2020 season with a torn rotator cuff. Ouch!
Jeopardy! champion Ken Jennings has been tasked with being the first host to fill the late Alex Trebek's shoes. During an early episode, Jennings got trolled when a contestant put the same answer that Jennings missed ending his record-setting 74-game winning streak in 2004-- H&R Block.
And finally this, a NASCAR racer was recently penalized for using a smartphone while driving at Daytona...and he was only 15 years old!
Let us know what you think about THE ROAR! If you liked it, make sure you SHARE!
Never miss the latest news from Clemson Sports Talk!
Join our free email list