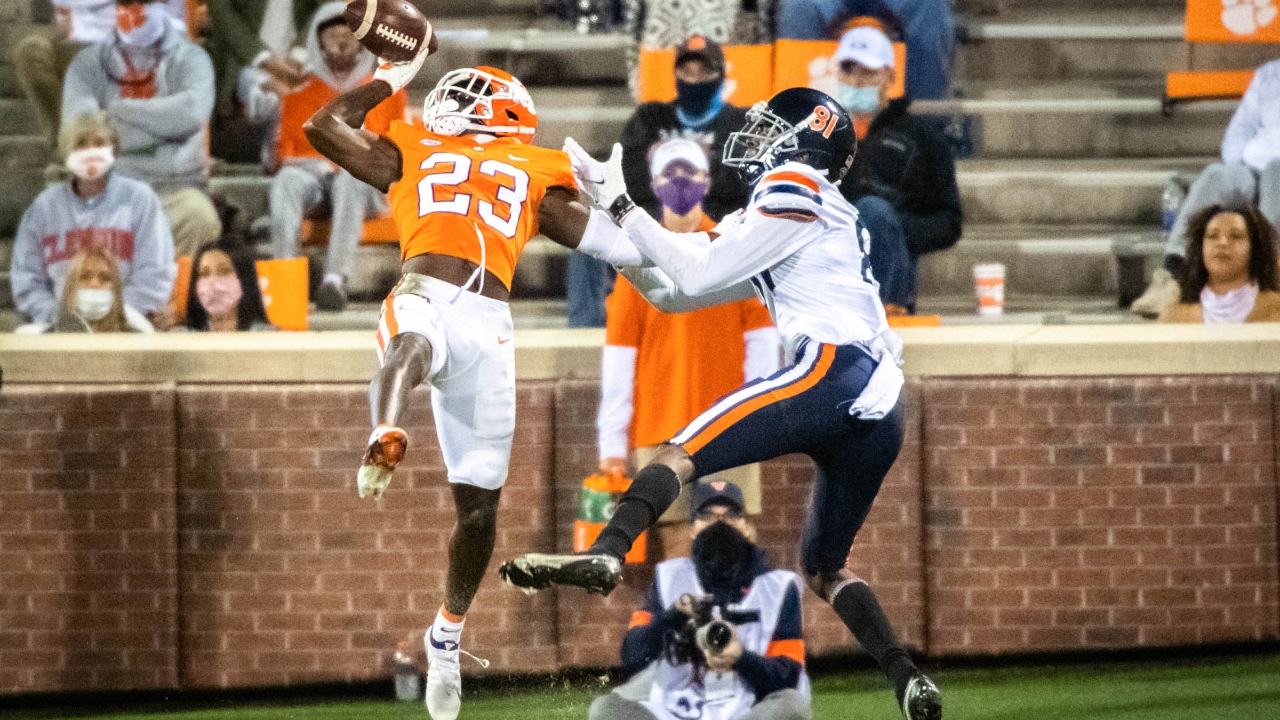 Photo by Courtesy of ACC Media Portal
Clemson Football
THE ROAR: Top Plays | Free Release | Pac-12 Shift
---

Feel the difference - The MOST DIGITAL CONTENT covering your CLEMSON TIGERS! Avoid clickbait and sites bloated with advertising!
Register for your FREE ACCOUNT today, and you are eligible to win a LIMITED EDITION CLEMSON FOOTBALL. ←
Before we get into THE ROAR, I wanted to give you a quick update on Clemson's basketball schedule. As I've said on the radio show for some time, consider every basketball game "tentative."
Yesterday, the Atlantic Coast Conference announced that the Boston College at Clemson game scheduled for Tuesday, January 26, will move to Wednesday, January 27. Tip-off is set for 9 p.m.
Let's get into it...
TOP PLAYS.
The Clemson Tigers finished off another fantastic season full of brilliant plays made by some of college football's best talent. From E.J. Williams' sensational one-handed grab to Travis Etienne becoming the king of ACC running backs, Clemson had several memorable moments.
Check out the ACC Digital Network's list of Clemson's Top 5 plays of the 2020 season right here!
FREE RELEASE.
The Athletic put together an article yesterday that made the argument that all signees at Tennessee should be allowed out of their National Letter of Intent.
On the show Wednesday, I felt a bit different about it because, in my opinion, it's easy to spot people who are doing things underhanded.
In it's a Wonderful Life, George Bailey needs only to shake Mr. Potter's hand to know that he's not interested in doing business with the dastardly character. The same goes for recruiting.
Now the student-athletes who just signed, I can understand them wanting to bail, but as a player, you should be able to spot the snakes, and if you don't, you shouldn't be given a free pass to escape your poor decision making.
Especially if you've been in a program for a few years, any player involved should also receive equal punishment, even if they leave for another program. As much as the coaches, those prospects should have to weather the storm that they willingly participated in-- even if that means a few years being banned from bowls.
As for the folks on Rocky Top, with the direction the program was going, the Vols are probably self-imposing a ban with their lackluster play on the field.
PAC-12 SHIFT.
Pac-12 Commissioner Larry Scott and the league's CEO group have mutually agreed to terminate his contract on June 30, 2021, a year ahead of its scheduled expiration.
Scott served as Pac-12 Commissioner for 11 years, overseeing conference expansion and the launch of the Pac-12 Network. Recently, the league hasn't been competitive for a spot in the College Football Playoff, raising eyebrows for fans on the West Coast.
In a statement, the Pac-12 said:
"We appreciate Larry's pioneering efforts in growing the conference by adding new competitive university programs and accelerating the Pac-12 to television network parity with the other conferences," said University of Oregon president Michael Schill, the chair of Pac-12 CEO Group. "At one point, our television agreement was the most lucrative in the nation, and the debut of the Pac-12 Network helped deliver our championship brand to U.S. and global markets on traditional and digital platforms.
"That said, the intercollegiate athletics marketplace doesn't remain static, and now is a good time to bring in a new leader who will help us develop our go-forward strategy."
Under Scott's leadership, the conference remained a powerhouse in several sports, but its success in football and men's basketball was limited. No Pac-12 team won a national title in either sport and just one -- Oregon, in 2017 -- reached the men's Final Four.
SONG OF THE DAY.
- "California Dreamin'" - The Mamas & The Papas -
A BIT OFF THE PATH.
If you are one of those people still trying to get your hands on a PS5 or an Xbox Series X, I might have some good news for you as GameStop and Walmart are restocking the next-gen consoles.
All the Game of Thrones fans might be excited to hear that 'Tales of Dunk and Egg' (not well named, in my opinion), the prequel to the popular series, is in early development. That sounds great and all, but give me a prequel to Sopranos, and I'm all in!
Are you kidding me? Johnny Soprano and "Uncle June" running things in the 1950s and 1960s...believe me, it would be an instant hit.
And finally, as we head into the weekend, I thought I would show you this unique device, the Amazon Dash Smart Shelf. This shelf can reorder whatever item you chose to set on top of it. Years ago, I had Dash Buttons in the laundry room, and I could simply push a button to order different household items, but those went away after a few years. If you like effortless purchasing, this might be an idea for you or your business.
Let us know what you think about THE ROAR! If you liked it, make sure you SHARE!
Never miss the latest news from Clemson Sports Talk!
Join our free email list