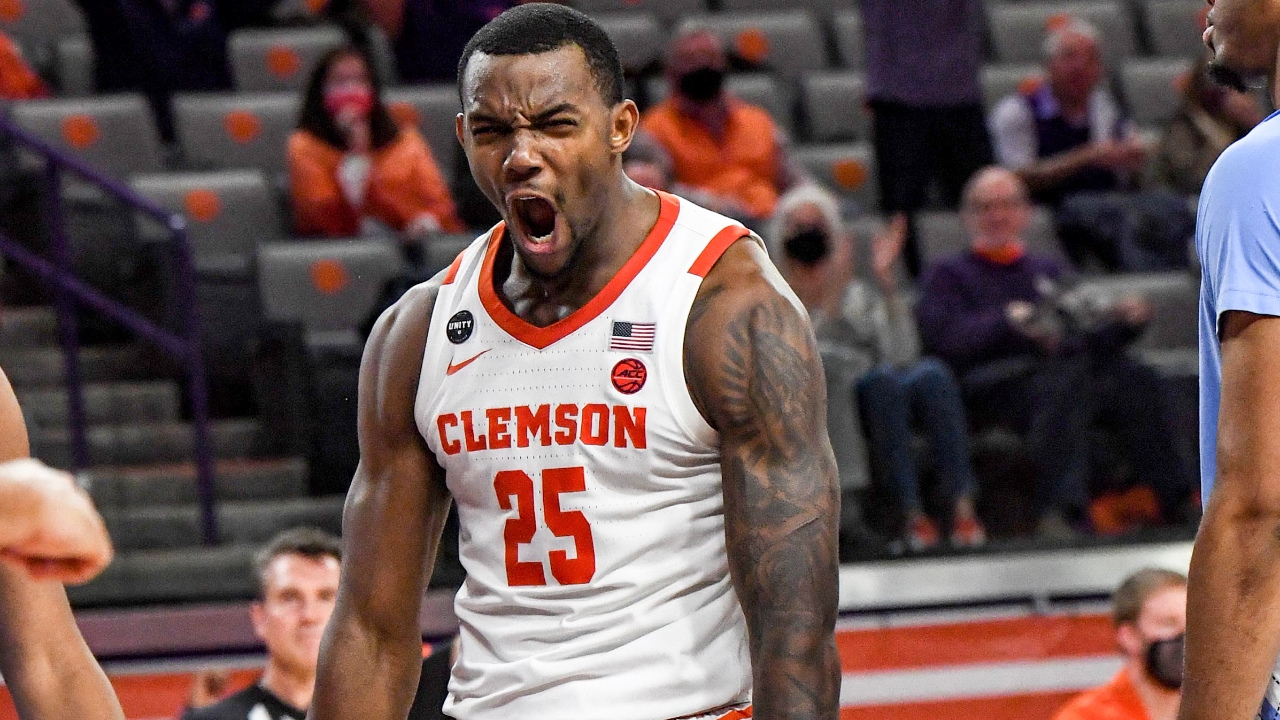 Photo by Ken Ruinard-USA TODAY Sports
Clemson Basketball
Tyson Comes Alive in Crunch Time as Clemson Topples UNC
---
CLEMSON, S.C. — Outscoring North Carolina 21-12 in the final 9:21 of the game, Clemson pulled away from the Tar Heels and won 63-50 on Tuesday. Hunter Tyson was a force to be reckoned with in crunch time, scoring all 16 of his points with under 10 minutes remaining at Littlejohn Coliseum.
The 50 points allowed to North Carolina are the fewest Clemson has allowed since Jan. 30, 1985. It is tied for the fewest since 1940.
The Tigers (11-5, 5-5) shot 40.4 percent from the field, while the Tar Heels (11-6, 6-4) came away with a shooting percentage of 38.6. Clemson netted eight 3-pointers and scored 13 points off 17 UNC turnovers. Additionally, the Tigers tabbed 28 rebounds and 12 assists and scored 26 points in the paint.
Tyson racked up 16 points in the final 9:21 of the contest, making a pair of shots from beyond the arc and going 4-for-4 at the foul line. He also finished with four rebounds and two steals. Clyde Trapp narrowly missed out on a double-double with 14 points and nine boards. Aamir Simms recorded 10 points, six rebounds and six assists, and UNC's Day'Ron Sharpe collected 16 points and eight boards.
Alex Hemenway emphatically opened the scoring action for the Tigers by throwing down a two-handed slam for Clemson's first basket of the night. That sparked an 11-2 run, which was capped off by a Jonathan Baehre dunk. Three-balls by Chase Hunter and Nick Honor stretched the Clemson lead to 13, and an up-and-under layup by Trapp placed the Tigers ahead 24-9. Later in the first half, Trapp swished a trey on a possession featuring plenty of flashy passing. Clemson led 30-16 at that point and took a 33-21 advantage into halftime soon afterward.
Early in the second half, Trapp knocked down a contested jumper as part of a 3-point play. The next time down the floor, Tyson found a wide-open Trapp under the basket, assisting on an easy dunk by Trapp. UNC whittled its deficit down to four at the 13:52 mark, but the Tar Heels were unable to pull any closer to the Tigers for the rest of the game. Simms produced a 3-point play with 5:50 remaining, increasing Clemson's lead to eight. Tyson came alive down the stretch, sinking several pivotal jumpers and proceeding to throw down a couple of fast break dunks in the final minute to put a bow on the Tigers' 63-50 victory.
Clemson will remain home and face Syracuse (10-5, 4-4) on Saturday, Feb. 6. The contest at Littlejohn between the Tigers and the Orange is scheduled to tip off at 2 p.m. and air on ACC Network.

Head Coach Brad Brownell's Postgame Quotes
Opening statement:
"This was a very rewarding win. I'm super proud of our kids. We really fought and battled. It takes everything we have to win these kinds of games. We played with tremendous physicality early in the game, and our guys set the tone by making some early shots. We didn't turn the ball over much tonight. We played well the last eight minutes and gritted it out."

On Clemson limiting Armando Bacot to one point:
"We did a great job defending him. We got him into foul trouble with all of the driving we did. Those fouls really helped us get into the bonus and make some free throws. Defensively, we played at a really high level tonight."

On the Tigers having the hot hand out of the gate:
"That always energizes our kids when they're feeling it early on. Then, we start pressing, and the basket gets smaller for the other team. When shots are falling, it gives you some extra juice to guard a little harder."
Never miss the latest news from Clemson Sports Talk!
Join our free email list