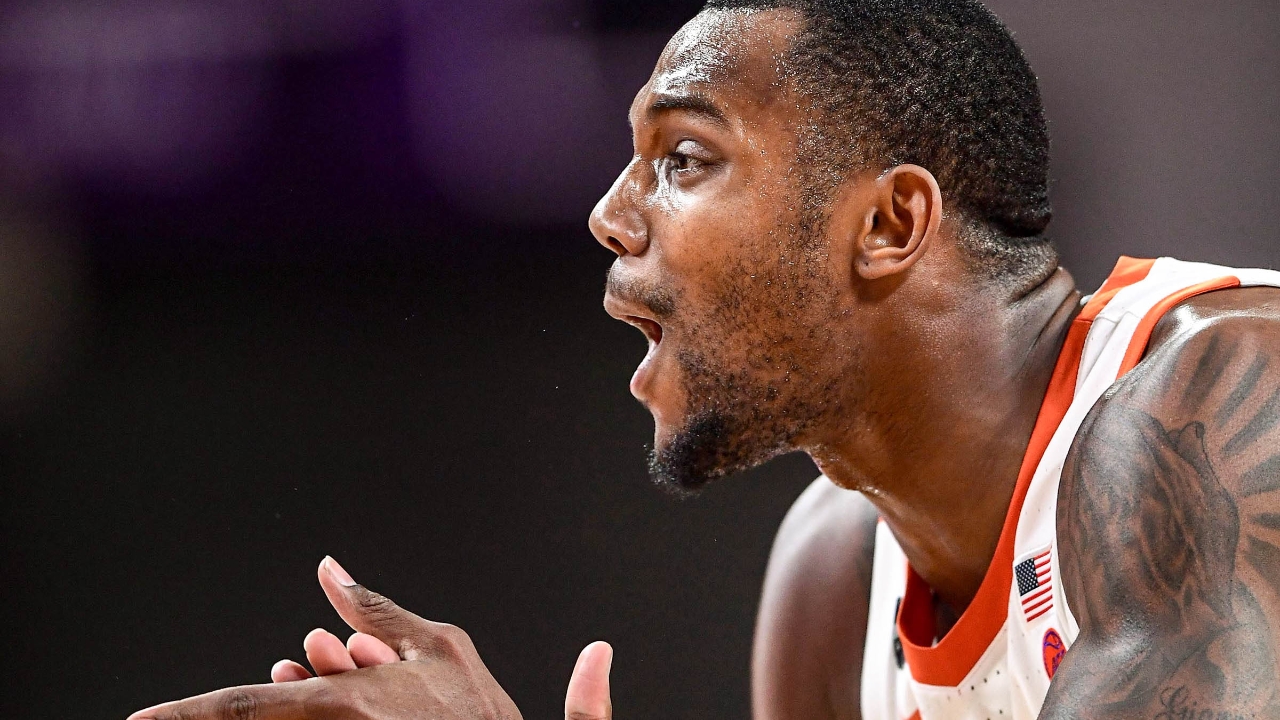 Photo by Ken Ruinard-USA TODAY Sports
Clemson Basketball
THE ROAR: What's Left | Party on, Wayne | Trifecta | Mr. 1,000
---

Feel the difference - The MOST DIGITAL CONTENT covering your CLEMSON TIGERS! Avoid clickbait and sites bloated with advertising!
Register for your FREE ACCOUNT today, and you are eligible to win a LIMITED EDITION CLEMSON FOOTBALL. ←
---
WHAT'S LEFT.
Looking down the line for this Clemson basketball team indicates a real opportunity to finish strong ahead of the ACC Tournament. The Tigers are currently 6-5 in league play following back-to-back convincing wins over North Carolina (63-50) and Syracuse (78-61).
Kudos to the Tigers for answering the bell after being staggered by Virginia, Florida State, Georgia Tech, and Duke.
Now Brad Brownell's squad turns their attention to the final six games of the season-- if they are lucky enough to play them all-- as games continue to drop off the ACC slate.
Over the next few weeks, the Tigers will face the following:
vs. Georgia Tech (5-4 in ACC play)
@ Notre Dame (4-7 in ACC play)
@ Pitt (5-5 in ACC play)
@ Wake Forest (2-8 in ACC play)
vs. Miami (3-8 in ACC play)
vs. Pitt (5-5 in ACC play
If the Tigers play all the games [and win], they would finish 12-5 in conference play.
PARTY ON, WAYNE!
Nearly two hours before tipoff on Monday night, Miami's game against North Carolina was canceled after a video surfaced showing two Tar Heel players partying over the weekend-- maskless.
In a video on Snapchat, North Carolina stars Day'Ron Sharpe, and Armando Bacot were at a party following the Tar Heels' 91-87 win over Duke.
According to the ACC:
"The postponement follows a meeting of personnel from both schools, who mutually concluded the game could not move forward today. Both teams continue to adhere to the minimum outlined protocols within the ACC Medical Advisory Group report, which is available on theACC.com. "
So again, back to my first topic....if....Clemson plays all their remaining games, they could finish at 12-5 in league play.
TRIFECTA.
Former Clemson punter Bradley Pinion earned his first Super Bowl championship on Sunday evening, when the Tampa Bay Buccaneers defeated the defending champion Kansas City Chiefs, 31-9, in Super Bowl LV in Tampa, Fla.
With Pinion's championship this year, Clemson has now produced 31 different Super Bowl champions that have a combined total of 39 Super Bowl rings.
In all, four former Tigers played in Super Bowl LV, including cornerback Bashaud Breeland, linebacker Dorian O'Daniel and wide receiver Sammy Watkins of the Chiefs. Clemson was one of only four schools to have at least four players on the teams' active rosters entering Super Bowl Sunday.
Pinion became the third Clemson specialist to either kickoff or punt in the Super Bowl, joining kicker David Treadwell (Super Bowl XXIV) and punter Chris Gardocki (Super Bowl XL). Obed Ariri was a member of the Washington Redskins during their 1987 title campaign but did not appear in Super Bowl XXII.
Pinion was a three-year letterman at Clemson from 2012-14. He averaged 41.1 yards per punt in 34 career games at Clemson, finishing his collegiate career with 55 punts downed inside the 20, 26 punts of 50-plus yards and only two touchbacks among his 140 career punts. After forgoing his senior year, an unusual move for a specialist, he was selected in the fifth round of the 2015 NFL Draft by the San Francisco 49ers.
With Pinion's victory, at least one Clemson player has been on the roster of the Super Bowl champions in each of the last three years.
MR. 1000.
Clemson's Aamir Simms was significant for the Tigers as they cruised past Syracuse, 78-61 on Saturday. He poured in 18 points, snagged 11 rebounds, and surpassed 1,000 career points.
SONG OF THE DAY.
- "Hey Hey Tampa Bay" - 1979 Bucs Fight Song -
A BIT OFF THE PATH.
Yahoo took a look at the best Super Bowl ads this year; here is what they thought: The best, worst commercials from the Big Game.
Also, if the FDA approved a new device to reduce snoring and sleep apnea that's worn for just 20 minutes during the day...I don't know about you, but my wife would preapprove this purchase for me.
And finally, check this out: 8 Ways to Make a Smoothie for a Flat Belly...So exactly how many do I have to drink to reach my goal?
Let us know what you think about THE ROAR! If you liked it, make sure you SHARE!
Never miss the latest news from Clemson Sports Talk!
Join our free email list