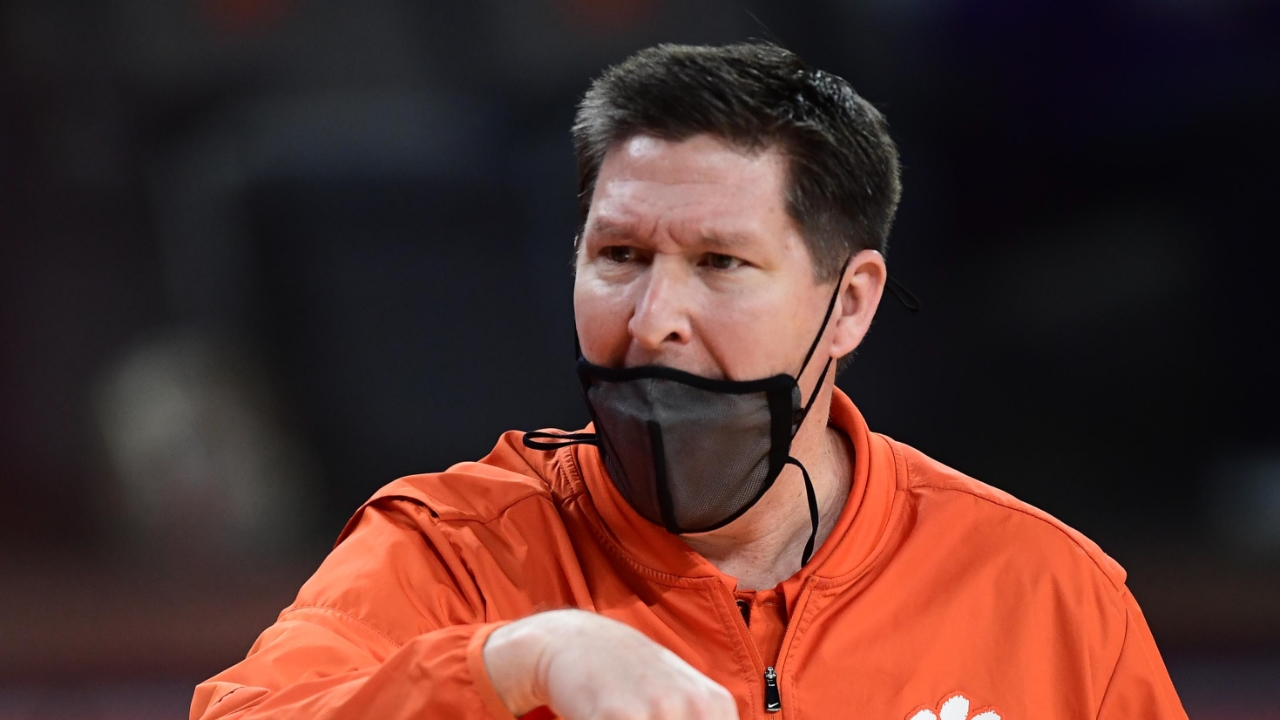 Photo by Ken Ruinard-USA TODAY Sports
Clemson Football
THE ROAR: Solidify | Big Trev TV | Season 2
---

Feel the difference - The MOST DIGITAL CONTENT covering your CLEMSON TIGERS! Avoid clickbait and sites bloated with advertising!
Register for your FREE ACCOUNT today, and you are eligible to win a LIMITED EDITION CLEMSON FOOTBALL. ←
---
SOLIDIFY.
In this observer's opinion, there might not be a better way to close in on securing a sure visit to the NCAA Tournament than answering for last month's atrocious 83-65 loss to Georgia Tech (9-7, 5-5 ACC) on Jan. 20 at McCamish Pavilion.
At the time, the Tigers (12-5, 6-5 ACC) were ranked No. 20 and in the middle of their worst stretch of the season.
Of their losses, the blowout in Atlanta is clearly the worst, and if Brad Browell's squad wins tonight, it would somewhat erase-- or at least balance out the loss.
The Yellow Jackets are 3-4 since returning from a 17-day pause due to COVID-19 issues. Georgia Tech has yet to win on the road in ACC play this season.
As for Clemson, the Tigers are in eighth place in the ACC but have won three of their last four, most recently a 78-61 win over Syracuse last Saturday. The Tigers are 8-1 at home this season with just two home games left following an upcoming three-game road stretch.
BIG TREV TV
It's nutty, but Trevor Lawrence will have his own Pro Day this morning in Tiger Town. I cannot recall a time that a singular player was showcased in this manner, furthering his push towards being the No. 1 player drafted in April's NFL Draft.
The show "All ACC: Trevor Lawrence Pro Day Special" will be LIVE on the ACC Network and ESPN2. Lawrence, a three-year starter and national championship-winning quarterback, is also dealing with a torn labrum in his non-throwing shoulder-- creating the move to have this event today.
Rece Davis will host the hour-long special from ESPN's studios and will be joined by NFL Draft analyst Todd McShay, who will be on-site at Clemson. NFL and ACCN college football analyst Tim Hasselbeck, ESPN college football analyst David Pollack and EJ Manuel of ACCN's The Huddle will also contribute to the coverage.
SEASON 2.
The 2021 Clemson Softball slate will open today in Jacksonville, Florida, and features a 50-game schedule, including 26 home games and 10 ACC series.
All games and times are subject to change based on inclement weather, COVID-19 protocols, and other potential scheduling adjustments.
The Tigers are open their second season against Illinois State today, on the campus of Jacksonville University. Clemson is slated to host its first home game on Feb. 18 in a doubleheader against Virginia Tech before traveling to Georgia Tech (Feb. 20-21) for its inaugural ACC road series. The Tigers' other ACC road opponents include Virginia (March 5-7), Louisville (March 19-21), Notre Dame (April 9-11), and Syracuse (May 7-9).
In addition to the Hokies, Clemson is set to host ACC foes Duke (March 26-28), North Carolina (April 1-3), Boston College (April 16-18), and NC State (April 23-25). In non-conference play, the Tigers are scheduled to host Elon (Feb. 26-28) and Jacksonville State (March 12-14) before traveling to South Carolina (April 21) for the inaugural Palmetto Series matchup with the Gamecocks.
The ACC tournament is slated for May 12-15 at the University of Louisville's Ulmer Stadium, where the top-10 teams – according to the league's standings – will compete for the conference title.
SONG OF THE DAY.
- "Yellow" - Coldplay -
A BIT OFF THE PATH.
According to the New York Times, whale songs could reveal deep secrets beneath the oceans as the aquatic mammals' sound waves penetrate into rocks under the waves.
In addition, Alexa can now greet people from your Ring Doorbell Pro if you have one of those, which might be a pretty cool feature to add. Anything to help me do less.
Finally, if you've been looking for a discount on Apple AirPods, this might be the deal for you.
Let us know what you think about THE ROAR! If you liked it, make sure you SHARE!
Never miss the latest news from Clemson Sports Talk!
Join our free email list