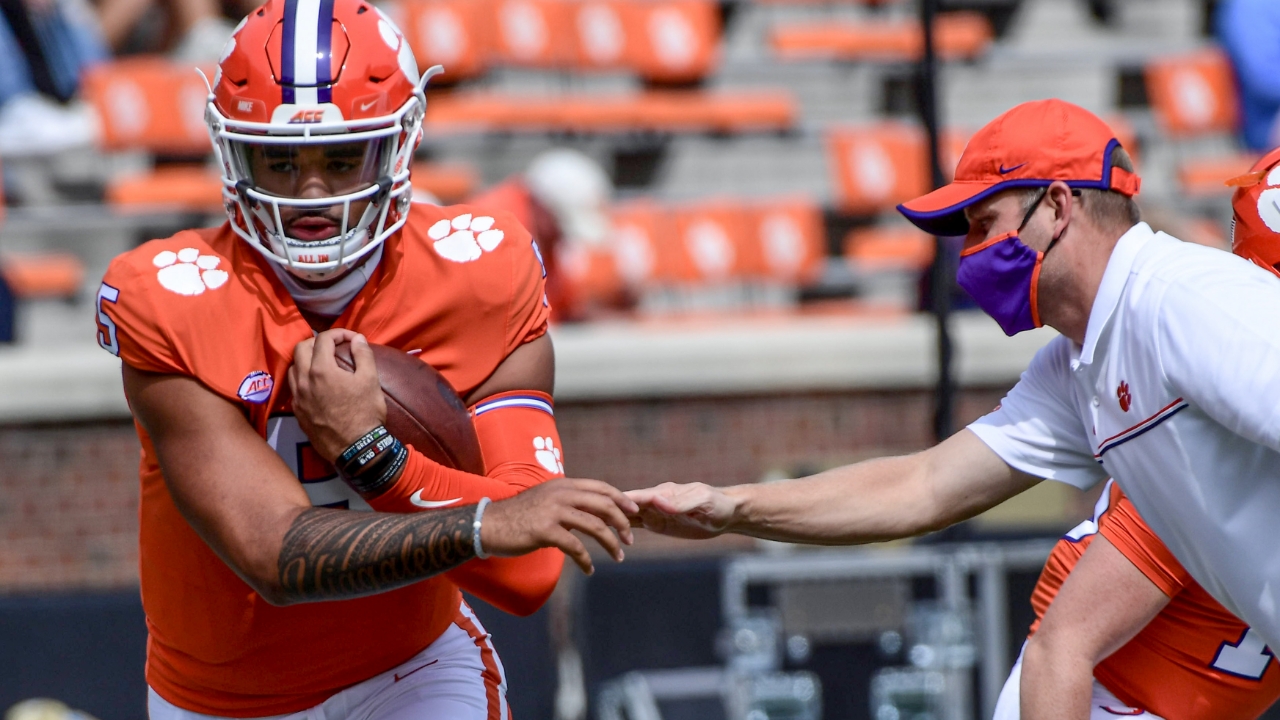 Photo by Courtesy of ACC Media Portal
Clemson Football
New Look
---

Feel the difference - The MOST DIGITAL CONTENT covering your CLEMSON TIGERS! Avoid clickbait and sites bloated with advertising!
Register for your FREE ACCOUNT today, and you are eligible to win a LIMITED EDITION CLEMSON FOOTBALL. ←
---
The seconds, minutes, and hours have passed by in a blink since the 2020 season ended with a 49-28 loss in New Orleans against Ohio State. That's one nice thing about getting to the playoffs-- the first part of the offseason is oh-so short.
As we get ready for Clemson football to kick off what I assume will be the D.J. Uiagalelei quarterback Era, it's amazing how quickly spring practice arrives for teams that made it to the College Football Playoff.
Tomorrow the Tigers will once again be on the gridiron. This time preparing for life without Heisman finalist Trevor Lawrence and all-time ACC rushing leader Travis Etienne-- two of the most dynamic playmakers in the program's history.
Fortunately, Dabo Swinney entering his 12th year as head coach at Clemson, has known commodities at both quarterback and running back.
Make no mistake about it Uiagalelei, a true freshman from Bellflower, California, was impressive against Boston College and No. 4 Notre Dame last season, while Lawrence was sidelined with COVID-19.
Given the fact that he was on the national stage in South Bend, Indiana, with all the pressure of filling in for the presumptive No. 1 pick, Uiagalelei was sharp, even when the Tigers were down 10-0 early. Uiagalelei led the Tigers back from a 10-point deficit at the half and put then No. 1 Clemson in position to win up 33-26 with just 3:33 left in regulation.
While his 29-44, 439 yard, 2 TD performance along with one rushing score wasn't enough to win, it was a sign of what the 2021 season could look like for Tony Elliott's offense.
That being said, behind the 6'5, 250-pounder resides a handful of relative unknowns and a mountain of uncertainty.
I was asked late last week on my daily radio show what it would take for Clemson to have a significant backslide in 2021. My honest answer was simply a significant injury to Uiagalelei. It's not as if I don't trust Taisun Phommachanh, Bubba Chandler, or Hunter Helms, but it really comes down to the unknowns, with all those guys and Phommachanh's lack of impactful performances.
If Uiagalelei remains healthy all season, the Tigers should once again compete for a berth in the CFB Playoff and a national championship, even with an opening day matchup on September 4 against a top-tier Georgia team in Charlotte.
As for the running backs, Lyn-J Dixon enters his fourth season, albeit after a slightly disappointing performance during 2020. Before a lingering knee issue stifled his progress, Dixon, at times in his career, looked as explosive and fast as Etienne but never matched the same consistency that his stablemate managed throughout his record-setting career.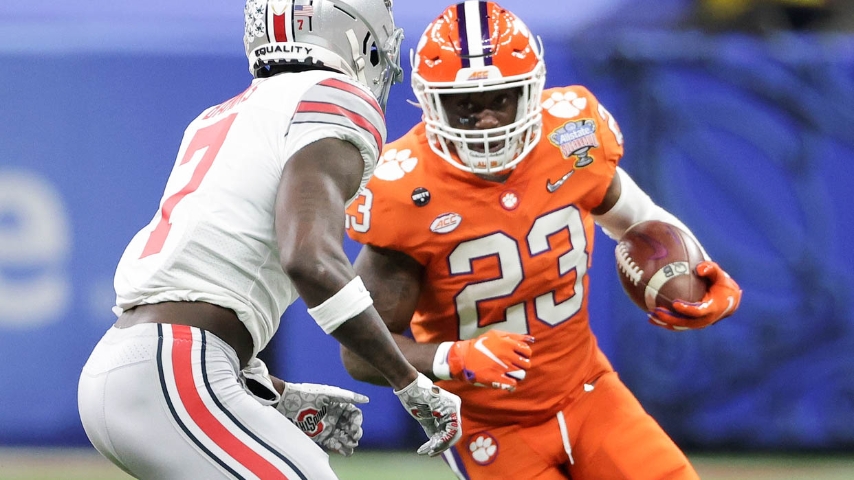 Derick E. Hingle-USA TODAY Sports
In a shortened season coupled with inconsistent run blocking from the offensive line, Dixon only gained 190 yards and scored just twice. He also averaged a career-low 4.5 yards per carry far below his two-year average of 7.1.
Alongside Dixon, impressive sophomore Chez Mellusi (151 yards, 5.6 ypc, 3 TDS) will command more carries and freshman Kobe Pace could prove to be a nice option in short-yardage situations.
For many, it's the true freshmen Phil Mafah, a big back (6-foot-1, 215 pounds), and Will Shipley, tabbed the next Christian McCaffrey by a few analysts, that may have the biggest opportunities in front of them. Given Demarckus Bowman's transfer to Florida after spending just a few months in Clemson, the highly regarded pair could emerge as key players in the backfield in 2021.
Sophomore Mikey Dukes will also be in the mix for carries, but his quickest path to playing time is likely as a kick/punt returner.
I'll have more thoughts on Clemson spring practice kicking off tomorrow, plus we will hear from Dabo Swinney and select players on Wednesday.
Never miss the latest news from Clemson Sports Talk!
Join our free email list