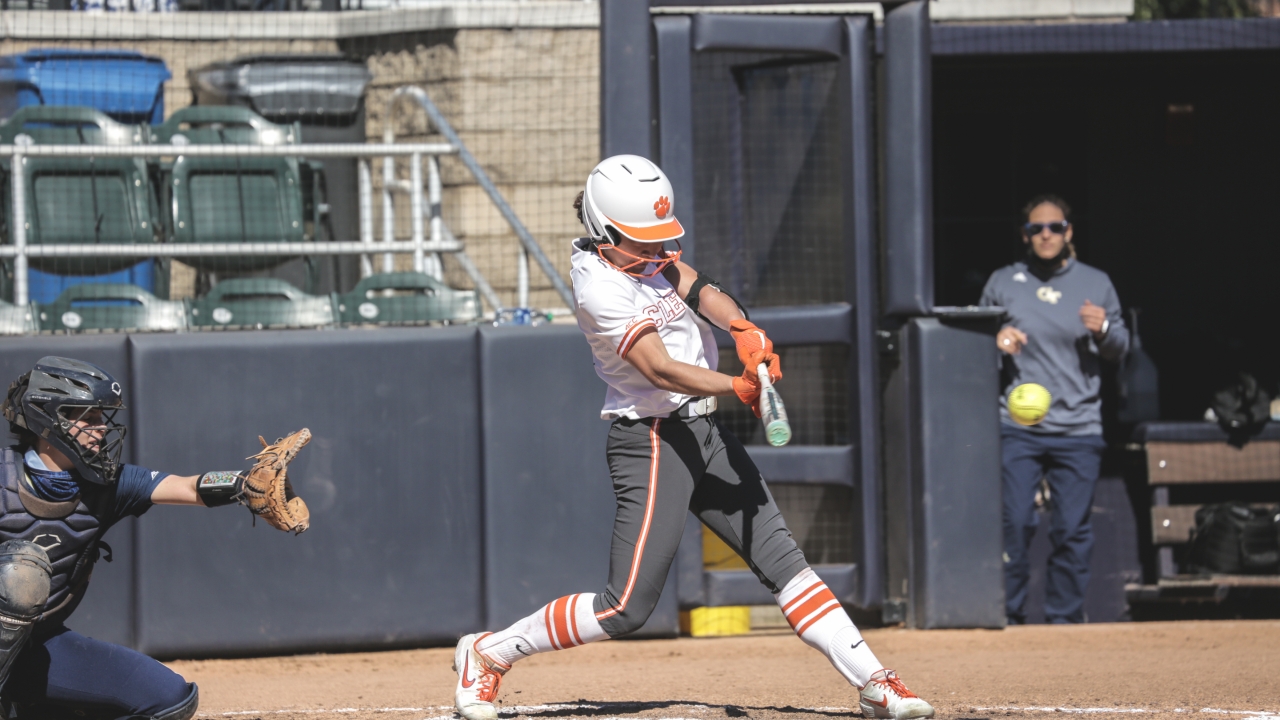 Photo by Patrick Boling, Clemson Athletics
Softball: Clemson Sweeps Ga. Tech in First ACC Road Series
---
ATLANTA – The Clemson Softball team clinched its first-ever ACC road series with a pair of wins at Georgia Tech on Sunday at Mewborn Field. The Tigers won game No. 1, 5-3, and Sunday's nightcap, 5-4. Clemson combined for five home runs on the day from Marissa Guimbarda, Cammy Pereira, McKenzie Clark, Valerie Cagle and Ansley Gilstrap. With its pair of wins on Sunday, the Tigers improved to 6-2 overall and 4-2 in ACC play, while the Yellow Jackets fell to 5-6 overall and 0-6 in league games this season.
Game #1 Recap
Clemson struck quickly in the first on an RBI single from Valerie Cagle, which landed over the left fielders' head to score McKenzie Clark. Then, Marissa Guimbarda smacked her 38th career home run on a two-run shot over the center field wall. Guimbarda went 3-for-3 in Sunday's opening contest and a game-high three RBIs. Her third RBI came in her next at bat in the third inning with a 1-2 count. Guimbarda recorded her 10th RBI of the season on a RBI single to left field to give Clemson a 4-1 lead.
Georgia Tech homered in the top of the fifth to cut its deficit to 4-2. Clemson freshman lefty Millie Thompson entered the circle in relief of starting pitcher Regan Spencer, who exited the game with the lead improved to 2-0 in her freshman campaign. Thompson recorded two of her three strikeouts in back-to-back fashion in the fifth to get Clemson out of the inning with one Georgia Tech runner on base.
In the sixth, the Yellow Jackets again shrunk the Clemson lead on a solo home run, but Clemson infielder Cammy Pereira responded in the bottom half of the inning with her fourth career homer, and second in a Clemson uniform, as the Tigers went on to win, 5-3.
Georgia Tech's Madison McPherson received the loss and fell to 0-2 on the season.
Game #2 Recap
Sunday's second game came down to the very last pitch. The Tigers led 5-1 entering the bottom of the seventh, but the Yellow Jackets managed to score three runs on back-to-back hits. Georgia Tech had two runners in scoring position with a full count, but infielder Tricia Awald hit a hard line drive straight to Clemson shortstop Ansley Gilstrap, who made the easy catch to complete the sweep in the Tigers' first ACC road series.
Freshman lefty Valerie Cagle earned the win and improved to 4-1 on the season. Cagle held the Yellow Jackets scoreless through five innings and struck out a game-high 11 batters.
The Tigers took a 1-0 lead early with a solo home run in the first from true freshman leadoff hitter Mckenzie Clark. The homer was the first of Clark's career. Cagle followed Clark's homer with a solo shot of her own in the third to extend the Clemson lead to 2-0. The Tigers' continued their offensive momentum with yet another home run from Ansley Gilstrap, which led to two additional runs scored. Gilstap recorded her first homer of the season and the eighth of her career.
In the fifth, Clark recorded her second RBI of the game on a double to left field to boost Clemson's lead to 5-0.
Prior to its three-run seventh inning, Georgia Tech posted its first run on a RBI single with an 0-2 count in the sixth.
In the circle, Georgia Tech's Lexie Ray, who pitched 4.1 innings in Sunday's contest, fell to 0-2 on the season.
Up next, Clemson returns to McWhorter Stadium on Saturday Feb. 27 for a doubleheader against Elon (1-0, 0-0 CAA). First pitch of game No. 1 is set for 1p.m. Saturday's second contest is officially listed to start at 3 p.m. Next weekend's series is slated to stream on ACCNX.
For complete coverage of the Tiger softball team, follow @ClemsonSoftball on Twitter and Instagram and Facebook.
Never miss the latest news from Clemson Sports Talk!
Join our free email list